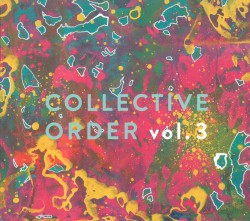 Volume 3
Collective Order
Independent (collectiveorderjazz.com)
Collective Order is a prime example of how art always triumphs, even when politicians of every partisan hue try and exploit the term "diversity" to suit whatever agenda they seek to advance. For Toronto's ever-evolving, improvising large ensemble, diversity is best expressed not in platitudes, but in the expression of being a joyful cultural voice: from Native-Canadian to every other immigrant artist who makes up Canada's multicultural musical topography.
As with earlier recordings, the band's 2018 release Vol.3 features music written by various members of its ensemble. Each time the composer decides who, or what permutation of the Collective Order, will perform the repertoire. Size composition of the group varies, and with it the feeling and musical expression of each piece is singular in nature. Quite remarkably, there is a feeling that all of this repertory belongs to one contiguous unit. This speaks to how successfully the group is able to fashion the individuality and musicianship of its members into a characterful unit.
The unifying theme on Vol.3 appears to be a reverential homage (broadly speaking) to the earth, and more specifically to Toronto, Ontario and most of all to Canada. We hear this right out of the gates in Melanie Montour's spoken word Land Acknowledgement, continuing through Theme for Lake Ontario. The proverbial strength of the Universal Mother on I Hear You, combining language, multilingual spoken and sung lyrics is by far the disc's crowning moment.