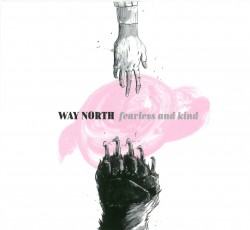 Fearless and Kind
Way North
Independent WN002 (waynorthband.com)
Fearless and Kind, the second album from roots-jazz quartet Way North, is a project that showcases the collaborative spirit of a group that functions as a collective, in terms of leadership, compositional contributions and improvisational style. Way North features trumpeter Rebecca Hennessy and bassist Michael Herring (both based in Toronto), saxophonist Petr Cancura (based in Ottawa), and New York drummer Richie Barshay. Recorded following a tour, Fearless and Kind is an intelligent, feel-good release in all of the right ways. By placing the emphasis on interactivity and humour, Way North has managed to produce an album that deftly combines the energy of a live show with the focus and specificity of the studio environment.
Fearless and Kind kicks off with the Cancura-penned Boll Weevil, a bouncy New Orleans-inspired song that sees the band playing around with brass band tradition without succumbing to the imitative clichés that often accompany modern performances of this music. Hennessy's Lagoon is a loping, dreamy affair, featuring a mature, lyrical performance from the trumpeter herself, and a strong solo from Herring (Lagoon also appears on the album Two Calls, released by Hennessy's FOG Brass Band). Later on, Cancura's solo on King Porter Stomp marks one of the album's energetic high points. It is notable that Way North is a chordless quartet, with no piano, guitar or other traditional comping instrument; but such is the strength of the individual players and the group dynamic that no harmonic absence is registered in the first place.