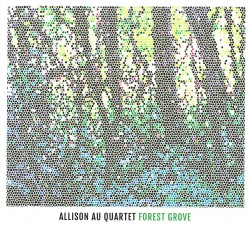 Forest Grove
Allison Au Quartet
Independent AA-15 (allisonau.com)
Saxophonist and composer Allison Au's aptly titled Forest Groveis a lush and inviting recording that takes the listener on a journey through a suite-like series of tunes. The compositions retain a remarkable unity of purpose despite the obvious sonic and stylistic differences between them. Au's writing embodies an approach that blends arrangement with improvisation in a way that seems perfectly natural. One idea flows seamlessly into the next, regardless of whether the ideas are improvised or composed. The addition of vocalist Felicity Williams on three of the nine tunes ties the record together and helps to deepen its compelling mood.
The opening track, Tides, establishes many of the hallmarks of Au's writing and the band plays through them with ease and assurance. Complex harmonies are played over unexpected rhythmic shots and melodies are doubled with bass and Fender Rhodes piano. Drummer Fabio Ragnelli and bassist Jon Maharaj mesh effortlessly on the tricky arrangement, providing both groove and conversation. Au solos confidently, displaying a rich alto tone and a sophisticated linear concept.
Bolero features bassist Maharaj, improvising a lyrical solo over Au's and Williams' ethereal melody. The post-bop-tinged Aureole showcases the band's convincing, hard swinging up-tempo chops. Au's strong sense of the tradition is highlighted by Todd Pentney's bluesy B-3 playing. They Say We Are Not Here closes the journey with Felicity Williams' voice spinning textures over its gorgeous, hypnotic, two-chord vamp.