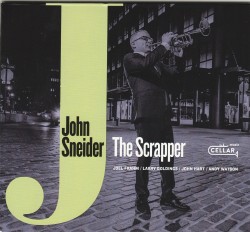 The Scrapper
John Sneider
Cellar Music CM072819 (cellarlive.com)
In the same way a plethora of Canadian jazz fails to reach our neighbours to the south, there are also many American artists that we are not exposed to here. This is why I was delighted to see trumpeter and composer John Sneider's first release under his own name in over 20 years appear on the Canadian Cellar Live label. Sneider's album The Scrapper fits in perfectly with Cellar Live's usual programming, which hosts artists from both sides of the border who play "timeless, swinging, heartfelt and resonant" music, as their website states.
The core members of Sneider's band remain the same as on his last release Panorama from 2000: John Hart on guitar, Larry Goldings on organ and Andy Watson on drums. It is the shared influences among these veterans of the New York City scene that give the group its contemporary yet grounded sound. The tracks on the album are a unified flow of originals by Sneider and Goldings, small-group arrangements of two Duke Ellington pieces, and tracks that feature its guest artists: vocalist Andy Bey and young trumpeter David Sneider. Bey contributes a conversational rendition of Miles Davis' classic Solar, and Sneider demonstrates he shares his father's mature yet playful compositional style on the two-trumpet closer Dinosaur Eggs. Overall, The Scrapper is an excellent release that pays homage to the tradition while still sounding current in 2020.