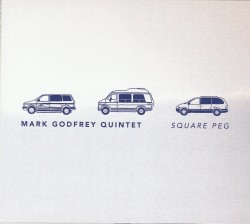 Square Peg
Mark Godfrey Quintet
Independent PRAM004 (markgodfreybass.com)
Square Peg is a collection of jazz tunes bassist and composer Mark Godfrey wrote while commuting between Toronto and New York over a four-year period in his Dodge Caravan (a great vehicle for holding an upright bass). The album title could refer to how a vehicle associated with families and soccer is turned into a conduit for art and music. Many of the tunes are meditative, possibly because driving a familiar route often leads to introspection.
Highlights include the title piece which starts with a lilting melody played together by Allison Au (alto sax) and Matt Woroshyl (tenor sax) slightly in and out of sync giving it a nice edge. Then Chris Pruden plays a tinkling, arpeggiated and out-of-tempo piano solo that is quite beautiful. No Gig Today is a breezy up-tempo bossa nova tune that seems to say, "If we can't get a gig, let's groove on our own." Nick Fraser's stylish and complex drums provide the perfect jazz-samba backbeat. After a sophisticated solo by Pruden the two saxes heat things up with an unaccompanied duet break which evolves into trading eights when the rhythm section returns. This is a great tune with many nuances.
Square Peg is accessible yet sophisticated, with all musicians sounding impeccable. May I suggest slipping this CD into your car (or van) stereo system for one of those lengthy drives?