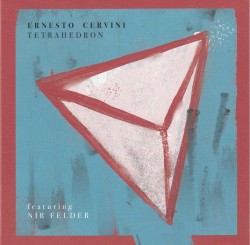 Tetrahedron
Ernesto Cervini
Anzic Records ANZ-0067 (ernestocervini.com)
Ernesto Cervini, famed jazz drummer, has yet again brought together a greatly talented group of musicians on this debut release by his new venture Tetrahedron. The name is derived from the flags that indicate wind direction at airports, carrying on a theme of "flight" from Cervini's other well-known sextet Turboprop. But more importantly, the tetrahedron is also "a three-dimensional triangle (with four sides) which seems to fit a chordless trio… recording with a fourth member and special guest." On this album, the trio consists of Cervini, Luis Deniz on alto saxophone and Rich Brown on electric bass; with renowned guitarist Nir Felder as the "fourth." Together, these musicians breathe life and direction into Cervini's musical imagination and the journey that emerges from it.
Starting off the album with a righteous bang is the track Softly, As In A Morning Sunrise. Brown's soft and unique bass intro moves into a rhythmically complex and dancing line that is overlaid by Felder's signature Stratocaster sound, Cervini's equally tricky drum groove and Deniz's smooth, melodic sax tune. Angelicus is a beautiful, slower piece composed by Vince Mendoza which had stuck with Cervini since his first year studies at the University of Toronto. Meandering throughout the album, the end track The Sneaky Two is similar to the opening track in that it leaves the listener tapping their foot, hooking into the rhythm and awaiting what the next release by this supergroup will be.