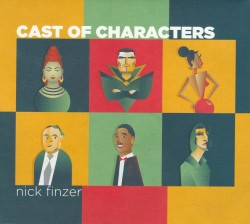 Cast of Characters
Nick Finzer
Outside In Music OiM 2000 (nick-finzer.myshopify.com)
With the release of his new 14-song concept recording, respected trombonist, producer and educator, Nick Finzer, has pushed the creative envelope into new, vital and challenging emotional territory. Long known as a formidable storyteller, Finzer's new opus is a musical exploration of influential archetypes who are often common to the human experience, e.g. inter-connections with those individuals who inspire us, disappoint us, break our hearts, support us tirelessly and love us unconditionally. Finzer's stellar sextet includes Lucas Pino on reeds, Alex Wintz on guitar, Glenn Zaleski on piano, Dave Baron on bass and Jimmy Macbride on drums.
There is no gratuitous soloing on this project, but there is intense and emotional, post-bop group exploration in which all of the members have a voice. On the evocative opener, A Sorcerer, the Ellingtonia is palpable. The sextet is pristine and swinging, gliding over the complex musical motifs with skill, insight and taste, and Pino's inspired sax solo is full of longing and youthful joy. Another outstanding track is Evolution of Perspective – a sobering introspection that bounces back with a gymnastic, rapid-fire solo from Finzer, as well as equally superb, vibrant solos from the ensemble.
Other standouts include Patience, Patience – a haunting ballad perfectly parenthesized by Zaleski's luminous piano work, and Venus – a sensuous rhapsody, silkier than the finest satin. With this thought-provoking recording, Finzer guides the listener on a journey through seemingly chaotic, quantum entanglement, which eventually morphs into our sense of self as so eloquently put by the title of the last offering in the cycle, We're More than the Sum of Our Influences.