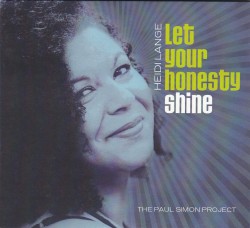 Let Your Honesty Shine – The Simon Project
Heidi Lange
Independent (music.apple.com)
Talented jazz vocalist and professor Heidi Lange's newest release is a pleasant modern jazz take on famed singer-songwriter Paul Simon's music, mixing in elements of pop and rock to create a unique whole. With current jazz greats like Mark Kieswetter on piano, Jordan O'Connor on acoustic bass, Eric St-Laurent on guitars and Ben Riley on drums, the album is a perfect soundtrack for a rainy day, for contemplation or relaxing. Lange's voice is a balanced combination of wispiness and depth, pulling in the listener and invoking complete focus on her.
Each track features a prominent piano melody that blends in outstandingly with Lange's timbre and is further supported by beautiful guitar riffs, a moving, yet calming, drum rhythm and a sultry bass line. A touching version of Bridge Over Troubled Water is a definite highlight of the album, as is the unique take on Dazzling Blue and the captivating Another Galaxy. Standing out from the rest of the tracks for its upbeat tempo and slightly more driving melody and rhythm is The Boy in the Bubble, also unique for the fact that the entire band sounds the most blended here, intricacies of each instrument played out to create a cohesive but dynamic whole. This is where the listener can hear just how well these talents merge together. For longtime fans of Paul Simon's work or for music fans interested in a modern jazz sound, this album is a definite recommendation.