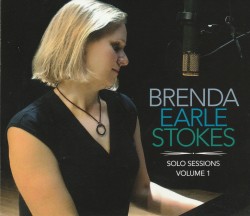 Solo Sessions Volume 1
Brenda Earle Stokes
Independent ASNM 007 (brendaearle.com)
Smooth and rather sultry-voiced, vocalist Brenda Earle Stokes has released a truly enjoyable collection of well-known pop and jazz songs that she has put her own twist on. Featuring her own compositions among pieces by significant musicians in the general music universe including Dave Brubeck, Huey Lewis and Michael McDonald, this album is a versatile and captivating journey. The title refers to the fact that it's just her and the piano on this record, which creates such a charming sense of intimacy; the listener truly feels as if they are seated right by the piano, watching and hearing Stokes play.
If You Never Come to Me opens up the album with a sensual punch, showcasing Stokes' very apparent vocal talent. Standing is an original, a unique and modern piece that features interesting chord and melodic progressions which easily catch anyone's attention. Throughout the album, not only is the listener taken through various genres from traditional jazz to the blues, but Stokes' talent as a pianist is very well showcased. Her voice and melodies blend in seamlessly for a satisfying whole. A favourite is undoubtedly the cover of Lewis' Power of Love, in which the original song is still fully recognizable but has been jazzed up just enough to be refreshing. Anyone looking for a treat to the ears and something a little different from the norm will enjoy this album.