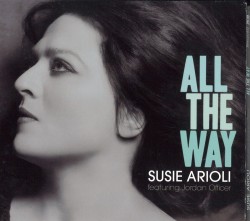 All the Way
Susie Arioli
Spectra Musique SPECD7832
www.susiearioli.com
Susie Arioli and her partner guitarist Jordan Officer have put out another fine collection of songs true to their easy swinging style. Although All The Way opens sombrely with a soulful, slowed down My Funny Valentine it ramps up a bit from there with an ironic, sax-laden Here's to the Losers and a nod to Ol' Blue Eyes with the title track and then the subtle emotional roller-coaster continues with the melancholic Forgetful and There's a Lull in My Life.
Arioli has an understated delivery that's a refreshing change from the showboating singing we hear so much of. Yet she still convincingly conveys the sentiment of the song and leaves the listener able to focus on the lyrics rather than on how awesome her voice is, or whatever. With the majority of the songs from the 50s and 60s the record is imbued with a Mad Men-esque mood that makes All the Way the ideal soundtrack for the end of a day filled with two-martini meetings, a pack-and-a-half of smokes and bitter disappointment.