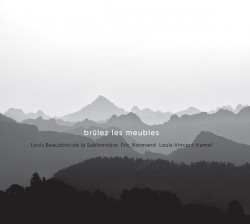 Brûlez les meubles
Louis Beaudoin-de-la-Sablonnière; Éric Normand; Louis-Vincent Hamel
Tour de bras/Circum-disc (circum-disc.com)
Guitarist Louis Beaudoin-de-la-Sablonnière has recorded with the jazz-rock band Gisèle, while drummer Louis-Vincent Hamel has distinguished himself in mainstream-modern jazz idioms. Electric bassist Éric Normand comes from further left in the spectrum, best known as leader of a free improvisation large ensemble, called GGRIL. Here the trio seeks a fresh approach to the jazz trio, under the comically radical rubric, Brûlez les meubles (Burn the furniture).
That's just what they do, stripping their music down to its essential elements, rooting it in spare melodies, clear relationships of parts and close communication. The opening L'affaire digitale, composed by Normand, has a melody as etched as something played by Paul Bley, suggesting a Quebecois stylistic parallel, while Beaudoin-de-la-Sablonnière's Le bonheur reduces the melodic shape of Mongo Santamaria's already spare Afro-Blue. It's a gentle war on the rhetoric of much modern jazz, avoiding any approach focused on a tired harmonic language of convenience.
When the trio stretches out, it's usually in a collective improvisation, like Éminence, which begins in a rubato reflection by Beaudoin-de-la-Sablonnière then gradually picks up tempo and form in a developed dialogue that smoothly reshapes itself in a series of tempo and mood changes, including a particularly subtle bass solo at its conclusion.
By the CD's end, the trio has established a broad expressive range and a remarkably compatible formal language built on elastic forms and detailed rhythmic interaction. It's a particularly interesting patch in the national jazz quilt.