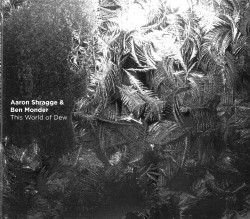 This World of Dew
Aaron Shragge; Ben Monder
Human Resource (humanresourcerecords.com)
Released in July 2018 on Human Resource Records, This World of Dew is the third duo recording from trumpeter Aaron Shragge and guitarist Ben Monder, following 2010's The Key Is In The Window and 2012's Arabesque. While Monder will likely be the more familiar name to jazz listeners, Shragge is a busy member of the improvised/creative music scene in New York, with notable recent performances at the Montreal Jazz Festival, L'Off Jazz Festival and the Festival of New Trumpet Music. A big part of Shragge's sound on This World of Dew is, in fact, a new trumpet: the Dragon Mouth Trumpet features a slide in addition to valves, allowing the player access to new expressive avenues.
Whether he is playing the Dragon Mouth Trumpet, flugelhorn, or shakuhachi, melody is at the forefront of Shragge's contributions to This World of Dew, from the beautiful opener, Companion, through the album's titular suite and beyond. The recording is texturally captivating from beat one; even during moments of intensity, Shragge's tone tends to be warm and breathy, which contrasts effectively with Monder's electric guitar tone, which, even at its gentlest, maintains an articulate edge.
Beyond the suite, highlights include spare, linear improvisation on Roll The Dice, ethereal, organ-like sounds on It's Ours, and the unsettling urgency of Blue Bird. Do not let the contemplative mood of This World of Dew fool you: Shragge and Monder have created captivating, intricate music that rewards the active listener with unexpected delights.