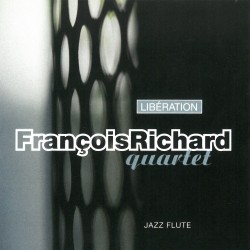 Libération – Jazz Flute
François Richard
Effendi Records CMFR004 (effendirecords.com)
How many times can one reach the pinnacle of his compositional and flute-playing powers? Well, if you are the Québécois virtuoso François Richard, then the answer is probably several times; in fact, it might even be a bit risqué to suggest a definitive figure. He may scale even greater heights in future, but if he never achieves anything better than Libération he still has ample reason to be proud. Richard's take on the lineage of the cool, spacey flute is infinitely less than conventional here, seeing him summoning woody tones from the instrument that float benignly over Guillaume Martineau's languid piano, the growling gravitas of Rémi-Jean Leblanc's contrabass and the delicate thunder of Martin Auguste's drums.
Each musician takes turns adding rich and not entirely predictable harmonic inventions to the music. The opener Ponctuation is a joyous, dancing piece which engages the senses. It's followed by Winter Blues, a slow, slightly mysterious and ballad-edged tune with a rueful feel. Winter Blues features a thoughtful melodic solo by Richard, as does Une tempête, which reminds one of the leaping virtuosity of the late, great Eric Dolphy. Richard continues to ring in the changes in mood, structure and tempo, making Libération a program of constantly interesting repertoire.
The considerable degree of balance and integration of melody, harmony and rhythm, of composition and improvisation, of exploration, individuality and tradition, is impressively maintained throughout.