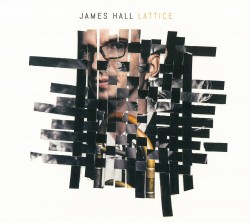 Lattice
James Hall
Outside In Music OiM 1801 (jameshallmusic.com)
Lattice, the sophomore release from New York-based trombonist/bandleader James Hall, is, as the title implies, an album whose themes are rooted in the productive promise of intersectionality. As a metaphor for improvised music, latticework – with its criss-cross construction, multiple points of intersection, and inherently open form – seems so apt that it is a wonder that the term has not seen wider use. Beyond Hall's compositional skills (he wrote six of the album's eight tracks) and trombone, the strands that constitute this particular Lattice are Jamie Baum (flute and alto flute), Deanna Witkowski (piano and Rhodes), Tom DiCarlo (bass) and Allan Mednard (drums), with the addition, on Black Narcissus and Brittle Stitch, of special guest Sharel Cassity (alto saxophone).
Shoy, the album's first track, begins with a beautiful melody, played by Hall and Baum. The combination of trombone and flute is another unusual but apposite element of Lattice: the direct, lower-register trombone and the breathy, higher-register flute create an unexpectedly compelling texture. The propulsive, swinging Brittle Stitch showcases the talents of Witkowski and Cassity, both of whom take memorable, concise solos, with the assistance of DiCarlo and Mednard, who are excellent here and throughout the album. Traveller, another Hall original, builds intensity slowly but surely, and features brief marvels from Witkowski and Mednard. Beyond its strong compositions and performances, Lattice also scores points for its high production quality: special mention to engineer Aaron Nevezie, mixing/mastering engineer Katsuhiko Naito, and to Ryan Keberle (who co-produced with Hall).