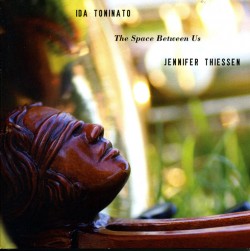 The Space Between Us
Ida Toninato; Jennifer Thiessen
Ambiances Magnétiques AM 236 CD (actuellecd.com)
With its drone-inflected microtonalism, this session by Montreal-based baritone saxophonist Ida Toninato and viola d'amore/violist Jennifer Thiessen takes its cues from new music as much as jazz improvisation. As the duo's performance undulates through seven constricted tracks, the development mixes sonorities and silences with studied extensions of the instruments' conventional ranges. For instance, Toninato's fat saxophone smears move swiftly from coloratura to chalumeau registers, the better to intersect with Thiessen's flying spiccato or multiple-stopping sequences.
Additionally, it sounds at points as if processing or overdubbing is taking place, in order to produce a murmuring ostinato and hints of bassoon-like or French horn-like textures that evolve alongside the duo's output. These doubled reed tones are sensed most readily on Magma/Suspension, where throaty tremolo tones are strikingly contrasting with the fiddler's swift, razor-sharp sweeps. The most telling challenge to a conventional accompanist/soloist matrix is Space [Outer] Space. Here, cosmos infinity is evoked through barely moving textures, confirmed in their otherworldliness through emphasized sul ponticello bow strokes and pressurized reed snarls and buzzes, until both motifs finally combine.
Although the CD is titled The Space Between Us, the profound musical connection established by Thiessen and Toninato confirms that this gap is minimal at best.