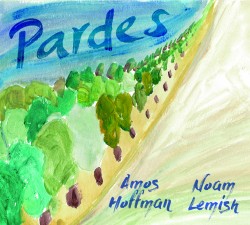 Pardes
Amos Hoffman; Noam Lemish
Independent (hoffmanlemish.com)
Pardes (pronounced par-DES) is the Hebrew word for orchard or "fruit garden" and, according to the liner notes, the origin of the word "paradise." This makes a lot of sense: listening to Pardes, the Amos Hoffman and Noam Lemish Quartet's first collaborative CD release, it's easy to feel like you've been transported to a musically intoxicating Garden of Eden.
Both Israeli-born and exceptional musicians, oudist, guitarist and innovator Hoffman, now based in South Carolina, and Toronto-based pianist and composer Lemish, have been collecting Jewish melodies from around the world for over 20 years. With Pardes, Kurdish, Ladino, Yemenite, Moroccan, Russian, Bukharian and Israeli songs have been uniquely transformed by Hoffman and Lemish's shared jazz sensibilities and inspired arrangements. The results? These songs – many well-known and beloved – have been reimagined into sultry, sexy, evocative, compelling and just plain gorgeous jazz-infused jewels.
Each track is worthy of its own review but for now, some "quick pick" standouts: Hoffman's stunning oud work on Adon Haslichot; Lemish's exhilarating piano on Dror Yikra; the exquisite contribution by guest clarinettist Jacob Gorzhaltsan on Äji Tü, Yormä, Äji?; the exuberant exchanges between guitar and piano on Tchol Hamitpachat; and the deeply expressive work by both Lemish and Hoffman on Ets Harimon. Guest tombak player, Pedram Khavarzamini, adds yet another layer of beauty on three tracks, and the Gray brothers, Justin (bass) and Derek (drums and percussion), round out this remarkable quartet with their skilful and sensitive musicianship.
Plug into Pardes and enjoy your stay in paradise!