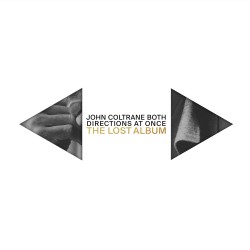 Both Directions at Once: The Lost Album: Deluxe Edition
John Coltrane
Impulse! 80028228-02 (shop.musicvaultz.com)
For contemporary listeners saturated with collector's editions with multiple takes of an artist's every song, it's hard to imagine a major label losing an album by John Coltrane, the most influential jazz musician of the last 60 years. Evidently that's just what happened: destroyed by ABC Paramount in 1973, the unissued 1963 album exists only because of a separate mono review tape that Coltrane shared with his ex-wife, Naima. Suddenly there's a studio session of his working quartet, complete with alternate takes, available from a period when the released Coltrane albums were Ballads and collaborations with Duke Ellington and singer Johnny Hartman.
Both Directions at Once catches Coltrane in transition, but Coltrane was in continuous, accelerated musical evolution from 1955 until his death in 1967. The material embodies his then-current interests: a hard-edged, compressed version of Impressions, a standby of extended shamanistic transformations in live performances; One Up, One Down, similarly focused; an intensely brooding Nature Boy that would bloom fully two years later; a sprightly soprano saxophone theme, Untitled Original 11383; the swinging Vilia and the 11-minute Slow Blues, both traditional and radical, literally two blues at once. It's a considered guide to Trane's musical thought on a day in March 1963.
The deluxe edition includes a second CD of alternate takes of most tracks and multiple takes of Impressions. If you're considering The Lost Album, get this version. If you don't need it now, you will.