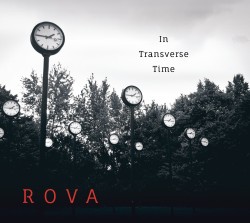 In Transverse Time
Rova Saxophone Quartet
VICTO cd 131 (victo.qc.ca)
Victo is the recording arm of the venerable FIMAV festival, the annual celebration of radical musics presented in Victoriaville, Quebec since 1984. Under Michel Levasseur, the label has produced many CDs, whether to coincide with coming attractions or document exceptional concerts. In recent years, with the market in disarray, the label has limited itself to a single CD a year. The last two were of festival events, singular performances by Musica Elettronica Viva and Anthony Braxton. This year's sole release was a prelude to Rova's 2018 appearance, celebrating the saxophone quartet's 40th anniversary in 2017, reached with only one personnel change (in 1988). The group has investigated game composition with John Zorn, performed a work composed for them by Terry Riley and explored John Coltrane's Ascension in multiple forms, including a feature film recorded at the Guelph Jazz Festival.
In Transverse Time is a more intimate event, devoted to works by the quartet's members – Bruce Ackley on soprano, Steve Adams on alto and sopranino, Jon Raskin on baritone and Larry Ochs on tenor – and playing to some of their greatest strengths, their openness to new concepts and their incredible sounds, bridging classical concepts of the quartet with stunning individual voices, Ackley's soaring soprano, Raskin's harmonic-rich baritone, Adams' lyrical alto and Ochs' blustery, vocalic tenor, filled with the breath of free jazz. Their voices have never been better framed in more immediate conversation, or more alive than they are here. It's another annual Victo masterpiece.