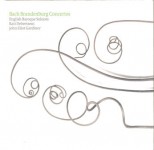 Bach - Brandenburg Concertos
English Baroque Soloists; John Eliot Gardiner
Soli Deo Gloria SDG 707

Rare is the list of essential classical recordings which does not include the Brandenburgs. What makes this interpretation stand out is not just the actual playing but also some thoughtful commentaries by the conductor and soloists on the challenges Brandenburg players face.

From the start, this interpretation respects the instruments of Bach's times. The horns of Anneke Scott and David Bentley are literally hunting horns, although never the "disruptive influence" she claims they are. All instruments blend into an enjoyable performance of Concerto No 1.   

The reviewer is a life-long lover of No 2, Bach's allegro movements bringing out the best of baroque ensembles in general and the baroque recorder in particular. Rachel Beckett demolishes the idea that the recorder is a teaching instrument for children.

So to No 3, best-known of the six. This recording is upbeat in the initial allegro, enhanced by a silvery quality to the strings which continues through the much-over-looked adagio to the second even more inspired allegro.

Catherine Latham joins Rachel Beckett on recorder in No 4, reinforcing the virtuoso skills demanded of the instrument. The recorder conveys the plaintive tones of the andante, perhaps more poignantly than would the flute, which only makes its (belated) appearance in a subdued No 5.   

There is even an unsung heroine - viola-player Jane Rogers alone performs in all six concertos, saving her best for No 6. Her comments are worthy of the reflections published in this invigorating CD.