Canadian pianist Réa Beaumont's recording Timeless (Shrinking Planet Productions SP0093 reabeaumont.com) includes works by Philip Glass, John Adams, Srul Irving Glick and others, as well a couple of her own compositions. Beaumont's program is designed to show how "music changes our perception of time." John Adams' China Gates, for example, is composed without a time signature and is one of several whose flow supports the recording's "Timeless" title.
Toronto Symphony Orchestra affiliate composer Jordan Pal's Study in White is the longest work on the program. Beaumont brings an impressive sustained energy to the gradually building intensity of this piece before ending it in the blaze of pianistic colour the composer intended. The six Glick Preludes are short. Beaumont plays them with great attention to the inner melodic material that Glick uses against his rhythmic elements. There's some shared musical language between Glick and Beaumont that becomes evident on comparative listening. It makes her particularly adept at interpreting his music.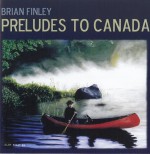 Brian Finley spent nearly two decades patiently composing the 13 pianistic impressions that comprise his new recording Preludes to Canada (Booth Street Records BSR0002 brianfinley.ca). Experiencing the country from sunrise on the Atlantic coast to sunset on the Pacific, the pieces offer poetic and emotional portrayals of very specific places. Sometimes as localized as A Park Bench in Joliette and Victoria Harbour, the works focus intently on Finley's personal experiences in these places. Even the more broadly conceived ones like North of 60 and Red River Dreams contain Finley's unique language formed during many years as a pianist, composer and artistic director of the Westben Arts Festival. He writes with the simple yet mysterious introspection of Satie but is equally capable of enormously powerful orchestral gestures reminiscent of Rachmaninov and Stravinsky. Finley's music can't escape the reality that his Canadian experience has been principally shaped by the land. And he aptly opens his notes with words from Emily Carr that describe Canada as "something sublime that you were born into."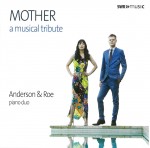 Anderson & Roe are no garden variety piano duo. Their new recording Mother - a musical tribute (SWR Music SWR19058CD swrmusic.de) is ample evidence of their stunning ability to arrange and reinvent well-known tunes in ways that leave you breathless. Covering an established song or piano work always runs the risk of leaving the listener wishing you hadn't tried in the first place. Anderson & Roe, however, possess the highest form of originality combined with a gob-smacking keyboard technique that reimagines Lennon/McCartney, Paul Simon, Louis Armstrong and Freddie Mercury with both skill and panache.
Their advanced understanding of structure and form in everything imaginable from fugues to gospel blues reveals their deep respect for the material as well as a womb of pure genius in which their arrangements are conceived. Grieg, Dvořák, Schubert and Brahms fare equally well in this duo's creative hands. You should be running out to get this disc, right about now.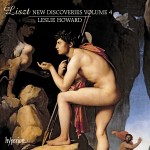 Leslie Howard's 99-CD set of Liszt's piano music released in 2011 to mark Liszt's bicentenary included a three-volume "New Discoveries" series. Continuing scholarly research since then has turned up more manuscripts and other early editions, compelling Howard back into the studio to record a fourth volume for the series, Liszt: New Discoveries Vol. 4 (Hyperion CDA68247 hyperion-records.co.uk).
The disc's program includes familiar titles appearing as early versions and sketches. Also, there are some tantalizing fragments listed simply as Album-Leaf that offer clues to the origins of some of Liszt's later thematic ideas.
Leslie Howard writes superb notes for this series and explains why the very substantial opening track is, by far, the most important discovery in this set. Hungarian Rhapsody No.23 S242/23 appears to have been erroneously divided into two halves long ago, because of a formatting difference in the manuscript. Howard presents it in its original extended form.
Scheduled for release in late September, Volume 4 promises to be in high demand for serious Liszt collectors.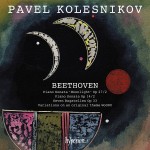 With a mere handful of recordings in his discography, Pavel Kolesnikov's regularly glowing reviews make his newest release, Beethoven (Hyperion CDA68237) a highly anticipated event.
Kolesnikov plays the Sonata in C Sharp Minor "Moonlight" Op.27 No.2 with a seductive intimacy that makes you strain to hear every note. Tempi and phrasings may be conventional, but the overall approach is rarely so subdued – it's very effective. The second movement is quite relaxed before he bursts into blazing speed for the third. It's an entertaining performance of contrast and high drama.
In the Seven Bagatelles Op.33, Kolesnikov exploits Beethoven's whimsical technical devices by playing with exceptional lightness, separation and the sharpest staccato. He has a distinctive touch that lends a freshness to familiar repertoire. The program also includes the Piano Sonata in G Major Op.14 No.2, 32 Variations on an original theme in C Minor WoO80 and four unpublished works that will intrigue the curious.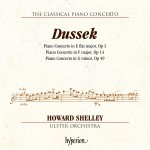 Howard Shelley appears as pianist and conductor with the Ulster Orchestra in his latest recording The Classical Piano Concerto Vol.5 (Hyperion CDA68211). The series is a companion to Hyperion's earlier one, The Romantic Piano Concerto. You can expect to find all the usual works in this series but it's interesting to find Jan Ladislav Dussek among the first recordings. As odd as it may sound, hearing music of the period that isn't either Haydn or Mozart is actually refreshing, if not downright exciting. It sets aside the habitual assumption that those two composers had said it all. Dussek wrote with a natural clarity and showed a refined elegance in his orchestral scoring that comes across as a lightness of character lacking nothing in harmonic richness.
Shelley is a demonstrated master at this genre, having recorded most of his 150 discs with small ensembles and chamber orchestras. His performance of Dussek's Concerto in G Minor Op.49 is utterly beautiful. The second movement, for example, is wonderfully conceived and emotionally planned, and Shelley's unerring judgement makes it hard to describe the powerful, moving effect he creates with the ensemble.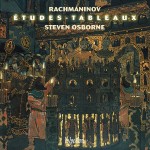 Steven Osborne has a long relationship with Hyperion. After nearly two decades and 27 releases, his most recent, Sergei Rachmaninov Études-tableaux Opp.33 & 39 (Hyperion CDA68188), broadens his discography still further. The Études-tableaux are small compositions over which Rachmaninov admitted spending far more time and effort than his larger-scale works. The composer claimed that such concise expression required a higher degree of economy and precision. And although he discreetly admitted to having general programs in mind for these pieces, he deliberately never revealed them, leaving the music to be heard absolutely.
In this disciplined context, Osborne performs impressively. He's a very direct player, moving straight to the emotional heart of any given phrase or thematic idea. Moreover, Rachmaninov packs his Études-tableaux with emotion, requiring dramatic changes in expression that Osborne manages masterfully.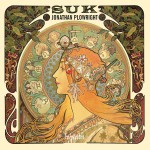 Jonathan Plowright's latest CD Suk: Piano Music (Hyperion CDA68198) features works from a ten-year period bridging the late-19th and early-20th centuries. Josef Suk may be a lesser-known composer, but Plowright shows his music to be of surprising substance. As a pupil (and eventual son-in-law) of Dvořák, Suk's musical pedigree was superb, though somewhat overshadowed by the critical reception of contemporaries like Janáček.
Plowright understands Suk's language, capturing his moods and characterizations in an articulate and playful way. Spring Op.22a and Summer Impressions Op.22b are an unfinished attempt at a "Seasons" set, yet reveal the composer's remarkable gift for portraying time and place in music. Similarly, Plowright performs Piano Pieces Op.7 and Moods Op.10 beautifully, leaving the strong impression that there is an expressive kinship between Suk and his older contemporary Edvard Grieg.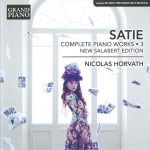 Among the numerous ways Nicolas Horvath has distinguished himself is with his commitment to the music of Erik Satie. His latest installment in this series, Satie – Complete Piano Works Vol.3 (Grand Piano GP763 grandpianorecords.com) continues his 2014 project using the new Salabert edition. This edition corrects many errors by earlier publishers as well as others arising from Satie's sometimes lax proofreading. Nearly half the disc includes world premiere recordings of the Salabert edition. Airs á faire fuir No.2, in particular, stands out as the first recording of Satie's more chromatic revision of an earlier effort. Horvath plays Cosima Wagner's 1881 Érard with its antique aural charm. In spite of the subtle technical compromises he is forced to make on this instrument, he nevertheless creates a sublimely haunting singing quality with his touch.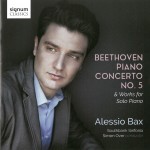 Alessio Bax's latest recording Beethoven Piano Concerto No.5; Southbank Sinfonia; Simon Oliver (Signum Classics SIGCD525 signumrecords.com) proves how beautiful small can be. The Southbank Sinfonia is a small ensemble of 32 emerging young professionals whose performance with Bax turns the monumental Emperor Concerto into a private and intimate experience. Bax scales back his playing accordingly and brings out the hidden charm sometimes lost in recordings by larger orchestras. The collaboration is more a pas de deux than a traditional contest of strength. It's an altogether beautiful interpretation.
The disc includes Beethoven's Contredanses WoO 14, of which the seventh reveals a thematic source for the origin of the Eroica symphony. Bax also plays an early teenage composition (WoO55) deeply reflective of Beethoven's admiration for Bach, as well as a delightfully crisp Polonaise Op.89.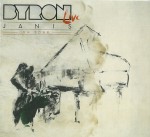 Hailed by music writer Harold Schonberg at the peak of his career as "one of the best pianists around today," American pianist Byron Janis last year celebrated the 70th anniversary of his first recording for RCA at age 19 with the release of Byron Janis Live On Tour (byronjanislive.com). This disc is the first of three planned releases and covers American and European tours from the years 1978 to 1999. Most of the program is Chopin but it also includes some Liszt and Haydn – as well as a piano duo recording with Cy Coleman of Paganini Variations, which begin with the familiar theme but quickly evolve into a jazz and blues style that has the partygoers audibly excited by their originality and brilliance. Disc 2 of the series "Live from Leningrad" will cover the early 60s when Janis was a US Cultural Ambassador helping to start the thaw of the cold war.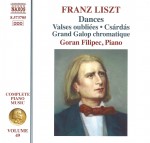 Goran Filipec wears an impressive chestful of medals representing his pianistic achievements. Competitions, concert tours and recordings occupy much of his time and the laudatory reviews that follow him everywhere he performs explain why he appears as one of the distinguished pianists in the Naxos Complete Music of Liszt series. The new addition to this colossal project is Volume 49, Franz Liszt Dances (Naxos 8.53705 naxos.com).
The disc's program offers an array of dances: valses, csárdás, a mazurka and more. Filipec's playing is, of course, brilliant. He captures, early on, the mood that Liszt wants to establish for each dance. This is sometimes modal, sometimes purely technical but most often introduces itself as a lyrical idea. Filipec identifies and artfully exploits each access point to the spirit of these dances. His touch is generally light, somehow floating above the keys. But he convincingly delivers bravura and power whenever Liszt requires it.