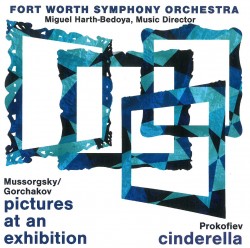 Mussorgsky/Gorchakov – Pictures at an Exhibition; Prokofiev – Cinderella
Fort Worth Symphony Orchestra; Miguel Harth-Bedoya
FWSO ((LIVE)) (fwsymphony.org)
Mussorgsky's Pictures at an Exhibition is probably the most popular piece of Russian Romantic program music and nowadays one of the most often recorded. Initially written for piano solo, it is the orchestral version of 1923 by Maurice Ravel that made the big hit in the symphonic repertoire. Ravel by this time was a name to conjure with particularly in the field of orchestration, with his scintillating palette of French Impressionism. There were other orchestral versions, but the phenomenal success of the Ravel score overshadowed them all, including this particular one by Sergei Gorchakov. During the height of the Soviet era in 1955, Gorchakov aimed at a more Russian character by concentrating on the lower strings, deeper textures and sonorities, and heavy percussion, thus emphasizing the struggles of the working man. For example, The Oxcart (Bydlo) is far weightier in steady fortissimo than Ravel's more subtle crescendo/calando line. This trend is consistent, culminating in The Hut on Hen's Legs (Baba Yaga), a real blockbuster and more ghoulish then I've ever heard it. We get the idea fairly quickly but are we sure this would be an improvement on Ravel's brilliance?
The Fort Worth Symphony's enthusiastic and charismatic conductor Miguel Harth-Bedoya, however, was on the right track in showing the instrumental skills of his band by choosing a showpiece and being a bit different at the same time, proven by the enthusiastic ovation of the Texas audience.
A happier choice is Prokofiev's radiantly beautiful Selections from Cinderella – partly because the selections are by the conductor and arranged in chronological sequence, following the story faithfully and illuminating the arch-like pattern of one of the world's beloved fairy-tale love stories. The excellent acoustics of the concert hall make this CD an audiophile's delight.