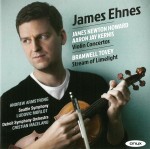 What is there left to say about James Ehnes? Canada's superstar violinist is back with another outstanding CD, this time featuring live concert performances of two recent violin concertos written for him. Ludovic Morlot leads the Seattle Symphony in a March 2017 performance of the Aaron Jay Kernis concerto, while Cristian Măcelaru is the conductor with the Detroit Symphony Orchestra in the May 2017 performance of James Newton Howard's work (Onyx 4189 onyxclassics.com).
Both concertos essentially follow the traditional form of extended first movement (in the Kernis it's a Chaconne), contemplative slow movement (for Howard "the centrepiece" of his concerto) and a fast, dazzlingly virtuosic finale.
These are accessible, strongly tonal and highly effective works. Ehnes, naturally, is superb throughout, with terrific orchestral support. His regular recital partner Andrew Armstrong joins Ehnes for Bramwell Tovey's Stream of Limelight, written for the violinist's 40th birthday.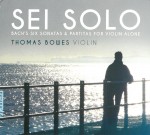 English violinist Thomas Bowes adds another outstanding set to the list of Bach's Six Sonatas & Partitas with Sei Solo (Navona NV6159 navonarecords.com).
The recordings grew from a series of church concerts of the works that Bowes undertook across England in 2013. His insightful notes show how deeply he has thought about this music, but his performances make it even clearer. Tempos are predominantly relaxed and spacious but never drag, although even allowing for observation of all repeats the total time – 3CDs and 160 minutes – is by far the longest of my 12 sets.
Bowes uses gut G, D and A strings on his 1659 Amati and says that his approach to style and historical context "has been to acknowledge them but to move away from them when they felt limiting or too fixed. I feel that this music transcends limitations of epoch and style."
Recorded on six single days between November 2013 and February 2016 in Abbey Road Studios, these are warm, contemplative and deeply rewarding performances.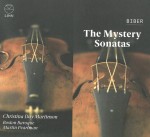 Boston Baroque's concertmaster Christina Day Martinson is the outstanding soloist on a new set of Biber The Mystery Sonatas with Martin Pearlman, Michael Unterman and Michael Leopold the excellent continuo (Linn CKD 501 linnrecords.com).
This truly extraordinary work from the 1670s sets unique challenges for the violinist, with all but the first of the 15 sonatas employing scordatura; no two sonatas having the four violin strings tuned to the same set of notes. A final solo passacaglia returns to the original standard tuning.
The open strings are played here before each sonata, excellent booklet notes explaining the resulting issues and effects. Martinson's faultless and sensitive playing shows just how powerful and emotional these astonishing works can be.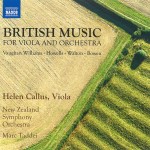 Helen Callus is the outstanding soloist in British Music for Viola and Orchestra, a welcome reissue of recordings originally released in 2006 on the ASV label. Marc Taddei conducts the New Zealand Symphony Orchestra (Naxos 8.573876 naxos.com).
All four works are associated with Lionel Tertis, the player most responsible for the viola's emergence as a solo instrument. The Vaughan Williams Suite for viola and small orchestra and York Bowen's Viola Concerto in C Minor Op.25 were written for and premiered by him; he premiered Herbert Howell's Elegy for viola, string quartet and string orchestra and was the dedicatee of the Walton Viola Concerto in A Minor, played here in the 1961 revised version.
Extremely attractive works, a lovely solo sound, fine orchestral playing and excellent sound quality make for a delightful CD.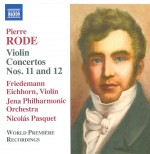 Naxos ends its five-volume series of the Violin Concertos of the French violinist/composer Pierre Rode with world premiere recordings of Concertos No.11 in D Major Op.23 and No.12 in E Major Op.27, with Friedemann Eichhorn and the Jena Philharmonic Orchestra under Nicolás Pasquet (8.573474). Two Airs variés complete the disc.
A pupil of Viotti, Rode eschewed mere virtuosic writing for a more idiomatic style, Eichhorn noting that for Rode virtuosity meant ease and sovereign control, his manner "honest and always musical; what he is aiming for is verve and brilliance."
Those are just about perfect descriptions of Eichhorn's exceptional playing here.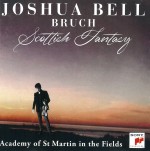 His father's Scottish heritage adds to the strong personal connections Joshua Bell feels for the two Max Bruch works on his new CD Bruch Scottish Fantasy with the Academy of St Martin in the Fields (Sony Classical 19075 84200 2
sonymusicmasterworks.com).
The other work here, the Violin Concerto No.1 in G Minor Op.26, was the first major concerto the 11-year-old Bell learned; moreover, he first recorded the work over 30 years ago with this same Academy and its founder Sir Neville Marriner. In 2011 Bell was named music director of the ensemble, the only person to hold this post since Marriner founded the group in 1958.
It's clearly a perfect match if this superb CD is anything to go by; there's glorious sound throughout from soloist and orchestra, and a lovely recorded resonance.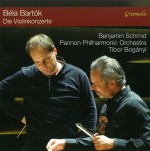 The Austrian violinist Benjamin Schmid is the soloist in Béla Bartók Die Violinkonzerte with Hungary's Pannon Philharmonic Orchestra under Tibor Bogányi (Gramola 99138 gramola.at).
The first of Bartók's two concertos was written in 1907-08 and inspired by the composer's feelings for the young violinist Stefi Geyer, to whom he gave the manuscript; it remained unplayed and virtually unknown until a few years after her death in 1956, although the first of the two movements was published – slightly altered – in 1912 as the first of Two Portraits Op.5. It's a lovely work with a rhapsodic first movement and a second that shows the early influence of Bartók's folk music studies.
The Violin Concerto No.2 was written for Zoltán Székely in Hungary in 1937-8, prior to Bartók's 1940 move to the United States. The middle movement in particular has a wistful introspection that seems redolent of a beloved but changing country, soon to be left behind forever.
There's suitably rapturous playing throughout from all involved.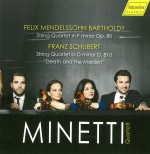 Two works closely associated with death are featured on Mendelssohn Bartholdy/Schubert, a new CD from the Viennese Minetti Quartett (Hänssler Classic HC18021).
Mendelssohn wrote his String Quartet No.6 in F Minor Op.80 while in the depths of despair after the sudden death of his beloved sister Fanny. All the customary grace and brilliance is there, but with an ever-present sense of brooding and darkness, and a heart-wrenching Adagio third movement.
Schubert's String Quartet in D Minor D810 "Death and the Maiden" may have been completed in 1826 when Schubert was in a healthier frame of mind, but the first two lengthy movements were written in 1824 when the composer was facing the prognosis of an early death.
From the nervous, unsettled opening of the Mendelssohn through to the final scampering Presto of the Schubert this is wonderfully nuanced, sensitive and passionate playing on a simply outstanding CD.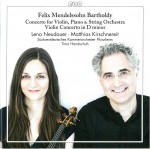 There's more Mendelssohn on Mendelssohn Bartholdy Double Concerto, with violinist Lena Neudauer and pianist Matthias Kirschnereit performing the Concerto in D Minor for Violin, Piano and String Orchestra and Neudauer taking the solo role in the Concerto in D Minor for Violin and String Orchestra (cpo 555 197-2 naxos.com). The Südwestdeutsches Kammerorchester Pforzheim under Timo Handschuh provides the excellent orchestral support.
The Double Concerto is an astonishing work from 1823, when Mendelssohn was only 14. It has a simply gorgeous slow movement and a dazzling Allegro molto finale.
His D Minor Concerto from the previous year lay unknown for 130 years until Yehudi Menuhin discovered and promoted it in 1952. The manuscript contains only sketches for the finale and the version recorded here is a later revision by Mendelssohn, making it difficult to know exactly how much of the original childhood work remains.
Neudauer's playing is outstanding, with technical assurance and fluency matched with a warm, sensitive tone. Kirschnereit is an excellent partner in the Double Concerto.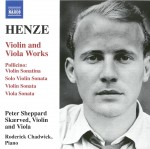 Few violinists have greater experience in the contemporary field than Peter Sheppard Skærved, whose new CD Henze Violin and Viola Works features compositions spanning 53 years in the career of the German composer Hans Werner Henze (Naxos 8.573886).
The 1946 Violin Sonata is a lovely piece with a particularly attractive Nocturne second movement. Roderick Chadwick is the pianist for this and two works from 1979, the Pollicino: Violin Sonatina and the quite challenging Viola Sonata which Skærved describes as having an "emotionally shattering quality."
Skærved worked with Henze on the latter's Solo Violin Sonata, including the revised version in his 1999 recording of Henze's unaccompanied works. Here, however, he reverts to the 1977 original, "rough, more violent" version of the work, which he admits to preferring.
Two short unaccompanied pieces for solo violin, both written as memorials to friends, complete the disc: Für Manfred (1989) and Peter Doll zum Abschied (1999).
Three concertos for violin and cello are featured on the excellent Double Concertos Brahms/Rihm/Harbison, with violinist Mira Wang and cellist Jan Vogler supported by the Royal Scottish National Orchestra with conductor Peter Oundjian (Sony Classical 19075836752 sonyclassical.de).
Wolfgang Rihm's single-movement Duo Concerto was written for Wang and Vogler in 2015, its strongly tonal opening setting the scene for a dialogue between the soloists that Rihm describes as a single voice singing to its heart's content.
John Harbison's Double Concerto was written for the duo in 2010 and has three movements of quite dissimilar musical language that work from "misunderstandings" to a final close accord.
The Brahms Double Concerto in A Minor Op.102 is the central work on the CD. It's given a performance that is solid and thoroughly enjoyable.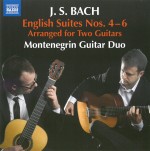 There's some superb guitar playing on J. S. Bach English Suites Nos.4-6 Arranged for Two Guitars by the Montenegrin Guitar Duo of Goran Krívokapić and Danijel Cerović (Naxos 8.573676).
The excellent transcriptions are an absolute delight; the playing is warm and bright, with accuracy, agility, articulation, definition and clarity, all beautifully captured by the top-level Naxos team of Norbert Kraft and Bonnie Silver at the St. John Chrysostom Church in Newmarket.
Volume 1 of this outstanding two-CD set is available on Naxos (8.573473).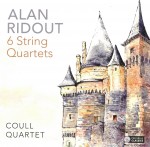 The complete 6 String Quartets of the English composer Alan Ridout are available on a new CD from the Coull Quartet (Omnibus Classics CC5014).
Ridout was only 61 when he died in 1996. His quartets, from the last decade of his life, are well-crafted, attractive works with hints of the influence of Shostakovich, Bartók, Tippett and Britten, and more than support the description of Ridout's music as "always playable, clear to listen to, beautifully fashioned and idiomatically written."
The Coull Quartet, formed at London's Royal Academy of Music in 1974 and with two original members still present, gives beautiful performances on a CD which is a significant addition to the 20th-century English string quartet discography.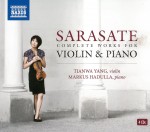 Finally, Naxos has issued the four outstanding volumes of the Sarasate Complete Works for Violin and Piano, featuring the remarkable violinist Tianwa Yang and pianist Markus Hadulla, as a box set (8.504054). The individual CDs were originally released in 2006, 2007, 2012 and 2014, the latter two reviewed in this column in May 2012 and March 2014 respectively.
With a retail price of around $32, this is an excellent and welcome opportunity to acquire a simply terrific series. Hopefully Naxos will do the same with Yang's equally outstanding four CDs of the Sarasate Complete Music for Violin and Orchestra.