American Romantics
Gowanus Arts Ensemble; Reuben Blundell
New Focus Recordings FCR 166
American Romantics III
Lansdowne Symphony Orchestra; Reuben Blundell
New Focus Recordings FCR166C (newfocusrecordings.com)
Lovely melodies and evocative tone-painting fill the first and third volumes of the American Romantics series created by conductor Reuben Blundell. Together these two CDs present first recordings of 19 pieces by 14 mostly forgotten late-19th- and early-20th-century composers born or active in the U.S.
In the first volume, Blundell leads the Gowanus Arts Ensemble, ten string players who also perform on American Romantics II, reviewed in The WholeNote this past February. In the latest release, Blundell appears as music director of the Lansdowne Symphony Orchestra, a professional-sounding community orchestra in Philadelphia.
Two composers, Ludwig Bonvin and Carl Busch, are featured in both discs under review. Swiss-born Bonvin (1850-1939) emigrated to Buffalo, where he served as music director of Canisius College. He's represented by the hymn-like Christmas Night's Dream for strings and the very Wagnerian Festival Procession for orchestra. Busch (1864-1943), from Denmark, settled in Kansas City, finding inspiration in North American Indigenous melodies. Volume I contains two movements from his Indian Tribal Melodies: Four North American Legends; Volume III includes two richly coloured, dramatic tone poems, Minnehaha's Vision and The Song of Chibiabos, both based on Longfellow's The Song of Hiawatha.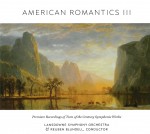 Another composer who wrote many works on First Nations subjects was Charles Wakefield Cadman (1881-1946), one of the few recognizable names in the American Romantics series. His five-movement Thunderbird Suite, said to incorporate Blackfoot melodies, is, at 21 minutes, by far the longest work on these two discs. The highly cinematic Suite dates from 1918, well before sound arrived in Hollywood, but it's not surprising that, in later years, Cadman moved to Los Angeles where he would indeed go on to compose music for films.
Gena Branscombe (1881-1977), the only woman and only Canadian on these discs, was born in Picton, Ontario (not PEI, as the notes state) but left for the U.S. as a teenager to pursue her musical studies. There, she composed prolifically in all genres, founded and conducted the Branscombe Chorale, and commissioned and performed works by many other women composers. Her brief, bittersweet waltz, A Memory, a miniature Valse Triste, was originally for violin and piano; it's heard in an arrangement for harp and strings.
Like A Memory, all of the predominantly short pieces on these two CDs are well worth hearing, though they tend to fall into the Easy Listening category. This series is obviously a labour of love for conductor Blundell and I hope he continues his pattern of one release per year. I look forward, however, to hearing more extended, substantial yet unfairly forgotten works by these unfairly mostly forgotten composers.