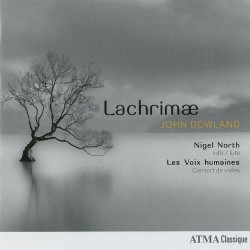 Lachrimae John Dowland
Nigel North; Les Voix humaines
ATMA ACD2 2761 (atmaclassique.com)
Nigel North. To whom else would you turn to play the lead lute part in a Renaissance consort? Fifty years of playing and teaching, whether or not for solo lute, continue to enhance his reputation. And so it is that ATMA Classique has engaged North to perform alongside Les Voix humaines, themselves a group of exceptional viol players.
This CD interleaves Dowland's seven passionate pavans, those prefaced Lachrimae, with some popular pieces, e.g., Captaine Piper his Galiard. The latter features skillful treble viol playing, belying the idea that this piece can only be played by the Elizabethan consort of six instruments. However, this collection is centred around the pavans. The players' interpretation of the "usual" Lachrimae incorporates every possible nuance that Dowland could have introduced, North's lute playing adding to the treble line's existing intricacies. The introspective Lachrimae is followed by the sprightly Earle of Essex Galiard, giving our minds time to refresh before hearing the next pavan; this model is repeated throughout the CD.
Of course, which pavan is the most meaningful must be in the listener's mind. Lachrimae Gementes does indeed have a tortuous, drawn-out quality, as does Lachrimae Tristes. Perhaps these two pavans are even more thoughtful than the aforementioned usual Lachrimae. Finally, bear in mind that two of the viols in this recording were created by Henry Jaye in the early-17th and by Barak Norman in the late-17th century. We are in exalted company, not to mention local, as the Jaye treble viol was loaned from Hart House, University of Toronto.