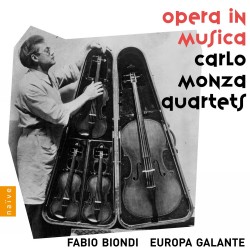 Opera in Music – Carlo Monza Quartets
Europa Galante; Fabio Biondi
Naïve v 7541 (bfan.link/opera-in-musica-carlo-monza-quartets)
Listen
Quartetto "La fucina di Vulcano" in F Major: I. Vulcano nella Fucina geloso di Venere. Allegro - Listen on Spotify
Quartetto "Opera in musica" in D Major: I. Adagio – Allegro - Listen on Spotify
Quartetto "Gli amanti rivali" in C Major: I. Gli amanti rivali in contrasto. Largo – Allegro - Listen on Spotify
Read the Review
This is a world-premiere recording for these six quartets, an amazing fact because the sheer dramatic quality of these works means they deserved much earlier appreciation. In addition, recognition of Carlo Monza should surely have been forthcoming as a certain Mozart had been a 14-year-old in Monza's native Milan looking out for local composers in order to make his own technique more locally acceptable.
From the initial Quartetto in C Major "Gli amanti rivali" there is a spirited, operatic character to Monza's compositions, as if the instruments are singing their own private arias, sometimes almost arguing with each other. The same quartet brings us the haunting, slow, subdued strings of the largo L'amante favorito muore.
The more one explores this collection, the more one wonders why Monza's music was lost for so long. There is a stateliness to the adagio from Il giuocatore reminiscent of Pachelbel's famous canon; the following allegro is worthy of Mozart or any of his contemporaries, while the same suite's ravveduto appears to draw on the pastoral movements of the early Baroque.
Finally, there is the La caccia suite, unmistakable for the boisterousness of its opening movement, conjuring up the sounds of the hunt from which it is inspired. Monza saves perhaps his most intricate movement for last; Rondò de' pastori frattanto che i cacciatori cenano creates the images of a hunt concluding in a quiet, satisfied atmosphere.
Fabio Bondi devoted much time to finding Monza's manuscript. A private library refused to lend it; kudos then to the Bibliothèque Nationale de France for lending its copy. And to Bondi for his perseverance in finding it.