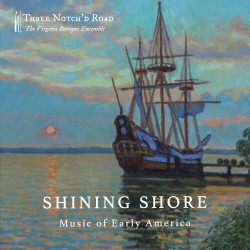 Shining Shore
Three Notch'd Road – The Virginia Baroque Ensemble
Independent (tnrbaroque.org)
Early music in North America, and not in Italy, England or France? Surely not? And yet the Virginia Baroque Ensemble Three-Notch'd Road has recorded 17 pieces ranging from a broadside ballad through hymn arrangements to the dizzy heights of Handel and Purcell arrangements.
There is a haunting quality to many tracks: listen to bass Peter Walker as he solemnly declaims the anonymous but highly emotive Liberty tree, a setting of Thomas Paine's support for the American revolutionaries. After the rigours of the War of Independence, it is little wonder that Oliver Shaw composed the invigorating Jefferson's March. Here, Dominic Giardino breathes his enthusiasm for military music and early instruments into one of the very first forms of the clarinet.
Then there are pieces with a deep spiritual content. The singers on the CD lend a very human quality to Jeremiah Ingalls' Farewell Hymn with its subject of death. It is followed by a slow, stately and traditional Appalachian interpretation of I Wonder as I Wander sung by Peter Walker.
The instrumental pieces are also worthy of note. To Drive the Cold Winter Away was a great favourite in English collections; its simplicity may well have led to an aural transmission across the Atlantic – ready for Giardino's clarinet skills.
We hear far too little early music from the New World. This CD must surely be the start of the fightback.