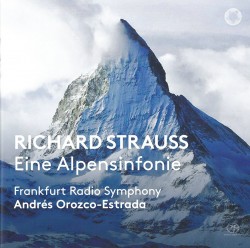 Richard Strauss – Eine Alpensinfonie
Frankfurt Radio Symphony; Andrés Orozco-Estrada
Pentatone PTC 5186 628 (pentatonemusic.com)
With Ein Heldenleben and Macbeth released in 2016, Andrés Orozco-Estrada and the Frankfurt Radio Symphony already showed themselves to be impressive Straussians. And now, with Eine Alpensinfonie, Orozco-Estrada and the orchestra have continued to uncover the feverishly ardent harmonics and melodic tuneful artistry of the last great German Romantic composer with electrifying brilliance. Unravelling this work with subtle note-spinning, both conductor and orchestra have infused it with febrile energy and hip-swinging seductiveness through to a finale that is properly shattering.
Completed in 1915, Eine Alpensinfonie turned out to be the last of Strauss' large-scale non-operatic works, crafted with masterful use of horns. Orozco-Estrada's approach here is unrushed and often expansive. But there is no shortage of dynamism: though leisurely by the clock the performance is spectacularly punctuated by enormous Straussian shock and shudder. At its peak this performance takes the composer's atmospherics of Eine Alpensinfonie completely seriously, and achieves a quality of sound so rich and incisive as to overcome Strauss' proverbial bombast and prolixity.
What the conductor cannot disguise – indeed he revels in it – is the impetuosity of Strauss' orchestral writing. Moments of awe swell in Eintritt in den Wald and the thrill of adventure soars in the prophetic colour and expression, especially in Auf dem Gipfel and the thunderous Gewitter und Strum, Abstieg. This work is well-suited to Orozco-Estrada's flamboyant style, and the orchestra's rich refulgent tone as both conductor and orchestra hit the mark in thrilling fashion.