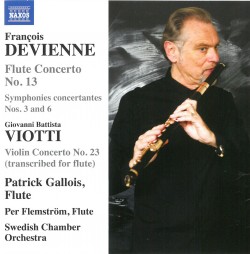 François Devienne – Flute Concerto No.13; Symphonies concertante for two flutes; Giovanni Battista Viotti – Violin Concerto No.23 (transcribed for flute)
Patrick Gallois; Per Flemstrøm; Swedish Chamber Orchestra
Naxos 8.573697 (naxos.com)
Here are two composers who deserve a wide audience. Devienne's training comprised service with a French army regiment, the orchestra of the Opéra in Paris and the chamber orchestra of a French cardinal. In 1782, aged 23, Devienne made his first solo appearance, probably performing his own Flute Concerto No.1.
It is this and Devienne's 12 subsequent flute concertos that Patrick Gallois has undertaken and now completed with the current release. After a vigorous Allegro, Gallois interprets the Romance: Andante with a sensitivity enhanced by the accompanying strings. Another Allegro movement concludes this lively interpretation of Devienne's final flute concerto.
At this point, Per Flemstrøm joins Gallois in Devienne's Symphonies concertante Nos.3 and 6. This is bittersweet, as Flemstrøm died in 2017: the CD is dedicated to his memory and his spirited flute playing becomes apparent in the Allegro of No.6. More studied is his interpretation of the Moderato in No.3, played with thoughtfulness and feeling.
And then there is Giovanni Battista Viotti, back to Gallois as soloist aided by his own cadenzas. This is perhaps the most demanding composition on this CD, with its complex scoring in both the opening Allegro and the concluding Rondo: Allegro. It is, in fact, the string section that creates the more intense quality of this concerto as a whole.
All in all, a display of the overlooked talents of Devienne and Viotti – and a worthy tribute to Per Flemstrøm.