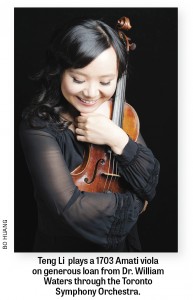 Looking back now, my parents had this wish for me before my birth. My name, "Teng," means rising – taking off – in Chinese. My parents wished me the ability to fly and see the world freely.
Teng Li lives in Toronto's King West neighborhood with her loving husband, percussionist John Wong. She loves tasting amazing food, eating all sorts of dessert and drinking good wine and beer. Having learned to knit from YouTube videos a few years ago, she knits baby booties, scarves and hats. Her next projects are sweaters for her hubby and a friend. She's been working on those for a couple of years; one of these days they will be finished!
When you look at your childhood photo today?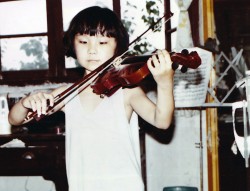 I don't remember taking this photo but it must have been in the summer – my parents' old apartment in our hometown, Nanjing, China. Nanjing is known as one of China's four "hotpots" because of its unbearable heat and humidity in the summer. My family didn't own an air conditioner and I remember practising with streams of sweat going down my back and forehead. The fingerboard was often so wet, after a day of practising, my left fingers felt as though they had been soaked in water for a long time.
If you could travel back through time and meet the young person in that childhood photo?
I would tell young Teng, "All the hard work you are doing now will pay off later. The time you spend on music makes you have better connection with it. Don't be too stressed, everything is going to work out."
Do you remember when you began to think of yourself as a career musician?
I knew from a very young age – since I was in elementary school – that I was going to be a musician. My parents saw my talent very early on – on my second birthday I received a violin as a present. I started taking violin lessons at age five when I was big enough to hold that instrument. There have been times when I would get lazy and think "Wouldn't it be great if I didn't have to practise right now …'" Those were only moments of weakness though.
Other musicians in your childhood family?
My mother is a well-respected retired schoolteacher, and my father is a tai chi master – among his many other abilities. He was a Beijing Opera singer – so talented that he had a job with the provincial company at 18 and performed many major roles for foreign leaders. Unfortunately, he was forced out of the company because of the Cultural Revolution. I often think my father is one of the most talented and musical people I know, and it is so unfortunate he and many people in his generation were never provided the opportunity to develop their talents because of the historical events. He was sent to a coal mine away from home to work but continued to be interested in the arts. He performed at the mine as a performance host, singer and bamboo flute player, and at one of these performances he met my mother. He was the host, and she, a schoolteacher reading a poem that she had written for the event. How romantic is that!
My parents moved to Nanjing, and my mother continued teaching, while my father worked in a long distance bus company. They still live in Nanjing, China. When I performed in Beijing and Shanghai last December, they came to see me perform. They have visited Toronto a couple of times and came to many concerts while they were here.
Earliest memories of hearing music?
My father used to play bamboo flute at home; I'm sure he played for me a lot when I was an infant. To this day, I still like the sound of the bamboo flute a lot – I even brought one of his flutes to Toronto. I remember my father and his brothers would get out instruments to play and sing together at the big Chinese New Year family gathering.
First recollections of making and hearing music?
Maybe because all of our parents went through the Cultural Revolution, and western music and traditional music were banned during that time, parents put their musical desire in their children, and hoped their musical dreams would be continued. On my floor of the apartment building, every kid my age played a musical instrument.
Classical recordings were not easy to find. Going to a concert was the only way to learn what good playing was. I remember watching violin recitals, concerts and prizewinner concerts at a very young age. My parents took me to see other kids perform and I remember thinking: I wish I could play like that. On some of my Shanghai trips, after lessons my father would take me to the Shanghai Conservatory to hear a student recital.
Do you remember the first time you performed for people other than your family or teacher?
My first memory of performing is very vague, but I do remember performing in grade 1 with my school string ensemble. Everyone else in the ensemble was much older than me, and we performed by memory. I must have been just so excited, and giggled a lot. When the music started, I was quite tired already… And then I felt something was wrong, but continued to play the whole thing. I later realized I had played the wrong piece…. I was so embarrassed, especially because I had already thought about becoming a professional musician.
First teachers?
When I was about seven, my teacher at the time decided to go to Paris to continue her training. Before she left, she mentioned a very famous violin teacher in Shanghai whom she had studied with, and said she would be happy to help me contact him. With her recommendation, father took me to Shanghai to meet this teacher, and the train ride from Nanjing to Shanghai became my weekly routine. I would wake up around 10pm on Saturday evenings, and father would ride the bike for an hour with me in the back of the bike from the south end of the city to the north where the train station is. Then we would take the train to Shanghai around midnight. Most often, by the time the train stopped in Nanjing en route to Shanghai, there were no seats left. To ensure I got enough sleep, father would put me on the luggage rack and would stand next to the rack holding me the whole night to make sure I didn't fall off. I also sometimes slept under the seats.. We would get off in Shanghai, have a very quick breakfast, and go to my 8am lesson. We would then catch an afternoon train back home. To this day, I still have special feelings towards the Shanghai Train Station.
China has many conservatories, and the most famous is the Central Conservatory in Beijing, where they have students from elementary to post graduate level. I auditioned for the school at age nine and was accepted. I left home and my parents to live in a dorm in Beijing to continue my studies in music. I had three roommates, all from different parts of China. On our first night in the dorm we didn't sleep at all – we were chatting so much that we got a warning from one of the dorm supervisors!
When did you begin to play the viola?
I entered the Central Conservatory as a violinist. Because there were so many good players who were born my year, the elementary school accepted many students. But we needed to audition again for the middle school, and there were only half of the spots. I remember walking into the audition classroom – that panel would have been the biggest I had ever seen because the school invited all the professors to come help out. Apparently after we played, the oldest and most respected professor said, "We always make the worst violin players violists as a back-up career path. This year, there are so many players; I want a good violinist to become a violist. I want her." That's how I became a violist.
Maybe it was all meant to be.I sometimes think it was all karma – my first violin teacher was a violist. He is from Shanghai, and so is my mom. I remember hearing them speaking in Shanghainese. He was very sweet, and very kind to me.
I studied in the Central Conservatory for seven years. I had been doing quite well in school, and my family and I decided it was time to for me to go see the world, study at the world's most prestigious school, and with world's most respected teachers. I left China to attend the Curtis Institute of Music in Philadelphia when I was 16.
Music and musicians in your home life today?
My husband is also a musician, and he understands very well how a musician's schedule works very differently than most other people's. When I am not rehearsing and performing at the TSO, I'm usually teaching at University of Toronto, or rehearsing and practising for an upcoming concert. I often leave home in the morning and won't come home until 12 hours later. Our busy schedules make us treasure the limited time we have together.
Upcoming Concerts
February 3 to 8 Teng Li will be in Poland where she is the artistic director of an international summer program – Morningside Music Bridge – which attracts top-level students from all over the world. She's been involved with this program since 1999, as a student, alumna, teacher,
and last summer became the artistic director. Her upcoming trip is to audition potential students for the program.
February 19 7pm Trinity-St.Paul's Centre, Toronto
; Trio Arkel Concert Series
 with Marie Bérard, violin; Scott St.John, violin; Sharon Wei, viola; and Winona Zelenka, cello
.
February 29 8pm Von Kuster Hall
, London, 
University of Western Ontario; chamber music concert
 with Marie Bérard, violin; Scott St.John, violin; Sharon Wei, viola; and Winona Zelenka, cello
.
March 2 6:30pm 
Roy Thomson Hall, Toronto
; solo appearance with the Toronto Symphony Orchestra
 performing Paganini's Sonata per la Gran Viola
.
March 19 London; Toronto Symphony Chamber Soloists with Jonathan Crow, violin; Joseph Johnson, cello; Nora Shulman, flute;
 Heidi Van Hoesen Gorton, harp.
April 24 3pm Mazzoleni Concert Hall, Toronto
; Amici Chamber Ensemble
 with Cho-Liang Lin, violin; Amici Ensemble
: Joaquin Valdepeñas, clarinet; Serouj Kradjian, piano; and David Hetherington, cello.
May 27 7pm Trinity-St.Paul's Centre, Toronto
; Trio Arkel Concert Series 
with Yaoguang Zhai, clarinet; Marie Bérard, violin; Winona Zelenka, cello.

Looking Further Ahead
June 20 to 26, Cleveland; Li will perform in the Cleveland Chamber Festival.
June 28 to 30, Shenyang, China; Li is giving masterclasses and performing a concert at the Shenyang Conservatory.
June 31 to July 29, Beijing, China; Morningside Music Bridge has been invited to celebrate its 20th anniversary at the Central Conservatory in Beijing. Li will be in Beijing during this time to teach, perform and make sure the program runs smoothly.
July 29 to August 9, Santa Fe, New Mexico, USA: Li will perform at the Santa Fe Chamber Music Festival.
August 9-16, San Diego, USA: Li is teaching and performing at the Bravo Music Festival.