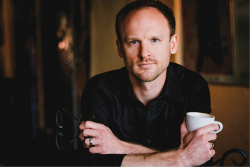 Lawrence Wiliford lives in the Woodbine/Danforth area of Toronto with his wife Prof. Katherine Larson and their miniature schnauzer Hermes. When not performing or thinking about the Canadian Art Song Project, Lawrence can often be found gardening, landscaping and doing light renovations of their home.
American-Canadian tenor Lawrence Wiliford's 2014/15 season includes concert engagements with major symphony orchestras, choral and early music groups in the U.S. and Canada, You may have heard him in Toronto this past November with the Bach Consort as The Evangelist in Bach's Christmas Oratorio, or with The Niagara Symphony in Britten's Serenade for Tenor, Horn and Strings. Perhaps you saw Wiliford make his Canadian Opera Company leading role debut in Mozart's Così Fan Tutte as Ferrando (on five hours' notice, in 2006). He has also appeared with the COC in A Midsummer Night's Dream and Swoon; and with Opera Atelier in Die Entführung aus dem Serail, Acis and Galatea, Persée, and Don Giovanni. Alongside his work as a performer Wiliford is co-artistic director, with pianist Stephen Philcox, of the Canadian Art Song Project.
Born in Muskegon, Michigan. Wiliford says he "grew up in Michigan, Wisconsin, The American Boychoir School in Princeton, New Jersey, upstate New York …" His father is a United Methodist pastor, so they moved around a lot. After high school in New York (in Fulton and then in Corning) he went to St. Olaf College in Northfield, Minnesota. He came to the University of Toronto for a Master of Music in Vocal Performance, studied at Tanglewood, the Internationale Bachakademie of Stuttgart, the Steans Institute at the Ravinia Festival, and the Britten-Pears Young Artist Programme. He is a graduate of the Canadian Opera Company's Ensemble Studio and is a recipient of grants from the Canada Council for the Arts and the Ontario Arts Council.
Suppose a friendly fellow traveller asks what you do for a living? "I am a classical singer." But generally that statement is followed by a host of questions and at least one "You don't look at all like a tenor!"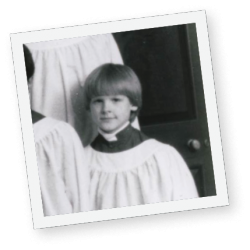 Do you remember that childhood photo being taken? Yes – It reminds me of the wonderful opportunity and education I received while at The American Boychoir School.
Anything you'd like to tell the young person in that childhood photo? Hmm … I would tell him to relish the experiences he was having and enjoy the ride.
Your earliest memories of music? I'm not sure what my earliest memory of hearing music is, but I was surrounded by music when I was young – hymns being sung or my mom and dad singing 60s folksongs.
[this is the cutline for the ballcap photo]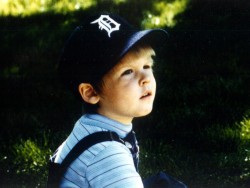 I listened to a lot of music in the car riding with my father from church to church on Sunday mornings and on road trips. The soundtrack of my early childhood included John Denver; Peter, Paul & Mary; The Kingston Trio; Neil Diamond; Kenny Rogers; etc.
When I was about 8 or 9 I saw the movie Amadeus and became enthralled with Mozart's music. I began purchasing recordings of his symphonies, concertos and choral works. That was my introduction to classical music and I never looked back. I sang in choirs at church from when I was very little and had piano lessons. But when I went to The American Boychoir School from age 9 to 14 I was exposed to music in the broadest way, performing across the U.S. and internationally with amazing conductors and musicians.
Other musicians in the family? My father plays the guitar and sings quite well, but doesn't read music. Both of my brothers also went to The American Boychoir School and sang, though my younger brother no longer sings much. My older brother has a bachelor's degree in Music and Theatre, and now works in arts administration at Interlochen in Michigan.
First memory of making music? I remember playing in my room making up songs when I was very young. I also remember my younger brother and I playing Beatles records and pretending to sing those songs for my mom. We were very surprised she knew that it wasn't us playing and singing.
Your first instrument? Singing. I did take a bit of piano around age 8, but I sang through most of my lessons.
Your first music teacher? I remember he played a harmonium and that I was selected to play the glockenspiel in my first school concert. I remember that being a big deal.
Earliest experiences of making music with other people? My brothers and I often sang with my dad at church potluck dinners. We were the entertainment.
When did you first sing all by yourself for an audience other than your family? The first real solo I remember was my first year at the ABS. I was asked to sing the aria "Ja, Komm Herr Jesu, Komm" from the Bach cantata Gottes Zeit ist die allerbeste Zeit" (BWV106). Who knew I would be singing Bach all of these years later?!
Do you remember when you began to think of yourself as a career musician? I don't think I really thought of myself as a career musician until now. Weird! I guess now that it has been my career for several years it is safe to say that I have a career as a musician.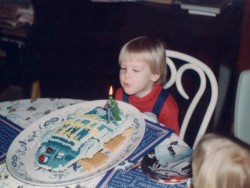 Did you ever think you would do something else?
When I was little I wanted to be an astronaut. My undergrad degree is in Church Music and conducting and I had thought of becoming a choral director.
Where does music fit into your home/ family life today? My wife, Katie, sings with the Exultate Chamber Singers, and I go support her and the choir. I tend to listen to instrumental music or jazz at home because, in truth, I often find it difficult to shut off when I listen to classical vocal music.
UPCOMING…?
The Toronto Symphony Orchestra's Messiah runs Dec. 16, 17, 19, 20 & 21 at Roy Thompson Hall.
In January, I am performing with the Toronto Masque Theatre in their production of Acis and Galatea and with Tafelmusik for the Beethoven Mass in C.
Canadian Art Song Project (for which I am co-Artistic Director with Steven Philcox) performs at the Richard Bradshaw Amphitheatre at the Four Seasons Centre on January 27th at 12 noon.
Any new recordings?
In March, Canadian Art Song Project released its first CD entitled Ash Roses, which includes several previously unrecorded works for solo voice by Derek Holman. It is on the Centrediscs label (available on itunes, etc.). The artists included are myself (tenor), Mireille Asselin (soprano), Sanya Eng (harp) and Liz Upchurch (piano). I'm very proud of this recording.
NEW CONTEST!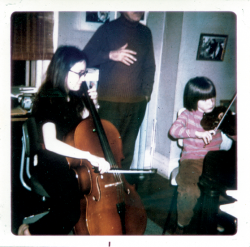 Who is FEBRUARY's CHILD?
Toronto's masqued marvel un-settles old scores.
Where he'll next appear as conductor, singer or baroque violinist?
Sightings include Tafelmusik, Exultate, Elora, Soundstreams, Toronto OperettaTheatre
But some lucky high schoolers know he's keeping time for them.
Proud son of his favourite composer, proud husband and father of three favourite singers.
Former producer in the heyday of CBC Radio Music.
see pages 30, 31, 40, 52
Know our Mystery Child's name? WIN PRIZES! Send your best guess by January 24, to musicschildren@thewholenote.com.
CONGRAULATIONS TO OUR WINNERS! HERE'S WHAT THEY WON
Messiah: at Roy Thomson Hall. Hallelujah! for the combined forces of the Toronto Symphony Orchestra and the Toronto Mendelssohn Choir, with soloists Jane Archibald, soprano; Allyson McHardy, mezzo-soprano; Lawrence Wiliford, tenor; Philippe Sly, bass-baritone. Grant Llewellyn, conducts while your heart soars. (Dec 16, 17, 19, 20, 21) A pair of Dec 16 tickets each for Doug McInroy and Joan Rosenfeld
Beethoven Symphony No. 5: at Koerner Hall. Kent Nagano (Orchestre symphonique de Montréal), directs the Tafelmusik Baroque Orchestra in Beethoven's revolutionary Symphony No. 5, later joined by the Tafelmusik Chamber Choir for Beethoven's lyrical and joyous Mass in C Major, with Nathalie Paulin, soprano; Laura Pudwell, mezzo-soprano; Lawrence Wiliford, tenor; Sumner Thompson, baritone (Jan 22 to 25). A pair of tickets for Annie Odom
Acis and Galatea: Toronto Masque Theatre in the candle-lit Enoch Turner Schoolhouse . A perfect love, a spurned giant, an enduring memorial by George Frideric Handel. Featuring tenor Lawrence Wiliford as Acis, soprano Teri Dunn as Galatea, baritone Peter McGillivray as Polyphemus and tenor Graham Thomson as Damon. A period ensemble is led by Larry Beckwith (violin 1), with chorus (Schola Cantorum, Faculty of Music U of T) directed by Daniel Taylor. (Jan 15 to17) A pair of tickets for Anne-Maria Pennanen
Ash Roses (Centrediscs 2014) This inaugural CD release by the Canadian Art Song Project (CASP) celebrates Canadian composer Derek Holman and a 20-year prolific period of writing art songs. The featured artists are also known for their dedication to song and chamber repertoire: tenor Lawrence Wiliford, soprano Mireille Asselin, pianist Liz Upchurch and harpist Sanya Eng perform works all previously unrecorded. A copy for you, Sabrina Keyes!
Music's Children gratefully acknowledges Lawrence & Terry Sue, Teri, Alison, Juliet, and John.