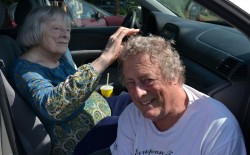 Errol Gay lives in North York, Toronto, with Ann Cooper Gay and their beloved golden retriever, Patch. Some of his other pastimes include working out possible European train travel and solving not-too-difficult Sudoku and crossword puzzles.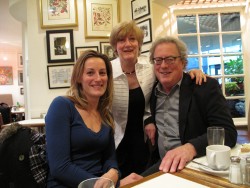 Mention Errol Gay to a group of musicians and you'll get some warm smiles of recognition: ask each of them how they know him and you'll get many different answers. In Paula Citron's article in this issue (page 8) about his wife, Ann Cooper Gay, there are more details about his extraordinary life, including his association with the Canadian Children's Opera Company.
Born in Pouce Coupé, Gay grew up in British Columbia. He holds a Bachelor of Music from the University of British Columbia, a Master of Arts in Musicology from the University of North Carolina (Chapel Hill) and a Doctor of Musical Arts in conducting from Stanford University (California). Composer, educator, conductor, studio and orchestra trombonist and pianist, this consummate musician has variously lived and worked all over the U.S.A. and Canada, and held positions at several universities in the U.S.A. He's been a conductor and chorus master with the Canadian Opera Company; assistant musical director of the Charlottetown Festival; co-conductor of the High Park Choirs of Toronto; music advisor/conductor of the Hart House Orchestra (U of T); music director of Orchestra Toronto; a frequent guest conductor with leading Canadian orchestras including the Toronto Symphony Orchestra. He was engaged by Sir Andrew Davis to be cover conductor on two European tours with the TSO, and was the TSO's librarian for 24 years. A small sampling of the individual musicians with whom he has collaborated includes Anne Murray, Dizzy Gillespie, The Kings' Singers, Jacques Israelievitch, The Canadian Brass, and Mary Lou Fallis.
Gay's first opera for young voices A Dickens of a Christmas was premiered by the Canadian Children's Opera Company in 2005. Alice in Wonderland, which opens May 7, is his second. The company will be joined by guest artist Benoît Boutet, tenor,playing the White Rabbit, and the production will be accompanied by a professional chamber orchestra.
"The pleasure I get from seeing and hearing that the young performers actually like singing my music – and that very often almost all the cast members can sing the entire score (including the orchestra bits!) by the end of a run – is my greatest reward."
When you look at the photo today, what do you think about? Childhood stories being passed on, and the love with which they were always recounted.
Imagine you could travel back through time and meet the young person in that childhood photo, is there anything you would like to tell him? Best not to wear that hat.
Anything you'd like to ask? "Where's Kazan, your dog and best buddy? I know he always wanted to be in every photo with you!"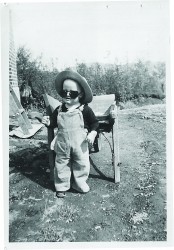 Earliest memory of music? My mother singing. I later found out that Stephen Foster figured prominently in her repertoire.
Musicians in your family? My mother was an untrained but vary accurate singer who "serenaded" me throughout my formative years. Two of my mother's brothers were quite good guitarists. Dad played the banjo-mandolin; at the time it was unusual that a fretted instrument player should be able to read music, but this in fact he could do--and quite well.
My dad, George, completed his B.A. in History from UBC in 1945. He'd wanted to join the armed forces during WWII, but was rejected because of colour-blindness, and was looking for a teaching job. There were no entry-level jobs available near Vancouver, so he had to apply to boards in the interior of B.C. During this process my parents tried to find out which localities had competent piano teachers and were told by several Vancouver pianists that there was really only one teacher in inland BC that might be considered to be exceptional, and she was in Penticton. It happened that there was a job opening there for my dad. The pay scale was somewhat less than in other boards but my parents decided that they would sacrifice earning more money in order to give me the best possible instruction leading to the ARCT exams some 13 years later!
Mom and Dad were pivotal figures in the establishment of, and fundraising for, the Okanagan Symphony and the Okanagan Summer School of the Arts, among other community organizations. Many citizens related--but with love--that if you weren't prepared to shell out for raffle tickets, it would be best to avoid George Gay on the street--he would buttonhole you, and was very persuasive!
All in all, no child could have asked for a more supportive parental couple. I miss them both!
My wife, Ann Cooper Gay, is an accomplished flutist, pianist, organist and singer, and now conductor. Our first daughter, Heather, was a very good violinist/violist and singer in school, although she did not pursue a musical career. Our younger daughter Erin is a fine professional horn player and is in the process of releasing her first CD as a solo singer in a unique genre: combining repertoire and elements of early (16th to-18th century) music and current songs.
Your first instrument? Piano. A colleague of my father, a music teacher, noticed in me a certain proclivity for music and suggested I undergo the old Seashore music aptitude test.
First memories of making music? Early piano lessons with Phyllis Schuldt in Vancouver at age four – crouching under the piano, fascinated with the workings of the pedals. My longtime mentor in Penticton – Helen Silvester – not only cut my nails when I showed up after soccer or hockey practice with them in need of attention but also recognized that the best interpretational motivation for me was through orchestral analogy.
Where did hearing music fit in? We had a 78rpm "automatic" record player and a very limited collection of recordings. I don't remember any of the actual titles, although some required a dropping of a second and third disc, so they must have been of extended works. We got a 33rpm player just in the year before I entered university (along with our first TV!!).
When I was about nine or ten our town was blessed with a local radio station (CKOK) which was soon connected to the CBC Dominion network. In addition to Hockey Night in Canada, Fibber McGee and Molly, and The Lone Ranger, this network presented broadcasts of recitals and orchestras from across Canada. The cultural woe that has befallen our country during the CBC's destruction is, to me, monstrous and its perpetration is unforgivable.
Earliest experiences of making/playing music collaboratively (with other people)? I played piano duets with a couple of (female) fellow students, and trombone in the school band. I also learned string bass during a year spent with my family in the north of Scotland, where I played in a reel-and-strathspey string ensemble—my first experience in improvising by ear. I remember playing trombone and timpani for G&S productions with the Society in Summerland, and being a useful member of the Penticton City Band because of my ability (arrogance?) to tackle any of the brass instruments whenever needed.
When did you first perform for an audience other than your family? What do you remember? Sweaty hands playing piano in Kiwanis Festivals; no nerves at all when making music with others!
What experiences from your childhood or teen years helped to form your appetite for lyric theatre and other staged work? The G&S mentioned above. I was 19 (maybe 20) when I was hired to play in the locally (Vancouver) hired orchestra for the Canadian Opera Company touring production of Orpheus in the Underworld conducted by Dr. George Brough (with whom I later became a colleague at the COC in Toronto), with a "run-out" to Seattle as well — my first "away" gig! I also played in two Vancouver Opera productions under Otto-Werner Mueller — a giant of a man and a giant musician! After that, it was the pit for me!
What do you remember about your first composition? The inspiring teaching of Cortland Hultberg at UBC, who led us through the composition exercises provided by Paul Hindemith in his (still) brilliantly laid-out theory and composition texts. Most of what might pass for my early "creative" work was in the field of arranging and orchestration (I received my lowest music grade in the latter, and proceeded to be hired quite regularly thereafter to do this kind of work — go figure!) One of my first true compositions was a very brief work — the name of which I forget, but it was perhaps more clever than the piece itself — written at the behest of the Director of the Men's Glee Club at Stanford University for its accompanying orchestra to perform on a tour of California.
How and when did conducting enter the picture? The Principal Trombone in the Vancouver Symphony (I was 2nd) asked me to play piano on his UBC graduation recital — at age 22 he was already in heavy demand for performances and radio/TV work, along with our teacher Dave Robbins and another not-too-shabby trombonist, Ian MacDougall! Ted (Lazenby) wanted to perform Milhaud's Concertino d'hiver with the original string orchestra, rather than just piano. There were no student conductors at UBC at the time, so I became one. It felt much more comfortable than applying my sweaty hands to the keyboard.
Did you ever think your life's work would be in some entirely other sphere? Do you remember the point at which you began to think of yourself as a career musician? In my mid-teens, I became smitten with radio broadcasting. I would spend late evenings—sometimes until sign-off at 1:00 a.m.—at our local radio station, which for that shift would have one announcer/engineer only. One particular night-man was very accommodating in allowing me to "hang out" and learn the ropes. He had a great voice and had acquired what was then easily identifiable as the "CBC sound"; in fact, he was soon hired by the network. My voice was not in that category, so I became a musician.
Where does hearing music fit into your family life today (not including your work)? My wife, Ann, and I enjoy dining out, often with our daughter Erin. For better or for worse, these outings are usually accompanied by "canned" music. I am one who simply can't not listen to what is being presented to (foisted upon?) us in the name of—again, for lack of a better term—musical art. My daughter has long since given up trying to dissuade me from approaching the manager with a request for a "change of track", a reduction of volume, or a flick of the off-switch, depending on the seriousness of the imposition!
CONGRATULATIONS TO OUR WINNERS! HERE'S WHAT THEY WON
Alice in Wonderland (May 7 to10, Harbourfront Centre Theatre).This fully staged one-act opera is performed by the Canadian Children's Opera Company with a chamber orchestra. A new commission by composer Errol Gay and librettist Michael Patrick Albano revisits Lewis Caroll's familiar tale about the journey down a rabbit hole. Directed by Albano, conducted by Ann Cooper Gay. A pair of tickets each for Michele Jacot and Barbara Aufgang.
Verdi Requiem (May 21 to 23, Roy Thomson Hall) will be conducted by Sir Andrew Davis who celebrates his 40-year bond with the Toronto Symphony Orchestra with annual return guest engagements. "Verdi's greatest opera" will feature Amber Wagner, soprano; Jamie Barton, mezzo; Frank Lopardo, tenor; Eric Owens, bass; and the Toronto Mendelssohn Choir. A pair of tickets for Keith Reid.
The Barber of Seville (through May 22, Four Seasons Centre). Love has a riotous sense of humour in this new production of Rossini's opera, conducted by Rory Macdonald. The May 21 performance will feature Joshua Hopkins as Figaro, Cecilia Hall as Rosina, Bogdan Mihai as Almaviva, Nikolay Didenko as Bartolo, and Burak Bilgili as Basilio. A pair of tickets for Carole Snow .
Con Brio! (May 31, Toronto Centre for the Arts) the final concert in the Orchestra Toronto season will feature guest artist Winona Zelenka in a program that includes work by Estacio, Mahler and Elgar, conducted by Kevin Mallon.
A pair of tickets for Richard Smith.
Music's Children gratefully acknowledges George & Beverly, Ann, Fia, Francine, Ken, Ori, Samantha, Eldon, Lajos & Piroska.
NEW CONTEST! Who is June's CHILD?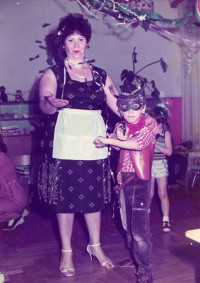 In Canada since 1998 – always movin' forward.
In May: National Arts Centre with Molly Johnson, St. Philip's Anglican Church with his quartet, The Rex with Mark Kelso.
In June: after the Winnipeg Jazz Festival he kicks off the Toronto Jazz Festival at a birthday celebration for Oscar Peterson, then Victoria Jazz Festival, Ottawa Jazz Festival, Halifax Jazz Festival, and doubtless more stops in between.
Know our Mystery Child's name?
WIN PRIZES!
Send your best guess by May 24, to musicschildren@thewholenote.com