Journalist Ulla Colgrass once referred to Larry Beckwith's father, the composer John Beckwith, as "Canada's Musical Polymath" (The Globe and Mail 01/10/98). It seems Larry's destined to share the honour. "People used to ask if he was my son; now they ask if I'm his father" (John Beckwith, Unheard Of: Memoirs of a Canadian Composer).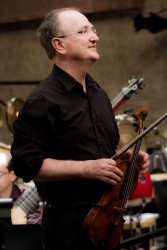 Since 2003 Larry Beckwith's Toronto Masque Theatre has given unique performances that wed music, theatre, dance and other performance disciplines in collaborations that continue to challenge and engage. The masques performed to date, and the salons relating to them, include baroque originals (Purcell, Monteverdi, Handel et al.) as well as new commissions by Canadian composers (Richardson, Rolfe, Daniel, Burry, Ho): fresh entertainments equally informed by the old and the new.
Toronto-born Beckwith's immersion in music began in childhood, and after graduating from Jarvis Collegiate his undergraduate and graduate studies in violin and musicology at the University of Toronto were just part of a continuum that embraces choral music, baroque and contemporary music, theatre, radio, teaching and writing. Beckwith the baroque violinist studied with Jeanne Lamon and was a founding member of the Arbor Oak Trio and the Aradia Ensemble. Beckwith the tenor has sung regularly with Elora Festival Singers, Toronto Mendelssohn Choir, the Exultate Chamber Singers, Tafelmusik Chamber Singers and Opera Atelier. Beckwith the conductor leads some main stage productions for Toronto Operetta Theatre. He's worked as a radio producer, sound designer, journalist, university sessional instructor and festival programmer. He currently teaches the strings program at the arts-intensive Unionville High School. The WholeNote's choral columnist for several years, he continues to review CDs.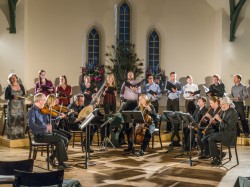 Suppose a friendly fellow traveler asks what you do for a living? I'm lucky that what I do for a living and what I love are the same thing. I'm privileged to have a teaching position at an arts high school in Markham, blessed with resources and an environment conducive to great music making. The students are keen, bright and respectful and we have a huge amount of fun learning about and sharing music at a high level. I am also the artistic director of a successful multi-disciplinary arts organization that allows me to pursue my strong interest in programming and commissioning early and contemporary stage works that combine music, theatre and dance. In addition, I do as much freelance work as I can find time for, as a singer and a baroque violinist.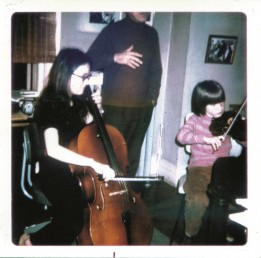 Do you remember that childhood photo being taken? I can't say that I do, but there was a lot of music making that went on in my father's small study in the family home on Summerhill Gardens. How long ago that was! I almost can't remember being that person, but I remember all the music we used to read through ... Bach, Mozart, Handel's Messiah – with me playing the vocal lines on the violin – and, very vividly, the beautiful Schumann pieces for clarinet and piano. We had an arrangement of these for violin – I heard Itzhak Perlman play them recently at RTH.
Your earliest memories of hearing music? My mother used to sing to me – folk and nursery songs. My father was always playing the great piano repertoire, as well as composing at the piano. The piano was a constant in our house. My father played it whenever he had time, and my mother did, as well. Lots of variety in repertoire, but quite often Beethoven, Schubert, Schumann ... sonata movements and the lovely, small character pieces. That piano was on the second floor in my father's study but the record player was in our living room.
We had one of those record players that was also a piece of furniture, like a sideboard. I loved listening to recorded music. In fact, I have a vivid memory of getting up on Saturday mornings very early and putting on De Falla's Three Cornered Hat ballet suite and pretending to conduct! Other favourite recordings included Toscanini conducting the NBC Symphony in Rossini overtures, Heifetz playing the Beethoven violin concerto and a beautiful recording of mixed repertoire for solo trumpet, played by Maurice Andr. I think I wanted to be a trumpet player initially!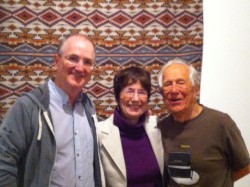 Of course, my siblings had growing interests in popular music, too. I remember early Beatles albums, Donovan, Cat Stevens, Lovin' Spoonful and a great novelty LP I still own: George Formby and his ukulele! My older sister played cello, my elder brother played a whole host of instruments: violin, clarinet, piano, guitar. And the brother closest to me in age was a drummer.
Concerts and theatre? My school, Deer Park Junior Public, did a musical every year and I remember going to see my older siblings in Oliver! – loved the music. I was taken to concerts quite early on, including some pretty far-out contemporary music shows. When I was 10 or 11, we went to the 20th anniversary festival at Stratford and I heard the flutist Jean-Pierre Rampal in recital. That had a big impact. On that same trip, the Canadian Brass premiered a piece of my father's late at night, outside on one of the islands in the middle of the Avon River. That was cool.
Both of my parents were equally passionate for music and theatre. My mother was a trained actress who later became a very fine stage director. My father acted in productions as a student and has continued to have a keen theatrical sense as a composer. Growing up, I went regularly to local theatre and opera productions. I also had a few experiences of trodding the boards as a teenager, one of which – an adaptation of The Snow Queen by Martin Hunter – involved a nice mix of music and drama.
Your first memory of yourself making music? Our kindergarten class at Deer Park sang Put on a happy face at a school concert.
First instrument? Violin. I think I originally asked to play trumpet at school, but that wasn't possible for some reason, so I did have the feeling of being stuck with the violin.
What do you remember about your first music teacher? Don Wasilenko ... he was an
itinerant teacher with the Toronto School Board and he used to come to Deer Park twice a week from 8:15 to 8:45 in the morning. A few weeks into being in that class, he told me he would come a half-hour earlier if I wanted to have some private instruction. I jumped at the chance. He immediately lit a fire in me, not only for playing the violin, but for making chamber music. He and I would play duets and it was so much fun! He was a lovely man and a demanding, but encouraging teacher.
First experiences of making music with other people? The orchestra at Deer Park was pretty good, but in grade 5 or 6 I was chosen to participate in the All-City Orchestra, conducted by Jack Dow (Holy Doodle!). I can't remember what we played – something by Dvořák or Tchaikovsky -- but it was thrilling and we performed at Massey Hall in the annual spring school show. More intimately, I started playing sonatas with my father at a very early age – and we continue to do so all these years later. He introduced me to all the great violin and piano repertoire, starting with Handel and Bach, through Mozart, Beethoven, Brahms, Debussy ... and we would play fun arrangements, like The Blue Danube and the overture to Orpheus and the Underworld. For the whole time we lived together, we would often sit down after dinner and play. I am so fortunate to have had that experience and it taught me to be a great sight reader and an understanding of how music is put together.
When did you first sing for an audience? Apart from that kindergarten experience, I really didn't sing until I was in university. I was encouraged by the organist William Wright, who taught me first year keyboard harmony, to join his United Church choir. So I did, and I learned a great deal of sacred repertoire, as well as singing the Christmas Oratorio and Magnificat of Bach. This was my first encounter with Palestrina, Byrd, Praetorius, Schutz ... wonderful.
When did conducting become part of the picture? I conducted the Victoria College Chorus for two years when I got out of University. I knew nothing about conducting, really ... just went on instincts, but we had some good concerts. I didn't conduct again really 'till I started teaching school in 2004.
And teaching high school? In 2001, I took a one-year contract as the director of programming for the International Choral Festival, curated by the legendary impresario Nicholas Goldschmidt. Essentially I was Niki's right-hand man, taking care of all the planning details for the festival. Our education outreach consultant was Dr. Lee Willingham and Lee and I became quite good friends over the course of that year. I was turning 40, doing about seven different jobs, including teaching, playing, singing, writing, etc ... and my kids were five and three. It was a busy time, and I wasn't getting any younger! Lee convinced me that I'd be a good teacher and made a good case for the teacher's life: I'd be able to have a steady job -- provide for my family -- and still do all the things I was passionate about. I still thank him for that advice. It was the right move for me to make at exactly the right time. I entered OISE in the fall of 2003 and at the end of that school year, the strings position at Unionville opened up and I was lucky enough to win the job.
When did you first conduct for an audience? After those Vic Chorus concerts, I resumed conducting at the Unionville High School in 2004, conducting almost every day in class and rehearsal. There's no better way to develop technique and strategies than in that environment. Trial and error!
With Toronto Masque Theatre, I learned from our first commissioned work that leading contemporary music from the first violin is difficult. So, when we came to do our next commission, I bowed out of playing in favour of conducting and I think that worked nicely. That was James Rolfe's Aeneas and Dido in 2007. I guess you could say that was my professional conducting debut and it went very well.
Later, I had the supreme pleasure – and one of the most terrifying challenges of my life – to conduct my father's opera Taptoo! – for Toronto Operetta Theatre. This opened up a new and fascinating world for me.
When did you begin to see yourself as a musician? I never thought I'd be anything else. From the time I fully understood the practicalities of making a living I made a pact with myself that my job would always have something to do with music. I wish I'd been more practical in setting goals for myself early on, but miraculously, one thing has led to another and I've been able to honour that pact.
Did you ever think you would do something else? To be honest, a potentially fatal flaw in my make-up is the inability to look ahead too far. I can't say that I ever had a career plan. I worked in the music library at the university for several years after my graduation and I enjoyed the work and could have continued, except that opportunities opened up at CBC Radio, where I worked for seven quite stressful but fascinating years. I could have gladly continued there, but was a victim of cutbacks. Thus began several pleasant, but uncertain years of short-term contracts and freelance work, which led to teaching and the formation of Toronto Masque Theatre. My experience has been that one thing always leads logically to something else and my being a sort of musical jack of all trades has made for an interesting ride!
Where does music fit into your family life today? Where it's always been … at the very centre. My wife is a brilliant soprano, teacher and conductor and my daughters play various instruments and both sing beautifully. The four of us have a wonderful time playing and singing in concerts, going to concerts and making and listening to music at home. In a way, nothing has changed.
Growing up, I always felt I was in the shadow of my brilliant parents and supremely talented siblings. And now I'm so proud of my wife and children – I stand in awe of their innate capabilities and natural musical talents, and I have fun trying to keep up.