JOHANNES DEBUS lives in Toronto and Berlin with Elissa Lee, Jonah and Noah. Some of his other passions and pastimes include riding the family Brompton, baking pancakes grandma-style, taking nonsense photos and trying to understand the intricate rules of baseball.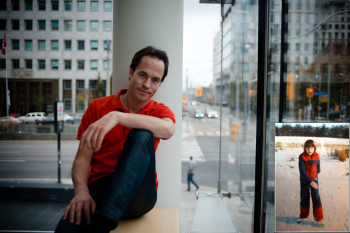 Suppose you're chatting with a friendly fellow traveller. After they have told you about their career in pest control or medical imaging, they ask what you do for a living. How might you reply? Fascinating, guys, what you are doing! Myself, I'm working as a simple manufacturer, creating sound with my bare hands.
Johannes Debus studied conducting at the Hamburg Conservatory, but his career as an operatic conductor is the outcome of ten years with the Frankfurt Opera, where he began as a pianist, coach and assistant conductor, eventually becoming their resident conductor. Debus was appointed music director of the Canadian Opera Company in 2009 after an acclaimed debut conducting their 2008 production of Prokofiev's War and Peace.
Recently for the COC he's conducted Falstaff, Die Walküre, Bluebeard's Castle / Erwartung. In the current season he's conducting the world première of Canadian John Frederick Barbara Monk Feldman's Pyramus and Thisbe (onstage through Nov 7), Siegfried (Jan 23 to Feb 14) and The Marriage of Figaro (Feb 4 to Feb 27). Beyond the COC here's a current sampling of his agenda. In November he'll conduct the National Arts Centre Orchestra, and the San Diego Symphony. In February he'll conduct the Royal Conservatory Orchestra; in April The Cunning Little Vixen for the Frankfurt Opera; in May, The Marriage of Figaro for the Komische Oper in Berlin; and the Cleveland Orchestra at the Blossom Festival this summer.
Debus' TSO debut was part of their 2013 Mozart@257 – "Pure joy, driven like the wind." (Robert Harris' response in The Globe and Mail) Called upon to step in for James Levine at Tanglewood and for Sir Colin Davis at Symphony Hall, Debus conducts, internationally, repertoire of every kind.
~ Between opera houses and symphony halls one hopes he will find time for a little winter skating here in Ontario. ~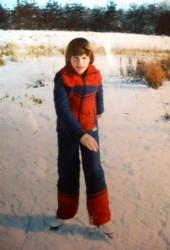 Where were you born? Speyer am Rhein, in a lovely region called Palatinate, southwest of Germany, close to Alsace in France. I would like to call it the German Tuscany. I grew up in Speyer, and attended high school in Speyer.
And right after high school? I went to Hamburg to study conducting.
When you look at that childhood photo today, what do you think about? Happy childhood memories! I remember the wobbly feeling being on ice skates for the first time in my life. It was a lot of fun, though, enjoying really cold winters in such a way.
If you could travel back through time and meet that young person …? I might say: "Ask your mom to get you another hairstylist. What!? Your mom is your hairstylist?! Oops."
I might ask: "Young man, could you imagine crossing the Atlantic one day and start living your dream in a place like Toronto?" The answer would have been a big question mark on my face, I suppose.
Your earliest specific memory of hearing music? My mom singing for me whilst changing my diapers. Now you can say, either I have a very good memory or I wore diapers significantly longer than others! She sang a beautiful German folksong with the following text: "Der Mai, der Mai, der lustige Mai..."
Other musicians in your childhood family? My parents didn't play any musical instruments. They just loved music and loved passing that down to their kids. My father was an archivist and my mother was a librarian. We all got to sing, we all got to play the recorder (hooray) and we all learned other instruments. My younger brother is a fine jazz musician -- he is the really talented one.
Where did listening to music, fit into your life as a child? All sources to listen to music were important to me: the radio, even the TV at times, recordings in various (nowadays vintage) formats (MC, LP, CD). I remember the subscription concerts of the regional symphony orchestras, I remember lots of very fine concerts of renowned orchestras, ensembles and organists at the cathedral – memorable also just because of the 12 seconds reverberant sound, which gave certain pieces a slightly unusual soundscape.
But at the end it was all about being able to play music myself.
What is your first memory of making music yourself? Singing was in fact the first way to make music myself. I don't think there is a more elementary and better way to start.
Your first instrument? After maltreating everyone's ears with the unavoidable recorder, I continued with playing the piano. Don't know if it helped to reconcile those I might have offended with the recorder.
Other instruments? The most painful years of my early life – three years of violin lessons. I regret that I wasn't patient enough to continue. Instead I went on with the organ and played a lot in the local churches -- not the worst move, ask my piggy bank.
What are your earliest recollections of making music with other people? As elementary it is to sing, it is also an elementary experience to sing with others. I remember the great community and spirit we had in the choir when I was a young boy. It obviously also trains you to listen and in particular, to listen to others.
What do you remember about a first music teacher? I was lucky to have a few excellent teachers. But I remember one in particular for the legendary words in a rehearsal: "It sounds as if someone would pee on the Mona Lisa!"
How did conducting first become part of the picture? I loved to conduct the LP-player -- and didn't care if I made a fool of myself. Ask my siblings!
When did you first conduct for an audience? I can't remember precisely, must have been at the age of 15 or so, and probably choral music.
Can you suggest experiences from your childhood or teen years that helped to form your alacrity and appetite for staged works, opera in particular? Believe it or not: I didn't quite get it in my childhood. My Eureka Moment happened much later. I had to prepare a piece of music for the start of a course as part of my studies at Germany's Hamburg Conservatory. I had to prepare La Traviata. When I sat down to play it, I had this moment of feeling this fantastic, fabulous range of emotions. That was the moment I was hooked. Now I'm an addict.
Do you remember when you began to think of yourself as a career musician? I was 17 by the time I felt it would be important -- to me at least – to give it a try to find my luck in music. Who knows, where and what I'd be today, if I would have failed.
Did you ever think you would do something else? I had a few other ideas -- pest control and medical imaging weren't part of that list, though. I was always fascinated by archeology, art history, classics etc.
Where does music fit into your family life at home today? Isn't family life an opera in itself?!
If you were driving alone and could sing along to ANY recording, what would you choose? Driving alone in the car? Hm, better no music. Imagine I would start conducting along... If you ask for recommendations for the lonely-cowboy-on-the-highway list: baroque music works astonishingly well for me, the Brandenburg Concertos for example. – great stuff to listen to, to whistle along and to keep you awake.