Director Joel Ivany lives in the King West neighbourhood of Toronto with soprano Miriam Khalil and OperaBaby Sammy. Some of his other passions and pastimes include cycling (he has biked across Canada), writing and reading.
Do you remember that childhood photo being taken? I feel like I do. The photo was taken in Bala, Ontario, at the vacation home/cottage of my great Uncle Gogo and Auntie Lean. I want to say it was my Uncle Paul who took it. I always remember him having his camera out.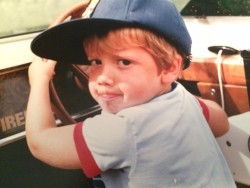 When you look at the photo today, what do you most immediately think about? How much I loved going out on the boat and how easily the boat would race across the water.
If you could travel back through time and chat with the young person in that childhood photo, what would you would like to tell him? I'd like to tell him to listen to his parents. They know what they're talking about. I'd also like to tell him the world is a beautiful place with wonderful people.
What is your absolute earliest specific memory of hearing music?
My mom would sing (beautifully) Jesus Loves Me.
Were there other musicians in your childhood family? I have three siblings and my mom would have us put on small musicals and shows at church. She also taught us all the piano. So singing and piano were always there.
How about in your family today? My little brother and his four kids are all very musical. My mom is the choir director at her church. My Dad plays in the brass band at church. They're all still fairly musically involved.
Where did listening to music, both formal and informal, fit into your life as a child? My mother would play the soundtrack to The Mission while she would clean the house on Saturdays. That score has stuck in my mind and heart ever since.
At church, on Sunday evenings, at the second service (yes, second service) they would always sing choruses and hear testimonies from the congregation. This was always a special time where we sang and could hear from the other people in the church.
How about records, recorded music, radio?
Church. It was all at church. I didn't get my first cassette until I was about 8 or 9 – Rap Trax 3.
Did you sing, as a child? Yes. It was always a part of who I was. I didn't know otherwise.
Did you play an instrument? And do you still?
I was taught the cornet and then graduated down the line to Euphonium and finally tuba (I had big lips). I also was taught the piano and in high school learned the trombone and also the guitar.
What are your earliest recollections of making music with other people?
Certainly church youth choirs. Also Junior Band. We'd have music camps in the summer where we'd meet kids from all over (our friends we only saw once a year) and break off into group lessons or other various bands and choirs.
What do you remember about a first music teacher? My first music teacher was my mother. Couldn't get allowance until we logged our time on the keys!
Can you suggest experiences from your childhood or teen years that helped to form your alacrity and appetite for staged works? I think having my mother put us in small shows when we were young definitely put the impulse in my subconscious.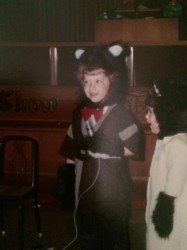 What do you remember about a first experience making live theatre? I just remember acting as a kid in front of people and making them laugh. The fact that what you do or say can entertain someone is a very powerful realization.
Where did you attend high school?
I went to Lawrence Park Collegiate Institute in Toronto (Go Panthers)
What did you do right after high school? I went to York University for two weeks before deciding to up my OAC's and get into a better program.
Do you remember the first time you directed something? In high school, we got into making movies for assignments. If there was any kind of presentation required, we'd ask if we could make a movie. I would write the story and direct the way we would shoot it. It was always silly and always absurd.
Can you identify the point at which you began to think of yourself as a director? In university I directed a play in a one-act festival and won the prize for best director. The following year I directed the musical Cabaret and the rest is history!
How/when did opera enter the picture for you?
It wasn't until university where I learned more about opera and was a supernumerary in a production at the COC.
Did you ever think you would do something else?
I came very close to being a youth pastor.
Where does music fit into your personal/family life at home today? With a beautiful, almost two-year-old, there is a lot of kids songs. A lot of children's theme music.
If you were driving ALONE and could sing along to ANY recording, what would you choose?
West Side Story...all the way.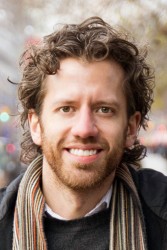 Joel Ivany was born in Penticton, BC. His family and moved around a lot – to Kelowna, and after that Toronto, Montreal, Ottawa. He is one of four children – he has an older sister and a younger sister and brother – and remembers watching and hearing musicals with them: The Sound of Music, Oliver, Mary Poppins and Babes in Toyland. Both of his parents, ordained minsters, worked with the Salvation Army, and Ivany's early musical experiences included playing the cornet and eventually the tuba, going to music camps in the summer and singing in choirs all the way through high school.
The first opera he remembers watching was a video of La Bohème with Luciano Pavarotti, which took up three whole high school classes. The teenaged Ivany may not have felt much connection at the time, but it's interesting how that opera re-emerged when as a young director, hungry to make stories with music resound in new ways, Ivany began to reimagine operas with his present-day company, Against the Grain Theatre.
Ivany has also directed for the Canadian Opera Company Ensemble, Minnesota Opera, the Aventa Ensemble, the Canadian Children's Opera Company, the Centre for Opera Studies in Italy, the U of T Opera Division, Wilfrid Laurier University, Music Niagara, Opera Nuova, Western University, the Royal Conservatory of Music, the Banff Centre and Vancouver Opera
Ivany's music degree is from Western University. Opera wasn't much on his radar in university, although theatre and music theatre were strong interests But an opportunity to watch rehearsals of Wagner's Ring Cycle (for the opening of the Four Seasons Centre) had a big impact on his thinking about music and storytelling . After some apprenticing in Canada and Europe as a director he returned to Toronto where an introduction to director and mentor, Michael Albano, led eventually to an artist diploma in Opera Directing at the U of T Opera School.
La Bohème, Against the Grain's first production in 2011, was set and produced in a bar in Toronto – the Tranzac Club. They were real "starving artists" doing what they do in a place they could afford, for an audience of about 120 people. They could have a beer (or two) during the show, and afford it, because the opera ticket hadn't emptied their pockets Today Ivany and Against the Grain continue to adapt and innovate, and bring operas with new librettos to courtyards, bars, wedding halls and other non-traditional venues. Last season #Uncle John, inspired by Mozart's Don Giovanni was presented in Toronto at the Great Hall, and then at the Ottawa International Chamber Music Festival. Ivany then directed "Death and Desire," a double-bill mashup of Schubert's Die schöne Müllerin and Messiaen's Harawi which featured Stephen Hegedus and Krisztina Szabó, presented in a Toronto west-end galley.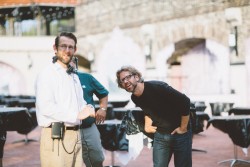 Against the Grain Theatre first shook up (or stirred) Handel's Messiah in 2013 at a rock and roll hall called the Opera House, with a show that "walked the line between edgy and faithful". It was all Handel all the time, but no tuxedos, no music stands, and a lot of surprises. Building on that creative and critical success, their 2015 Messiah will be barefoot, choreographed, costumed. and as a further departure will be in a theatre – Harbourfront Centre – produced in partnership with Massey Hall.
In another departure from the conventional, Ivany will direct a semi-staged Mozart Requiem for the Toronto Symphony in January, conducted by Bernard Labadie. This project was workshopped last spring at the Canadian Stage Company with support from the TSO – see below for more details.
Think you don't ever need to see another production of Carmen? You might want to reconsider in time to buy a ticket for Ivany's mainstage directing debut with the Canadian Opera Company – in April and May, 2016. Doubtless the mezzo will still die at the end, but your journey at her side may be a ride like no other to date.
Meanwhile we can begin trying to imagine Against The Grain's upcoming #ALittleTooCozy. which is the third of their Mozart updates. Ivany's new English libretto of Così fan tutte. reimagined as "a reality TV dating show." was workshopped last summer at The Banff Centre. Coming to Toronto in spring 2016 to an as-yet-undisclosed Toronto venue …
UPCOMING
Against the Grain Theatre's Messiah (Dec 16 to 19) "This is not your grandma's Messiah (but she would love it, so bring her)." Co-presented by Massey Hall at the Harbourfront Centre Theatre. These performances of Handel's intact score, performed costumed and choreographed, feature soloists Stephen Hegedus, Miriam Khalil, Owen McCausland and Andrea Ludwig. Directed by Joel Ivany and choreographed by Jennifer Nichols, with a 16-member chorus and chamber orchestra led by music director Christopher Mokrzewski.
Mozart Requiem (Jan 21 to 23) (Mozart/completed by Robert D. Levin) K626 has been re-imagined as a semi-staged theatrical event at Roy Thomson Hall. Bernard Labadie conducts the Toronto Symphony Orchestra, with Lydia Teuscher, soprano; Allyson McHardy, mezzo-soprano; Frédéric Antoun, tenor; Philippe Sly, bass-baritone; the Amadeus Choir and the Elmer Iseler Singers. Directed by Joel Ivany.
The Canadian Opera Company production of Bizet's Carmen (Apr 12 to May 15), Singing arguably some of opera's most familiar and popular music, the double cast includes Clémentine Margaine and Anita Rachvelishvili in the title role, Russell Thomas / David Pomeroy as Don José, Christian Van Horn / Zachary Nelson as Escamillo and Simone Osborne / Karine Boucher as Micaëla. Conducted by Paolo Carignani and directed by Joel Ivany.
NEW CONTEST!
Who is February's Child?
This little girl is no shrinking violet,
and her first instrument no second fiddle.
First chair from the age of 21,
she's equally at home
in our symphony,
in her trio and chamber collaborations
and solo works.
1939 (a rough time for humanity, a remarkable time for music).
Practicing at home in Nanjing
A hot summer day, circa 1990