Mary McGeer lives in Toronto's east end with her husband Rollie Thompson, a law professor. When she's not making words-and-music magic she's a voracious reader who loves watching old movies (1930 to 1950s).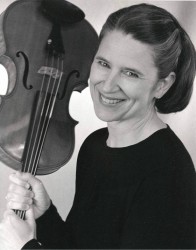 Mary McGeer is artistic director of the Talisker Players chamber music concert series. She's also general manager and principal violist of the larger flexibly sized Talisker Players Choral Music Orchestra dedicated to collaborating with choirs. McGeer also freelances with diverse ensembles in and around Toronto, from baroque to new music. Principal violist of the Huronia Symphony from 1998 to 2010 and a member of the Phoenix String Quartet for ten years, she is also a teacher and chamber music coach.
The Talisker orchestra came first, arising out of a one-off gig in 1995 where McGeer assembled a chamber orchestra to perform with a choir. Today the ensemble is an accordion-pleated marvel that shrinks and grows according to the needs of the repertoire. It's made up of fine working musicians who have a shared appreciation for music that has words.
Talisker Players chamber music concerts, "Where Words and Music Meet," came a bit later. Their four-concert series of chamber performances celebrates its 20th anniversary this year at Trinity-St. Paul's Centre (as does The WholeNote). Talisker's themed concerts of works for voice and chamber ensemble are usually narrated by an actor – always an engaging blend of vocal and instrumental music, poetry, and theatre.
Mary McGeer doesn't remember her childhood photo being taken – she was barely two. But the photo and the context reflect both an early interest in literature and an environment that nurtured it.
McGeer grew up in Arvida, Quebec, in the Saguenay Valley. After high school she went to McGill University where she studied history and political science, later completing a diploma in performance at Université Laval. She studied viola in Toronto and New York.
Your absolute earliest specific memory of hearing music? The records my parents played: there were children's records (Burl Ives…) also opera, and lots of Broadway. I still know all the words to several Broadway musicals. Opera – not so much.
Were there other musicians in your childhood family? No – they're pretty much all scientists.
How did hearing music figure in your childhood life? Radio and records at home, music at school and in church, but not much live performance. Occasionally we would hear touring performers in recital.
First memories of making music? Student recitals – also the annual Jeunesses Musicales competitions, always nerve-racking.
Did you sing as a child? No, other than hymns in church.
What was your first instrument, and why?
Piano. There were very few teachers of other instruments in that rather remote area at the time.
What do you remember about a first music teacher? Mme. Partous – I still have a vivid picture of her. She was a fine musician and gave her students an excellent grounding in theory and history, as well as technique.
Your first experiences of creating music with other people? There was not much opportunity in that part of the world. The closest would be accompanying my church choir.
What do you remember about your first times performing for an audience? I was always nervous about performing – possibly in part because I tended to be a crammer in preparation. As a youngster, I always preferred sight-reading – or fooling around on the instrument – to serious practice. That did change later on.
What do you think are the roots of your later appetite for staged works and multidisciplinary performance – the words-and-music aspect of what Talisker does? It would be my life as a bookworm, probably. Also, a lifelong interest in vocal music, and the joy of accompanying it, whether it's choirs or solo singers.
Do you remember when you began to think of yourself as a career musician? Not really, it sort of snuck up on me... .
In early life I assumed that music was not a career and that I'd be doing something else – in fact when I went to university I stopped playing altogether for a few years. Even after I came back to playing, I worked at a number of other things – history, journalism – before realizing that I needed to be a musician.
Where does music fit into your home life today? My husband listens to a lot of music for pleasure. In my case, it's usually with a purpose – investigating repertoire, hearing new singers, learning scores – which is a different kind of pleasure! But when I want to relax, I usually curl up with a book, or watch a movie.
UPCOMING The Talisker Players season opens October 27 and 28 with"Renovated Rhymes." We also have a number of engagements with choirs, in Toronto and farther afield – including, of course, a number of Messiahs as we get closer to Christmas.
New or recent recordings? We're performing on an upcoming recording of the singer-songwriter Ian Thomas, in arrangements for string quartet by our cellist, Laura Jones. It's a bit of a departure for us, and we're looking forward to it!
CONGRATULATIONS TO OUR WINNERS! HERE'S WHAT THEY WON
Renovated Rhymes (Oct 27 and 28, at 8pm) is Talisker Players' first concert of the 2015/16 season, at Trinity-St. Paul's Centre. Mary McGeer says it's a fun program inspired by playful wordsmiths like Ogden Nash and Dennis Lee, and featuring tenor James McLennan and baritone Doug MacNaughton – both terrific singers who are also great comic actors. Ross Manson is the evening's actor/reader. There is a pre-concert talk at 7:15pm For all the intriguing and entertaining program details visit taliskerplayers.ca.
WholeNote readers Bastien Woolf and Gwynn Arsenault each win a pair of tickets.
Music's Children gratefully acknowledges Thom, Kay and Peter.