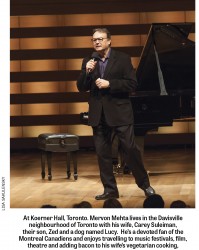 Mervon Mehta is the Executive Director of Performing Arts for The Royal Conservatory, where he oversaw the September 2009 launch of Koerner Hall's inaugural season. Today Mehta is responsible for programming Koerner Hall's own classical, jazz, world music and pop concerts, and oversees all performances at the RCM TELUS Centre. Comfortable and engaging on stage, Mehta was an actor before he was an administrator, and appears on stage frequently as a narrator of orchestral works with a wide range of orchestras internationally.
Born in Vienna, Austria, Mehta grew up in Montreal. He is the son of conductor Zubin Mehta and soprano Carmen Lasky, and has a sister Zarina. The young family lived in Liverpool, Saskatoon and Philadelphia before Zubin Mehta became music director of the Montreal Symphony. Mervon Mehta's parents divorced in 1964 and two years later Lasky married Zarin Mehta, Zubin Mehta's brother.
Mehta "survived" Lower Canada College and left Montreal to attend Colgate University in upstate New York, later studying at The Neighbourhood Playhouse School in New York City. His work in theatre included two seasons at the Stratford Festival.
A more detailed account of Mehta's career can be found in an interview with Paula Citron (The WholeNote, October 2013), available at thewholenote.com.
When someone asks what you do for a living? I tell them I am in the concert business. They get all excited. I them tell them I present classical, jazz and world music… they usually leave me alone.
Upcoming projects that excite you? The second edition of 21C Music Festival begins on May 20. I am very excited about the line-up that includes new music written for classical chamber ensembles by Canadian and international composers including some from the jazz, rock, hip-hop, flamenco and tango worlds.
Earliest memory of music? My mother's singing. She is still at it!
Other musicians in your childhood family? My grandfather, Mehli Mehta, was a violinist, conductor and teacher who started the Bombay Symphony. My grandmother was an amateur pianist and music was their bond. Every member of my immediate and extended family and all of their friends seemed to be in the music business. They were all very accomplished so I only heard the best music all the time. In my 20s I rebelled against music and went into theatre but, just like Michael Corleone, the family "pulled me back in."
Growing up in Montreal our house was filled with musicians from the OSM, visiting soloists like Perlman, Zukerman, Barenboim, Vickers, Forester, Price and music business legends such as Pierre Beique and Sam Gesser. I was surrounded by the finest musicians and finest minds in the field. Somehow I learned lessons from them that I keep to this day. Foremost amongst these people was my uncle, Zarin Mehta, an accountant who took a sabbatical to run the Orchestre symphonie de Montréal in 1976 and never looked back. His music management skills, his taste, his fiscal acuity are tops in our field. He is my mentor and we still talk at least once a week about artists, programs, fees and agents.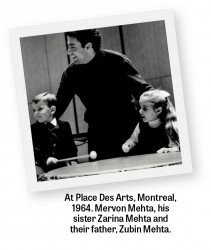 Other music, growing up? CHOM FM in Montreal; first album I received was Sgt. Pepper; first album I bought was Jesus Christ Superstar. I still know all of the words to both. I took piano and violin lessons as a kid and was equally inept at both. But I would buy records or hear tunes on the radio and try to play them on the piano.
A first music teacher? I do remember (and still keep in touch with) my teacher from grade 6 or 7, Jennifer Giles. She allowed me to play Beatles tunes and showed me that lessons could actually be fun.
When did you first perform for an audience? My real performing started in University in an a cappella choir and in music theatre (The Boyfriend, Brigadoon, Camelot etc).
Your appetite for the stage? My parents took me to see a wide variety of theatre and music. They opened up my ears and mind to enormous possibilities. The soundtrack in our house was a mix of Wagner operas, Sinatra, Fischer-Dieskau, Beau Domage, CCR, Supertramp and Oscar Peterson. When I moved to the U.S. for college I was exposed to things I really hadn't heard in Montreal like Marvin Gaye and Stevie Wonder – they rocked my world.
Curating and programming? I always had a penchant for both sides of the stage… while at Stratford I managed a weekly cabaret series and directed some workshops here in Toronto. When I moved to Chicago my first job was as assistant director of The Importance of Being Earnest at The Court Theatre; I learned a few things about lighting, union contracts etc.
Did you ever think your life's work would be in some entirely other sphere? In university I was an International Relations/Russian major. I was certain I would end up serving as a Canadian ambassador someday.
Music in your own day-to-day home and family life now? Music is 24/7… my son shares my love of African and Latin music and also tells me who the new pop stars are.
You can read an expanded version of this interview online at thewholenote.com.
CONGRATULATIONS TO OUR WINNERS! HERE'S WHAT THEY WON
The Royal Conservatory Family Concerts are approximately 75 minutes long, and are as ideal for 6- to13-year-olds as they are for parents, grandparents and grown-up friends.
Monty Alexander's Harlem-Kingston Express (April 25, 8pm, Koerner Hall) explores the connections between traditional reggae and straight-ahead jazz, while also forging some new ones. Pianist Monty Alexander, originally from Kingston, Jamaica, shot to fame when Sinatra first heard him in a tiny club
A pair of tickets for RICHARD SMITH
Natalie Merchant (May 2, 2pm, Koerner Hall) is a singer-songwriter and former lead singer of 10,000 Maniacs. Merchant's Leave Your Sleep – a collection of classic children's poetry adapted to original music in a range of styles – inspired the creation of a hardcover picture book illustrated by Barbara McClintock, which includes a 19-track CD. Hear her band and a string ensemble bring them to life. This prize includes a pair of concert tickets and a signed copy of Leave Your Sleep.
The winner is LYNDA MOON
The Royal Conservatory's 21C Music Festival presents
Off the Score (May 20, 8pm Koerner Hall) with ex-Police drummer Stewart Copeland and Canadian pianist Jon Kimura Parker. They will join Met Opera violinist Yoon Kwon, bassist Marion Martinez and Electronic Valve Instrumentalist Judd Miller in a collaboration that concludes with the world premiere of Copeland's Coincidence or Convergence?
A pair of tickets for JENNIFER LIU
Music's Children gratefully acknowledges Carmen, Zarin, Zubin, Barbora, Fia, Ann, George and Beverly
NEW CONTEST! Who is May's Child?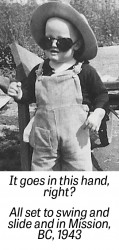 Conductor, composer, music librarian, trombonist, organist pianist, music educator.
Has "a very important date" at Harbourfront in May.
Also seen in these rabbit holes:
Canadian Opera Company, Toronto Symphony, National Arts Centre Orchestra, Charlottetown Festival, Hart House Orchestra, Orchestra Toronto, High Park Choirs, Canadian Children's Opera Company (just to name a few).
Know our Mystery Child's name? WIN PRIZES! Send your best guess by April 24 to musicschildren@thewholenote.com.