April's child was in fact born in March, in 1927. There is something nearly poetic that his 90th birthday is the same year as Canada's 150th.
"What I would love to see in Canadian music and probably never will, but still hope, is that there would be pieces from the Canadian repertoire that Canadians would feel they possessed, the way they possess the novels of Margaret Laurence or the paintings of A.Y. Jackson."
– John Beckwith, the self-described "optimistic pessimist" in conversation with Eitan Cornfield – Canadian Composers Portrait: John Beckwith.
Composer, writer, pianist, teacher, administrator, cyclist and consummate Canadian, John Beckwith was born and grew up in Victoria, BC. His father, whose family settled in Nova Scotia in the 1760s, was a lawyer and his mother was a teacher and a school trustee. Beckwith first came to Toronto at the age of 17 on a piano scholarship, to study with Alberto Guerrero.
An alumnus of the University of Toronto Faculty of Music and an instructor there, he was dean from 1970 to 1977, and founder of the U of T Institute for Canadian Music. At a time when the "serious" music in our relatively young country was largely Eurocentric and classical, Beckwith's composition students were encouraged to additionally explore all the music of North America –aboriginal music and folksongs, hymns and jazz.
Beckwith's own oeuvre includes opera and lyric theatre, orchestral and chamber music, choral works and many songs for solo voice. These reflect collaborations too numerous to list – but particularly notable among them is his longtime association with the poet and playwright James Reaney. A former reviewer for the Toronto Star and a CBC scriptwriter and programmer in the 1950s and 1960s, Beckwith has written many articles and books on musical topics. In 1987 he was made a Member of the Order of Canada.
Unheard Of: Memoirs of a Canadian Composer (Wilfrid Laurier University Press, 2012) is Beckwith in his own candid, lively and humourful words: detail-rich reading for anyone interested not only in its writer but also in the Canadian music scene of his lifetime. Eitan Cornfield's documentary Canadian Composer Portraits: John Beckwith (Centrediscs) features Beckwith himself, but also reflects the colourful fabric of his world, including contributions from family, friends and associates.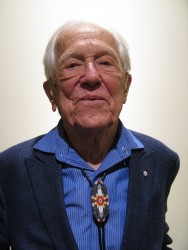 Suppose a friendly fellow traveller asks what you do for a living? When people asked Violet Archer what she did, she would say she wrote music, and the next question always was, "Yes, but I mean what is your occupation?" When Harry Somers told friendly fellow travellers he wrote music, they always asked "What kind?" to which his reply was "Unpopular music." Would I reply with one of those composer sarcasms? Yes, probably.
Tell us about that childhood photo. I think it depicts my first bike, but that seems unlikely: the first real bike, maybe. The background is a new home my family moved into in the spring of 1936, which means I had just turned nine.
Your absolute earliest memory of music? Absolute? I wish I could make an interesting answer, but I can't. I've read about "earliest specific memories of music" and once composed a work for children's voices trying to depict the evolution of musical awareness – it's called Basic Music. My very early memories (from age five or so): playing in a rhythm band in our living room, organized as a neighbourhood project by my mother; singing and dancing with my young sister to the accompaniment of a wind-up Edison phonograph. The half-inch-thick discs included things like the Coronation March from Le prophète (Meyerbeer) and The Whistler and His Dog.
Musicians in your family? Both my parents sang, played the piano and were active in musical organizations; all my children are musical, two of them professionally. Two of my granddaughters are outstandingly musical but it's early to say whether they will pursue musical careers.
Where did hearing music fit into your life as a child? I listened to radio constantly and uncritically but came to enjoy specially the orchestral concerts of Toscanini and others, and the Saturday broadcasts from the Met Opera. Thanks to my parents, I attended many live concerts and as a child heard many renowned performers – Rubinstein, Elman, Marian Anderson; astonishing to think that Victoria hosted so many in those rich touring years. I took piano lessons from age six, and sang in a church choir from ages 8 to13; there was not much of a regular music program at school.
What do you remember about a first music teacher? My first piano teacher was Ogreta McNeil, who later moved to Toronto and became the head of the Toronto Public Library's music division, and one of the founders of the Canadian Association of Music Libraries. Later I studied with Gwendoline Harper, who later moved to Spokane, Washington to a position with the Teachers' College there. I feel fortunate that they were both excellent musicians and gave me a solid grounding not just in piano but in music in a broader sense.
What were your first experiences of making music with other people? The piano was my only instrument, so I didn't have any orchestral experience. I played duets and two-piano pieces with fellow students, and later accompanied many singers.
Do you remember any early performances for an audience? There were some occasions in Victoria, including a few radio recitals. Mostly my performing experiences (soloist, accompanist, chamber musician) happened later in Toronto, again with several on radio.
What experiences helped to form your appetite for staged works? I was active in theatre and as a teenager won a scholarship to a summer acting course at the Banff School of Fine Arts. One of the teachers said I was talented and could have a career in professional theatre. I also acted in Toronto during student years and came to know a number of theatre personalities of my generation. This background, yes, was influential for the various stage projects I later worked on.
When and how did composing become part of the picture? It just seemed more and more important starting when I was about eight and increasing gradually through my teens.
Do you remember when you began to think of yourself as a career musician? Impossible to be exact about this.
When did teaching and mentoring become part of your plans? Well, I had to eat. Composers have to have a day job. Besides academic life I also did a lot of professional writing (criticism, research) and editing. The central part of the "plan" was to be able to keep composing. In fact I never regarded myself as much of a planner. I was lucky.
Where does music fit into your family life at home today? Live piano and chamber music at home whenever possible, though I practise piano less than I used to. Not a great deal of listening to recorded music or radio. Frequent attendance at live performances (concerts, opera).
If you were ALONE and could sing along to ANY recording, what would you choose? I don't have a great singing voice and my hearing these days is feeble. Besides all that, I'm no good at imagining desert-isle paradises. There's a lot of music that I absolutely adore but some that I can't stand: many music lovers would say the same, I'm sure.
Did you ever think you would do something else? You must be kidding.
UPCOMING
On 28 April New Music Concerts is presenting a concert at Trinity-St Paul's, for which I was invited to curate the program, including some of my own music. The list includes works by Stravinsky and Weinzweig (two strong influences on me in early composing days) and three works by me, two of which are quite recent (2015, 2016) and have not been played before.
A new Music's Children contest will appear next month in our May edition.