Now in his sixth year as artistic director of the Toronto Summer Music Festival and Academy. violist Douglas McNabney was born and raised in Toronto. He's a busy chamber musician with an international career, also an educator – currently professor of Chamber Music at the Schulich School of Music of McGill. Prior to TSM he was artistic director of the Domaine Forget Music Festival and Academy (2001-2005), and chair of the Department of Performance of McGill University (2004-2008). In 2009, he was responsible for the artistic direction of the Haydn 2009 project at the Museum of Fine Arts in Montreal where the complete cycle of all 68 String Quartets was performed in one week. McNabney lives in Le Plateau in downtown Montreal, with his wife, Isolde Lagacé. Some of his other passions include architecture,building things, and good food and wine with friends.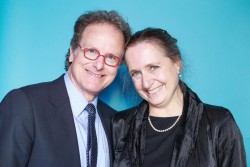 Suppose you're chatting with a friendly fellow traveler. After they tell you about their career in pest control or medical imaging, they ask what you do for a living. How might you reply?
Telling people you play the viola is a good conversation stopper. They're either embarrassed or don't want to reveal their ignorance!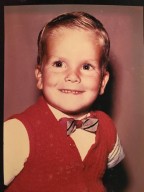 When you look at your childhood photo today, what does it cause you to think about or remember?
The TV series Mad Men. To a kid growing up in the 60s, things were never quite what they seemed to be. Watching the adults misbehave in Mad Men explained some of the awkward situations I witnessed as an innocent child!
Where did you grow up?
Rexdale, playing on the banks of the Humber River – when it was wild, not a park!
How did your family earn a living?
I come from a large family of Irish immigrants. My father had 11 siblings who were all modest labourers and workers and few of their children (my cousins) went to university. Except the Eaglesons – Alan Eagleson is my cousin. An infamous one.
Were there musicians in your childhood family?
No – I was the black sheep. I am the only musician, only doctorate. My sister played the French horn – very well. She's a successful CEO of an insurance company in Ontario now.
Your absolute earliest memories of music?
My father listening to marching bands and Irish and Scottish tenors: the band of the Coldstream Guards and John McCormack or Kenneth McKellar singing "Oh Danny Boy." I did sing in a church choir. My parents would drive my sister and me to choir practice Thursdays and services on Sunday. They rarely stayed for the service, though. (Mad Men-style hypocrisy!)
What is your very first recollection of yourself making music (any kind of music)?
Piano lessons on a folding cardboard keyboard in Grade 1 at public school.
What was your first instrument?
Piano, which I stopped at age 13 to take up the drums, which in turn I sold to buy my first violin at age 16.
Where did you attend high school?
Richview Collegiate. I am a musician because of a high school music program in Toronto - I wouldn't be a musician otherwise! It distresses me to think that the opportunities I enjoyed as a young person are no longer offered to young people today. I had my first violin lesson with my high school music teacher, Pat Burroughs, at 16-years old. He took our high school chamber orchestra to Charlottetown, PEI, the following year to Banff and in my last year to Paris, France (hence my lifelong fascination with, and appreciation of, French culture). I also played in the Etobicoke Youth Orchestra and met extraordinary musicians associated with the public school system like Barry Goss and Mario DeSotto. If it wasn't for those wonderful, dedicated and inspiring teachers, I'd probably be a lawyer or an architect. Not that there would be anything wrong with that! But I'm sure I'm a lot happier as a musician – and more fortunate.
Can you remember a first experience of making music with other people?
Playing Beethoven Op. 18 no. 1 with high school friends and being totally, completely and madly intoxicated by the discovery of an intensity of communication like no other on this earth. At least for me!
Do you remember when you first performed for an audience (other than your family or a teacher)?
Not really. Performing in the church choir every week, piano class recitals, and especially high school orchestra concerts, the idea, or rather routine, of public performance seemed a natural part of playing music.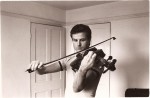 What did you right after high school?
University of Toronto -- bachelor in music; University of Western Ontario ---master in music; my first job (and real education) as a chamber musician in the Galliard Ensemble; met Isolde, got engaged to be married ten days later; then moved to Montréal and attended Université de Montréal for a DMus en Interprétation; hired as principal viola of Orchestre Symphonique de Québec; left that position three years later to become a professor at McGill.
How did you begin playing the viola?
I always say the viola chose me, not the other way around. When I was in university, one summer a string quartet needed a violist and I volunteered. I immediately fell in love with the dark, sensual sound of the instrument, and perhaps more importantly, with the role it plays in a quartet. Bach, Mozart, Beethoven, Brahms, all relished playing the viola. It is the quintessential chamber music instrument, not really a solo instrument. The inner voices in a string quartet add richness and character to the group and the viola provides colour and depth to the sound. It helps bridge the melodic line of the violin and the harmonic and rhythmic line of the cello. To be a violist is to take on the supporting role. The violist is the ultimate team player!
When did you begin to think of yourself as a career musician?
Very late – in my mid-20s. I was intending to go to law school after my music degrees My then fiancée, Isolde, looked at me after I had done very well on my LSAT exams and said she had no intention of marrying a lawyer. She came from a family of musicians and had agreed to marry a musician, not a lawyer. And that was that.
Do you remember a time when you thought you would do something else?
See above. And I'm still toying with the idea of doing a degree in architecture once (if ever!) I retire. Not to actually practice as an architect, of course, but to satisfy a deep curiosity about our relation as human beings to the spaces we occupy, the tensions between form and function etc.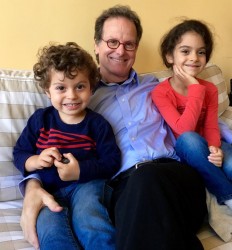 Where does music fit into your family life today?
Music is everywhere! And always will be. My wife runs a magnificent concert series in Montréal at the Salle Bourgie of the Musée des beaux arts. Both my children are professional musicians -- my son, Raphael, is the bass player with Les Violons du Roy and my daughter Mélisande, a harpsichord and fortepiano player, also plays with Les Violons du Roy. Her partner, Isaac Chalk, is principal viola with Les Violons. My son's wife, Leila, a psychiatrist, keeps us all in line and ensures that it all functions smoothly. That's a joke of course, but as Danny Kaye once said: "it's a joke, but it's true!"
If you were driving alone and could sing along to any recording, what would you choose?
Brahms G Major Viola Quintet Op. 111. Although it's a bit of a challenge to sing that opening theme of the cello.
UPCOMING
May 1: Viola quintets with Scott St John, Solomiya Ivakhiv, Sharon Wei and Tom Wiebe at Heliconian Hall.
May 18: Schubert Rosamunde Quartet and Webern's Langsamer Satz, with Axel Strauss and Toronto Summer Music Academy alumni Joshua Peters and Marc Labranche at the Bradshaw Amphitheatre.
New or recent recordings, DVD or film projects?
I have had a lifelong relationship with the Beethoven string trios beginning with my first professional engagements with the Galliard Ensemble. With colleagues Axel Strauss and Matt Haimovitz, we are planning to record the complete cycle over the next two years. For me, there is a sense of completing the circle in this project that is immensely satisfying!