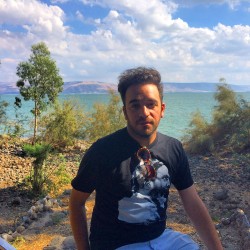 The always-entertaining Ori Dagan is a jazz singer, concert promoter/producer and jazz journalist, now in his ninth season writing for The WholeNote. Dagan was born in Haifa, Israel where his father was a mechanical engineer and his mother a copywriter. In 1989 he moved with his family to Toronto. All the rest is Googleable but here are a bit more details.
After earning Bachelor of Fine Arts from York University with a focus on jazz vocals and classical voice Dagan studied performance, songwriting and improvisation at Humber College and began working steadily in Toronto's live music venues. Recent awards: Bronze Medal Winner of the 2016 Global Music Award for Best Male Vocalist; Best Jazz Vocals at the 2015 Toronto Independent Music Awards. In 2016 his single and music video Clap on the 2 and the 4 won Best Children's Song at the Hollywood Songwriting Contest and Best Jazz Song at the Poland International Film Festival. The video has been screened at over a dozen film festivals worldwide including the Cayman Islands International Film Festival, Los Angeles CineFest, Montana International Children's Film Festival, Boston International Kids Film Festival, San Diego International Kids Film Festival and the Toronto Independent Film Festival.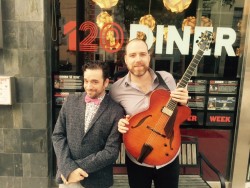 Suppose a friendly fellow traveller asks what you do for a living? Blessed to be a musician! I'm living the dream, and to keep it alive, most of what I do revolves around music. Aside from playing gigs, writing songs, recording and releasing music, I proudly pen Jazz Stories for The WholeNote, book live music for the venue 120 Diner, co-produce the Kensington Market Jazz Festival and teach jazz singing. At this point the fellow traveller usually says "WOW! That's so exciting!" and I am reminded that indeed, it is.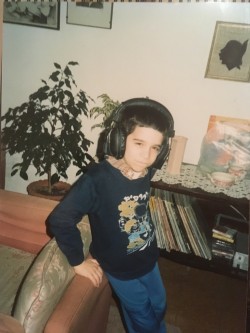 When you look at your childhood photo? Reminds me how much I loved listening to Peter and the Wolf on those headphones!
What would you like to say to that younger Ori? Don't be so shy!
Your earliest musical memory? My mom singing an Israeli nursery rhyme to me: "Yonatan Ha Katan."
Musicians in your family? There are no musicians in my family that I know of. My dad is tone-deaf and rhythm-deaf (sorry, dad!). I know it comes from my mom's side – her grandfather was a cantor. My brother dabbled in guitar and introduced me to some of my favourite music growing up
Where did hearing music fit into your childhood? I grew up listening to Israeli music and classical music. I remember cassettes of Mozart, Beethoven and Schubert around the house. My favourite vinyl was Rumpelstiltskin the musical, which in Hebrew was translated into "Ootz-Li Gootz-Li." It featured some of Israel's biggest stars including Ofra Haza and Tzipi Shavit, and I played it every single day – my first real musical obsession. To this day I have albums that I am obsessed with and can sing start to finish.
First recollections of making music? My mom says I kicked to the Bee Gees Staying Alive in the womb. At three I asked my parents for music lessons and I started at four - my first instrument was the xylophone. I remember being so delighted the first time I heard it. We learned to sing the major scale (Do-Re-Mi) while using sign language to represent each note. But I never thought of myself as a singer because I was so shy. We got a piano when I was six.
What do you remember about a first music teacher? Before I started classical piano lessons, I had a music teacher for a bit over a year with whom I took group lessons on the xylophone. I remember thinking she was old and sweet and kind. I had quite a few music teachers growing up; one of the ones I really remember is Irina Krasny, with whom I studied piano for a few years. She inspired me with her passionate playing and got me into Chopin who became one of my favourite composers.
First experiences of making music with other people? Growing up as a solo pianist, this did not really happen very often – although I did perform a duet for two pianos with a fellow student for a piano competition. We won first place, but were the only entrants in that category!
High school and right after? Singing in a high school production of David Warrack's musical Deco Beach (at Newtonbrook Secondary School, Toronto) was transformative – I'd had no idea that I could ever be an entertainer. But I gravitated towards creative writing, especially poetry, and I won the English Award. I was particularly inspired by Emily Dickinson and Margaret Atwood. Unsure that I'd be a successful poet I "settled" on the idea of getting a PhD in English Literature at U of T.
I was miserable at U of T. I had no interest in reading Tom Jones and The Canterbury Tales, let alone writing essays about these works. In my second year at U of T I auditioned for Jesus Christ Superstar and got the role of Caiaphas (Fun fact: I also learned the story of Christ through this musical). And around this time I discovered jazz.
Two live albums changed my life: Ella Fitzgerald: Live in Berlin (1960) and Dinah Jams (1954) featuring Dinah Washington and an all-star band including Clifford Brown, Harold Land and Max Roach. I started singing along to those recordings and it wasn't long before I was hooked. This music really captured my heart and since then I have never looked back.
I left U of T to pursue jazz at York U for five years, continued with improvisation and songwriting at Humber College for two years, embarking on my career as a jazz singer and songwriter. As much I treasure the education I was blessed to receive, I believe strongly that in jazz you learn the most by seeing and hearing the music in action, sitting in at jam sessions and playing gigs. I learn something new from every performance.
If you were driving ALONE and could sing along to ANYTHING, what would you choose? I'm going to go with Nina Simone sounding her very happiest! Little Liza Jane from Nina at Newport is musical joy at its most infectious.
UPCOMING…
There are a couple of dates to be announced in the spring that are exciting…meanwhile this month I'm performing in the intimate back room of the Free Times Café on Friday February 17 from 8 to11pm with guitarist extraordinaire Nathan Hiltz.
Any new or recent recordings, DVD or film projects you are involved in? YES! Stay tuned for a very exciting project in tribute to Nat King Cole. Updates on Facebook, instagram, twitter and at www.oridagan.com where readers can sign up to my newsletter.