Alex Pangman lives in Toronto, Ontario, with her musician husband "Colonel" Tom Parker. When she's not singing or attending to music business she's likely to be at the farm, horseback riding.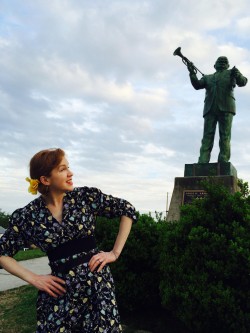 "Canada's Sweetheart of Swing," Alex Pangman is a singer whose love for popular music from 1920 to 1940 charms people in a graciously old-fashioned way. Her sparkly energy seems to come from some limitless source. People love her beautifully wrought covers of older standards – her smooth warm delivery will remind you a little of your own favourite singer from that time. But Pangman's voice is truly her own, and she makes a specialty of breathing life into lesser-known music from the period. The style may sound familiar but "new" old songs have to be offered with first-rate diction and this, along with her special way of letting the song's own narrative shine, makes for pretty irresistible listening. She's proving to be a fine period-informed songwriter as well. She has led her regular swing band, the Alleycats, since 1998.
Pangman was born with cystic fibrosis: an incurable genetic disease which destroys the lungs. and in many cases ultimately requires lung transplantation. Pangman's first double lung transplant in 2008 was considered successful, but she continued to have infections and by early 2013 her health was failing. Only the people closest to her knew – she continued to sing (sitting down) and opened for Willie Nelson at Massey Hall in June 2013 while waiting to hear if a second transplant donor could be found – the call came six weeks later.
Pangman's courage, energy and capacity to seize every moment is deeply inspiring. Maybe it has something to do with choosing to live a life where you truly love what you do.
UPCOMING
June 4: Saturday Swing Night at Dovercourt House Swing Dance Ballroom. (9:15pm, Toronto);
June 16 Manhattans Pizza Bistro and Music Club. (7 to 10pm,Guelph);
June 24 TD Toronto Jazz Festival presents "Heather Bambrick & Friends" with the Russ Little Quartet at The Old Mill Home Smith Jazz Bar. Bambrick will trade songs and duets with guest Alex Pangman. (7:30pm, Toronto);
June 25 TD Toronto Jazz Festival presents Alex Pangman and her Alleycats. The sextet will take over The Rex for 90 minutes of pure swing. (8pm, Toronto).
ALSO: July 30 at the Niagara Jazz Festival, August 5/6 Oakville Jazz Festival, and Sept 2 and 3 at the CNE (Toronto).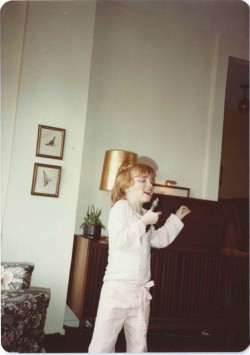 Do you remember that childhood photo being taken? I remember the smell of the wooden record player – when record players were still furniture! I can still smell the wood as I would have when I opened the lid, and feel the shag carpet under my feet.
Anything you'd like to say to young Alex in that photo? I might encourage her to write more songs. I think the most original songs I ever wrote were as a child! Ha! That, and don't drop the needle!
Where did you grow up? I was born/raised in Mississauga Ontario to John and Connie Pangman. Dad worked in finance and for a time Mom was a V.O.N. nurse. My big sister, Jennifer, was into music via ballet. We both attended Froebel [independent] school where we learned to be self-active and creative. I was terrible at math (and music theory) even into high school. So bad in fact, that instead of studying post-secondary music, I went to UofT for art history! To be honest, my jazz education happened listening to thousands of old records, mostly driving to and from the stables. Horses have brought me many good things in life to offset having been born with lung disease. I still ride today.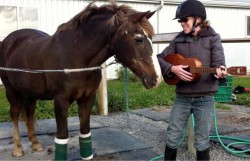 Earliest memory of hearing music? My first memories are foggy. Mom had a guitar and I'm sure she sang to me, but I think my first memories of music were at Gramma and Grampa's house in London (Ontario). Gramma had an electric organ (with all the foot pedals!). Grampa played the uke and the spoons. Grampa used to strum on his uke and sing "Five foot two, eyes of blue … "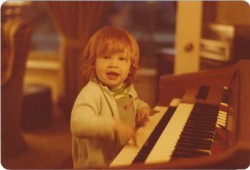 Where did hearing music, both formal and informal, generally fit into your life as a child? Mom and Dad liked the oldies, and we listened to them on a weekend (Saturday?) oldies show over dinner. That record player in the photo was stocked with a lot of my folks' LPs: ABBA, Buddy Holly, Cats, Bob Dylan, Joan Baez, Dave Brubeck, My Fair Lady, Sound of Music, West Side Story, Arlo Guthrie. We weren't churchgoers but we sang "Oh Canada" every day at school (oh my, I just dated myself!)
A first recollection of yourself making music? Again, my memory of firsts is gruesomely bad, but I remember getting those Mini Pops albums and singing along a lot. I got my first uke quite young and would —wait for it— wake up early on weekends to sneak downstairs and play it quietly to myself. Keener! And I remember singing along to Judds recordings with my mom. Mom was worried I shouldn't do wind instruments with my lung disease, so it was mostly rhythm instruments for me. Ukulele being the first of those! Go tell Aunt Rhody, go tell Aunt Rhody, go tell Aunt Rhody, the old grey goose is dead …!
Any early first music teachers who made an impression? I remember being quite knocked out when a kindergarten teacher could play guitar. I mean, it was maybe only a three-chord song, but she was pretty awesome in my eyes. There was a lot of music and singing at Froebel. Oh -- and a choir teacher who told me that to sing in a section I needed to hear the girl on either side of me. Which was perhaps a polite observation pointing out I was more suited to solo singing.
How about making music with other people? I had play dates with my school chum Suzie McNeil and I would love to find the recordings we made -- such fun! When I met the guys who would become my early jazz mentors and first band -– musicians from around the GTA –- they lent me all sort of jazz records and invited me to sing with them at the Schnitzel House!
First performances for an audience? I was Annie for our school musical. I was nervous enough my first night at the Swiss Marmite that I believe I sang with my back to the audience. And I sang at the aforementioned Schnitzel House in Port Credit (again, atrocious memory for details, unless it's a song lyric or melody!)
When did you begin to think of yourself as a career musician? I got sick and lost my university year. When I got better I realized I didn't want a career in academia or a museum. Life is short (when you have a serious lung disease, more so!) and I decided to do something immediately thrilling: music! I didn't want to spend years writing essays. I wanted to be on stage singing, and I pretty much did just that! I didn't think of it as a career — it was just living in the moment.
Ever think you would do something else? Museum curator –- or so the aptitude test had me believe!
Where does music fit into your personal/family life at home today? It fits right in perfectly! There is a stack of 78 rpms (old jazz and old country) in the kitchen I share with husband "Colonel" Tom Parker. He's a music teacher for the TDSB and I met him at the Cameron House where he has played country music forever. He gave me mandolin lessons. And then we got married, to summarize. Hahaha! I love having a singing partner across the breakfast table from me, and a guitar not far away.
If you were driving ALONE and could sing along to ANY recording, what would you choose? The Boswell Sisters spring to mind.
Any new or recent recordings, DVD or film projects? Our recent album, New, received a 2016 JUNO nomination for Vocal Jazz Album. Currently I'm in between recording projects and inviting inspiration in a world where recordings seem to earn less and less. I'll be singing a song for the Canadian Music Hall of Fame soon, so, stay tuned! It's a beautiful old song (perfect for my predilections!) And I recently performed a duet on the upcoming Nat King Cole album with Ori Dagan.