Music's Children gratefully acknowledges André and Morgana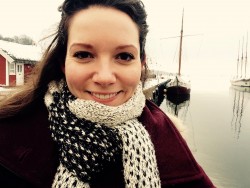 Mireille Asselin was born in Ottawa, and grew up in St. John, New Brunswick, and the Ottawa Valley. She attended école secondaire publique De La Salle, Ottawa, and moved to Toronto to begin her bachelor of music at the Glenn Gould School.
Now in her third season with the Metropolitan Opera, Asselin made her Met debut in the 2014/15 season in Manon, in the role of Poussette. This season, as cover for the role of Adele in Die Fledermaus, conducted by James Levine, she was called upon to perform when soprano Lucy Crow became ill. Asselin sang the role on opening night (last December 4) – by all accounts to the delight of those who attended. (There's a great interview with Asselin at schmopera.com about how the Met's understudies prepare.)
" … Possessed of a beautiful crystalline voice with a cool, bright middle register and clear-as-a-bell top, Asselin has a natural charm in her voice and in her bearing. … "(Eric C. Simpson. New York Classical Review, December 5, 2015)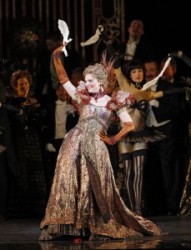 Last October in Toronto you may have heard her in Mahler's Symphony No.4 with the Royal Conservatory Orchestra, or more recently in a Songmasters Series recital at Mazzoleni Hall called "Le Travail du Peintre," with baritone Brett Polegato. April 7 to 16 Asselin will sing the role of Celia in Opera Atelier's much-anticipated production of Lucio Silla. In May she will sing the title role in Handel's Berenice with La Nuova Musica (London, UK) at the Göttingen International Handel Festival, and in June she'll sing Mahler's Symphony No.8 with the Calgary Philharmonic, followed by Cosi Fan Tutte at Ashlawn Opera (Charlottesville VA).
Asselin earned her master's from Yale University's opera program. She was a member of the Canadian Opera Company's Ensemble Studio (2011 to 2013), and a Toronto Summer Music Academy Fellow (Art of Song) in 2012. Prior to her studies at Yale, she completed a B.Mus. at the RCM Glenn Gould School in Toronto.
Suppose you're travelling, and chatting with a friendly fellow traveler who asks what you do for a living? This one is easy, because this scenario actually plays out quite frequently! I usually say, "Oh, um, I'm an opera singer. I mean, I sing classical music with opera companies and orchestras and things." And then that either sparks an interesting conversation, or my travelling companion will go back to his or her book.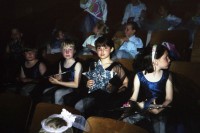 Tell us about your childhood photo? I don't have a specific memory of that photo being taken, but I do have very clear memories of that day -- it was the dress rehearsal for our ballet school's year-end show and my class was dancing to a medley of... well, I don't quite remember!.. What I do remember is that my mom and I had put great care in the making of my cardboard tin-foil star and I was quite proud of it. We always performed our shows in the local high school auditorium. I remember my classmates and the test of my patience having to wait for (what seemed like) hours in my costume until it was our turn to practise our scene on the stage. I was fascinated with the older ballerinas who seemed so graceful and talented.
Anything you would like to tell young Mireille? I don't think I would give young me any special advice, because every hurdle I encountered growing up taught me a hard lesson that I am grateful for today. I think kids have a beautiful curiosity and lack of self-consciousness that should be left alone for as long as possible. I would, however, love to have a casual chat with her... I think it would be hilarious! I was a precocious, headstrong kid, and I'm sure I'd profess opinions and make categorical statements that would give me quite a chuckle now. But you know, come to think of it, I'd probably just tell her that she was a lucky kid to have such a great family and that she should give her mom an extra kiss for bringing her to ballet classes.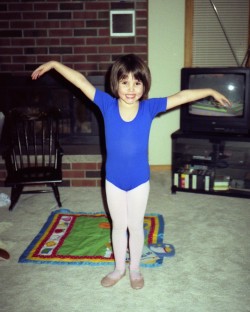 What's your absolute earliest memory of hearing music? My mom says I first kicked in her tummy during the Dance of the Sugarplum Fairy at a performance of The Nutcracker! My own strongest memory is my father picking me up and dancing me around our living room to The Temptations:
I've got sunshine on a cloudy day.
When it's cold outside I've got the month of May.
I guess you'd say – what can make me feel this way?
My girl (my girl, my girl) Talkin' 'bout my girl …
I've got so much honey the bees envy me.
I've got a sweeter song than the birds in the trees.
Well, I guess you'd say What can make me feel this way?
My girl (my girl, my girl) Talkin' 'bout my girl (my girl).
Hey hey hey
Hey hey hey
Ooooh.
I don't need no money, fortune or fame.
I've got all the riches, baby, one man can claim.
Well, I guess you'd say What can make me feel this way?
My girl (my girl, my girl) Talkin' 'bout my girl (my girl)."
Other musicians in your childhood family? On my mom's side I have a cousin who is a conductor and pianist, and an aunt who is a pianist who leads a contemporary ensemble in Philadelphia. There are also many naturally gifted singers on my dad's side: my dad himself has a great big voice, so do my godmother and my cousin. My mom nearly went to college for cello performance, but decided on an English Lit degree instead. :)
Where did hearing music fit into your childhood? Growing up in a small-town I heard music mostly at home (CBC was always on in our kitchen), and in my community at church, camps and in my school choir.
A first memory of making music? Endlessly singing Disney songs into a little tape recorder which I'm sure my parents regretted giving me immediately. I was also very gifted at my little xylophone!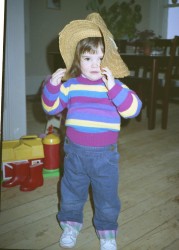 Making music with others? I joined choir in first grade because I was new at school and wanted to make friends. I remember our choir director telling us to feel like Chia Pets, with grass growing out of our heads in order to get us to sing with more head voice and a nice straight posture.
When did you first sing by yourself for an audience other than your family? I believe it was when my school choir sang some Christmas carols at the local mall and I had a solo! A big day!
A first music teacher? I first studied piano with a very nice girl in New Brunswick who was quite good at motivating me to want to learn. But it was a later teacher, Mrs. Goud who was the most special of my early piano instructors. She had a beautiful house in the country, she was glamorous and kind, and encouraged me to compose. She made playing piano about making music, not just getting all the right notes.
The origins of your appetite for staged works? I was always a theatrical kid, putting on little pageants for my family and performing in lots of different capacities, but I was also quite terrified of playing piano and singing in front of people. It was a skill I really had to learn and I think that my stubborn nature ensured that I couldn't quit it just because it made me uncomfortable. Ironically, I feel that it was precisely because performing in public was such a challenge for me that I took to it and ultimately made it my career.
Do you remember the point at which you began to think of yourself as a career musician? I truly didn't know that a career in music was a possibility until I transferred to an arts school in Grade 10. It was then that I saw the girls in the years ahead of me preparing for their music school auditions and I first gave real thought to the idea. Music had always been my primary and all-consuming extra-curricular activity, but I always thought of singing as my main hobby and non-academic pursuit. It wasn't until I saw that people my age were doing it that I thought "Wait, can I really do this as my job?? How amazing would that be!".
Did you ever think you would do something else? Oh, absolutely! I was always big into the sciences and my career goals varied from astronaut (which fizzled after I couldn't go to space camp), to biochemist, to infectious diseases specialist (I loved Robin Cook books!).
Where does music fit into your day-to-day home/ family life today? My partner Chris is very good at making up completely improvised songs on the spot, so we have fun sending ridiculous lyrics back and forth at each other to whatever tune comes to mind. Because music is something that surrounds me every day and in my work, I find it important to decompress with something "palate cleansing" if you will.. and so when I'm at home I mainly listen to talk radio and podcasts instead of music. That being said, when I need an emotional release I will blast something cathartic like Britten's War Requiem, or play Glenn Gould's recordings of Bach's Goldberg Variations when I need to recharge my soul.
If you were driving/walking absolutely all alone where nobody could hear you and could sing along to anything at all what would you choose? I can't resist singing along to Bohemian Rhapsody when it comes on the radio.. but who can??
UPCOMING…
- April: Mozart's Lucio Silla with Opera Atelier (role of Celia)
- May: Handel's Berenice at the Göttingen International Handel Festival in Germany (role of Berenice)
- June: Mahler's Symphony No.8 with the Calgary Philharmonic
- June/July: Così fan tutte (role of Despina) and a recital at Ashlawn Opera in Charlottesville, VA
- Sept.-Nov.: Rossini's William Tell at the et (covering Jemmy)
- Nov.: Versailles Project with Boston Early Music Festival in Boston and NYC
- Dec.: the Amici Ensemble's "Gala Event"
- Dec.: Messiah with the Minnesota Orchestra
- Dec-Feb: Rossini's Il Barbiere di Siviglia at the Met (covering Rosina)