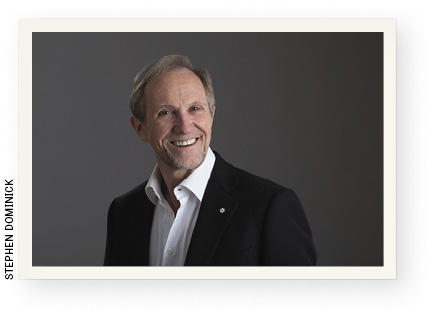 For more than 30 years Robert Cooper brought a wealth of music to listeners across the country as CBC Radio's executive producer of opera and choral music and as producer of the program Choral Concert from 1980 to 2008. This is one shining thread in the extraordinarily rich fabric of an active career which continues to include conducting, teaching and mentoring. Cooper is currently artistic director of the Orpheus Choir of Toronto, and the Ontario Male Chorus. As conductor of Chorus Niagara for 27 years: he'll conduct his fourth Elijah with them on November 5, followed by Messiah in December. His association with VOICEBOX/Opera in Concert goes back almost 40 years. He created the OIC chorus alongside founding producer/artistic director Stuart Hamilton and continues to prepare the chorus and conduct every opera since then, other than when a guest orchestra and conductor are involved.
In addition to leading the National Youth Choir of Canada the Ontario Youth Choir, and numerous prize-winning choirs at competitions and festivals, Cooper is frequently engaged as guest conductor of choirs and operas and leader of choral clinics across the country. He has taught at the U of T Faculty of Music and has mentored music-loving young people in the Toronto Mendelssohn Youth Choir, Orpheus Choir Sidgwick Scholars program and Chorus Niagara's Choral Scholars program. A regular member of the jury for the international choral competition Let the Peoples Sing, he has also adjudicated the World Choral Games in Shaoxing China, Cincinnati and most recently in Sochi, Russia.
Cooper is a recipient of several distinguished awards and honours, including the Order of Canada.
Robert Cooper lives in Toronto's Bloor West Village with his wife Megan – a school principal and singer – along with an effervescent Brittany Spaniel, Sadie. Beyond music…"what little time I have after score study, rehearsals and seemingly endless governance administrivia with choir boards, my down time seems to be filled with reading historical fiction, the loathsome but necessary gym time, walking Sadie and catching up on mindless PVR'd series of PBS dramas."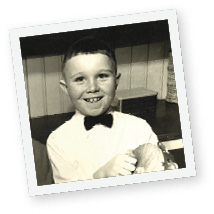 Your thoughts about that childhood photo? I vaguely recall it was in Grade 1 when our Ottawa public school rhythm band brought home the coveted first prize in the Ottawa Kiwanis Music Festival. Life has an uncanny way of fulfilling destinies you never even imagined as a possibility at the time. Not that I am a percussionist ...but my path found its way to a life in music.
Where were you born, and what did your parents do for a living? I am a "herring choker"…born in Fredericton, New Brunswick. My father was in the RCMP and my mother a nurse…disciplined professions and disciplined people. My brother Roger also went on to a career in the RCMP.
While my father was frequently transferred from one city to another, I was lucky that I landed in Ottawa for the majority of my schooling. In those days Ottawa had an active community music scene and I was so fortunate to be involved in superb school music programs which I supplemented with singing as a treble and then tenor in various Anglican church choirs, ending up at the Cathedral with Godfrey Hewitt, father of the renowned pianist, Angela. What wonderful musical experiences and education…free! In fact I even received a monthly honorarium. There were no musicians in my family, but my creative urges were tolerated and eventually encouraged.
Your absolute earliest memories of hearing music? Oh gosh…was it the Reader's Digest box set of Great Orchestral Favourites? I think it was Elgar's Pomp and Circumstance March...it stirred my young soul with such enthusiasm. But curiously I was always singing and that ephemeral quality of massed voices just hooked me.
We did have a fabulous stereo system and I would listen for hours to those treasured Reader's Digest box sets of operetta, orchestral fav's, and Broadway shows. But Ottawa was a hotbed of singing. The high schools every year mounted a magnificent Thousand Voice Choir with special guest conductors "from Toronto." Of course there were also all the special carol services and state occasions at which I sang as a member of the Christ Church Cathedral Choir. Then, to top it all off, the many celebrations in Ottawa to herald in Centennial Year (1967) produced so many exciting performance opportunities…gala concerts on Parliament Hill, amateur musical theatre shows and fledging opera productions. Heady times!
And of making music? Well, putting my tambourine debut aside in the rhythm band, I recall being trotted about from one classroom to another to sing duets with a pupil friend. Not sure why…but I guess we must have been ok.
What was your first instrument, if any, other than your own voice? Trombone for a while and then piano. Sadly, I was not encouraged to begin piano studies until high school and have always regretted that this skill was not developed at an earlier age.
Do you remember your early experiences of making music with other people? Too many to mention! Without a doubt it was that collaborative and collegial experience of making music with others, of being part of that total immersive and rich musical encounter with others. This was my safe harbour!
Do you remember when first performed for an audience? I suppose it was in Grade 7 where we put on G&S productions. It was Pirates of Penzance and I was the Major-General and had to learn that lengthy patter song. I had no clue what "the square of the hypotenuse" meant, but I memorized all the verses and sang the role with panache (I think!) and to this day still recall those darn lyrics!
And a first important music teacher? My high school music teacher, Mrs. Bernice Oak…a force of nature! Ebullient, vibrant, supportive, encouraging. Her passion and zeal were palpable. She was my sole inspiration to pursue this odd and uncontrollable yearning I had in me to somehow live a life in music.
And right after high school, what happened next? I headed to the University of Western Ontario where I stayed for both my Bachelor and Master's degrees. Looking back it was a fortuitous choice. The Music Faculty was in its infancy. Opportunities abounded and I found myself immersed in musicology, performance, theatre, acting and eventually conducting. After UWO I realized there was much yet to be learned about the craft of conducting and I headed to Germany and the Nordwestdeutsche Musikakademie along with extended periods with Helmuth Rilling in Stuttgart, when he was just at the beginning of his stellar international career.
When and how did conducting become part of the picture? One of my UWO professors, Wesanne McKellar, saw something in me I did not see in myself. While I was taking conducting courses, most of my time as an undergraduate was spent on the stage. She asked me if I might replace her (can hardly believe it as I write this) as music director for the UWO theatre club, Purple Patches, and conduct the next season's production of the musical My Fair Lady. And the rest, as they say, is history.
Other experiences from your childhood or teen years that helped you form an appetite for staged works? In elementary school I was enrolled in drama classes…and was hooked! From then on I was performing in everything from amateur musicals and plays in parks to an eventual stint as a professional actor. But I knew somehow this was not the final path. The dark theatre all day and dark bar all night were not for me. I needed a different kind of artistic connection and the fascination of making music with others, moulding your ideas with others and realizing a creative result started to take hold.
Do you remember the point at which you began to think of yourself as a career musician? I had the opportunity as a young teenager to live in London, England, and for a year attended, by myself, many unbelievable concerts and opera productions. When I recall lining up for a concert at Royal Albert Hall with scads of choirs …not realizing until it had started, that I was now hearing my first Mahler Eighth Symphony, I can't believe I was able to take advantage of those memorable firsts! I was completely absorbed and knew that on my return to Ottawa there was no turning back. What the future might hold I had no idea…much to my parents dismay…all I knew was that I had to be surrounded by music.
Curiously, someone recently showed me my Grade 13 year book (remember Grade 13?) in which I wrote that I hoped for a career in radio and television arts. Little did I realize that almost eight years later I would begin a career as an executive producer for CBC Radio Music, where I stayed for 31 years, while still conducting choirs and opera.
Did you ever think you would do something else? Other than music? The arts? No. I knew this is where I had to be in some capacity.
Where does making/hearing music fit into your current personal family life at home? Since leaving CBC, making music (and all that that entails with programming, endless organizational tasks, personal preparation, rehearsals) is a 24/7 occupation. I know it sounds a bit crazy, but one of my biggest pleasures is opening that new score, marking it, studying it, listening, and beginning that journey of discovery.
If you were driving ALONE and could sing along to ANY recording, what would you choose? Bach Mass in B Minor!
Robert Cooper: UPCOMING
October 29 and 30, with the Orpheus Choir and the Toronto Symphony Orchestra: "Danny Elfman's Music from the Films of Tim Burton;"
October 30, with the Opera in Concert Chorus: "Shakespeare 400;"
November 5, with Chorus Niagara: Elijah (Mendelssohn);
November 19, with the Orpheus Choir: "Stories: Myths and Mysteries" – music of Paul Mealor, Eriks Eśenvalds, Jakko Mantyjärvi, Sergey Khvoshchinsky, Paul Halley;
November 20, with Opera in Concert: I Capuleti e i Montecchi (Bellini);
December 10 with Chorus Niagara: Messiah (Handel);
December 13 with the Orpheus Choir: "Traditions: Welcome Christmas!" – seasonal music with guests Jackie Richardson and the Hannaford Street Silver Band.