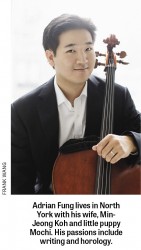 Canadian cellist Adrian Fung was born in Burlington and grew up in Oakville. His father was an actuary, his mother a concert pianist and later a pedagogue. Fung went to Applewood Heights Secondary School and then to McGill University where he studied cello with Antonio Lysy. He holds a bachelor's degree from the San Francisco Conservatory and the Juilliard School's prestigious Artist Diploma, and an MBA from the University of Toronto's Rotman School of Management. He was recently featured in Fortune magazine's Best and Brightest Executive MBAs in the Class of 2016.
Fung is currently artistic director of Mooredale Concerts and also the Toronto Symphony's recently appointed vice-president of innovation. A founding member of the Afiara String Quartet, and a winner of numerous awards, Fung has spent ten busy years performing internationally as a solo and chamber musician, collaborating widely and producing a diverse range of print and recorded music. Fung also performs for Concerts in Care (Health Arts Society of Ontario) He has given more than 30 concerts for frail and/or elderly people in long-term care residences who would otherwise no longer have access to live music. Fung is also active as a writer, music educator, artist and rapper.
What do you say to fellow travellers when they ask about your work? My goodness. On the plane, to be honest, they usually point at the seat next to me where my cello sits strapped in. "Is that yours? Are you a musician?" When I respond in the affirmative, the next question is usually either "You must be pretty good!" or "Are you any good?" What does one say to this? I usually say, "My mom's my biggest fan!" I doubt doctors and lawyers have follow-up questions about whether they're good.
When you look at the photo today, what does it cause you to think about or remember? The other boy in the picture is my cousin, Jonathan. He came to live with us for a year from New Zealand. At the time WholeNote reached out for this interview, I was travelling and couldn't fathom going into my mom's basement rifling through old albums. Just around then, Jonathan sent me a photo out of the blue: "Hey, do you remember this?" It seemed an apt thing to pass along. The photo just reminds me of when Jonathan and I would rush to the basement after school to watch Batman: The Animated Series while pretending we were superheroes. (In our imagined adventures, we were both Batman since neither party wanted to be relegated to being his sidekick, Robin.)
If you could travel back through time is there anything you would like to tell young Adrian? I would want to tell him not to practise the same thing a thousand times, but in a thousand different ways.
Your earliest musical memory? I remember hearing my mother practise piano: great works of the Romantic repertoire floated in the air as I drifted in and out of sleep.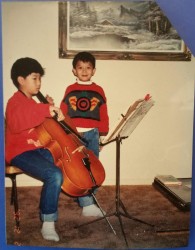 Where did music fit into your childhood? I actually started studying music at four with piano lessons from my mother. I threw daily temper tantrums at the foot of the instrument. But I remember "composing" a piece on the piano when I was four, with the beguiling technique of using two index fingers. I remember pretending there was a volcano and villagers scampering away. Classical music was always on the radio in the car. I remember hearing Handel's Messiah at church around Christmas time. My mother was very good at taking me to orchestral concerts at both the Toronto Symphony and Hamilton Philharmonic.
Who lived with you in your childhood home? My parents, my sister, at one time a canary named Choo Choo, and at another, two dogs named Cocoa and Timbit. After my father passed on, I lived with my stepfather, mother, sister and, at one time, five dogs. Dogs are the best.
Were there musicians in your childhood family, in addition to your mother? My great uncle was an operatic singer who taught at the Beijing Conservatory.
If you have brothers or sisters did they also make music?
My sister played flute, piano, and guitar. I tell her the devolution of her flute playing came when she decided she sounded best in the bathroom and spent all her time practising there. But that's just teasing. When you add the fact that she also has a wonderful singing voice, her talents outstretch mine by certain magnitudes.
Why did you begin playing the cello?
Accounts differ on why I started playing the cello but the general consensus in the household was that the piano was "not my thing." My mother wanted me to choose my next instrument and suggested either the violin or cello because you can play in orchestra or ensembles and make friends. I thought the violin was for girls and that the cello was a bassoon – which I still think is such a cool instrument – so I chose the cello. But when my mother turned up with the largest violin I had ever seen, I was initially pretty upset. But perhaps because we had already committed to leasing the instrument, my fate was sealed, for at least a year! And I grew to love the instrument.
What can you remember about a first music teacher? Susan Gagnon was my first cello teacher. She continues to produce cellists whom I hear regularly when I return to The Royal Conservatory's Taylor Academy to teach masterclasses. I remember her incredible relaxed and wonderful bow hold. The feeling of pulling the string for a rich depth of sound began under her inspiration.
A first experience of making music with other people? My mom would accompany me on the piano as I struggled through cello pieces in the Suzuki method. At first I couldn't hear anyone or concentrate on anything else but what I was doing. So my first experiences playing with other people were severely marred by my inability to do two things at once!
Do you remember the point at which you began to think of yourself as a career musician? Yes. I remember feeling I was a professional musician when the Afiara Quartet started touring. It was an exhilarating feeling. One hears so much about it growing up: talking with managers, getting on and off flights, warming up in strange new concert halls and fumbling your way through backstage mazes.
Do you remember a time when you thought you would do something else? When I was very little, I thought perhaps I'd be a cowboy. But then I didn't realize that cowboys actually did very little of what I saw them doing on television (that is, shooting bad guys). The reality of wrangling and herding cows came to a unique stop when I visited a friend's dairy farm out in Barrie.
Where does music fit into your personal family life at home today? My wife is the violinist of the Cecilia String Quartet. So there's a lot of music (and practising!) in the house. In my artistic planning activities, I do find myself listening to a lot of music as well. But after touring for ten years and listening to many, many concerts, I have found there's a true luxury in intentional silence. Perhaps it's the moment to reflect on what you have heard. But neither Min or I like listening to music when we're driving.
If you were driving alone and could sing along to any recording, what would you choose? Oh, I don't sing along. Nobody enjoys that – especially not me!
UPCOMING…
Art of Time Ensemble; November 3, 4 and 5, "That's Not Funny – An Evening of Comedy in Music and Dance ";
Mooredale Concerts. November 6, "Noel Coward: A Talent to Amuse "alongside singers Benjamin Butterfield, Monica Whicher, Norinne Burgess, Alexander Dobson, pianist John Greer, and violinist Barry Shiffman;
The Spin Cycle project – with Afiara Quartet and Skratch Bastid – is featured in the documentary What Would Beethoven Do? and includes composer Dinuk Wijeratne, Bobby McFerrin and Benjamin Zander. It will screen February 28 (2017) at Hot Docs Ted Rogers Cinema;
Afiara is also playing in Miami (Spin Cycle) and at The Arts Center at NYU Abu Dhabi (Nufonia Must Fall with Kid Koala).
My role at the TSO as vice-president of innovation has me leading the Canada Mosaic project, which is a year-long celebration of Canada's 150th. I am in charge of artistic, social and economic innovation and funnel most of my energy through leading this project. There are 20 programs commissioned and shared across the nation with over 40 other orchestras, bolstered by a digital microsite and e-learning platform that will help the TSO reach over 8.23 million Canadians.