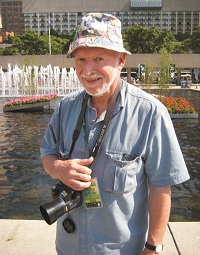 At the end of October I stepped down as artistic director of the TD Canada Trust Toronto Jazz Festival. As one of the founders of the event, it was not a decision I took lightly, but after 23 years I felt it was time to change direction. So I thought I would crave your indulgence and look back at just a few of my festival recollections.
First of all, looking back on the beginnings of the event there is one name that tends to be overlooked: Geoffrey F. Butler. Butler's career was prematurely and tragically limited by his battle with multiple sclerosis, but he was a pioneer in the field of arts administration. He was also general manager of Roy Thomson Hall and instrumental in forming a partnership in 1986 with Imperial Tobacco, which led in 1987 to du Maurier Downtown Jazz, with myself as artistic director.
Another significant figure in the creation of the festival was Fay Olson, who was, at that time, executive vice-president of the Houston Group, the public relations agency of record for the giant IT sponsorship portfolio. In that capacity Fay was also executive director of duMaurier Council for the Arts I'm not going to get into the controversy about tobacco sponsorship – but I will go on record as saying that duMaurier, especially in the early years of the event, was an ideal sponsor, committed to maintaining the highest of standards.
Bear in mind also that for the first years of the festival there was still a significant number of "jazz greats" available: Count Basie, Betty Carter, Miles Davis, Stan Getz, Dizzy Gillespie, Milt Hinton, Jay McShann, Oscar Peterson, Sarah Vaughan, all of whom appeared under the banner of the festival.
In its first year the event was relatively modest, but did include performances by the above mentioned Oscar, Dizzy and Miles! In a review of the festival on its 20th anniversary, the Toronto Star's Geoff Chapman recalled how in year two "an unknown hot blonde warbled and tinkled piano for two nights at George's Spaghetti House. Yup, Diana Krall."
Being behind the scenes is a great vantage point to observe alter egos. For the most part, with performers, what you see is what you get – but not always. There was the star who went mildly ballistic because an admirer mussed his hair just as he was going on stage, or the "primo uomo" who refused to stay at one of the city's deluxe hotels because he didn't like its name. But those, and a few others, were the exceptions, and the vast majority of a cast of thousands over the past 23 years have been a pleasure to present.
At times, we even helped the course of true love. One time I was in one of the festival vehicles along with a visiting group on the way to a sound check when the band's road manager saw a lovely young lady walking along the street in downtown Toronto. He called out to the driver, "Stop the van! I must meet that beautiful woman! Stop the van!!" He slid the passenger door open and jumped out into the crowd. We never saw him again – not at the sound check or the concert. He simply disappeared. I do hope everything worked out for him.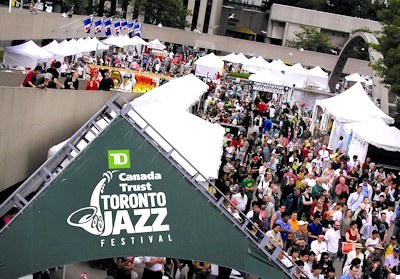 For me, of course, the big challenge was programming the ten days of the festival. I soon realized that there are some basic truisms: You Can't Win. For every action you take there are several negative reactions. For every artist you please there are hundreds who are disappointed. There isn't enough traditional jazz. There isn't enough contemporary jazz. There is too much traditional jazz. There is too much contemporary jazz. Not enough Latin. Too much Latin. I could go on, but I'm sure you get the idea.
I think that my being a musician was an advantage when it came to booking the festival. First, I knew a number of the artists personally, and the ones I didn't know felt some sort of comfort level in dealing with an administrator who was also "one of them."
In fact I knew quite a few as friends because we had appeared together in various settings. Dizzy, Milt, Jay, Ralph Sutton, Doc Cheatham, Clark Terry, Lee Konitz, Bob Haggart, Yank Lawson, Ray Bryant, Scott Hamilton, Warren Vache, Carl Fontana, to name only some of them, were all familiar, friendly faces to me. Others, who had the reputation of being at times a little difficult, turned out to be approachable and easy to deal with, largely because we could relate to each other. Sadly, most of them are no longer with us, and that inevitable time of life comes along when you lose more friends than you make.
I'm proud of what the festival accomplished, and the part I played in building it into one of the most significant stops on the festival circuit.But it's time to move on and pursue some other personal goals. As Abe Lemons, the basketball player and coach said, "The trouble with retirement is that you never get a day off."
I certainly intend to keep active. In the meantime, my warmest wishes and sincere thanks go out to the team at the Toronto Downtown Jazz Society, the musicians who gave us their gifts of music, the hundreds of volunteers who were in many ways the image of the event, the sponsors, and all of you who supported us by attending. I wish the festival every success in the future – and I'll be keeping an eye on you guys!