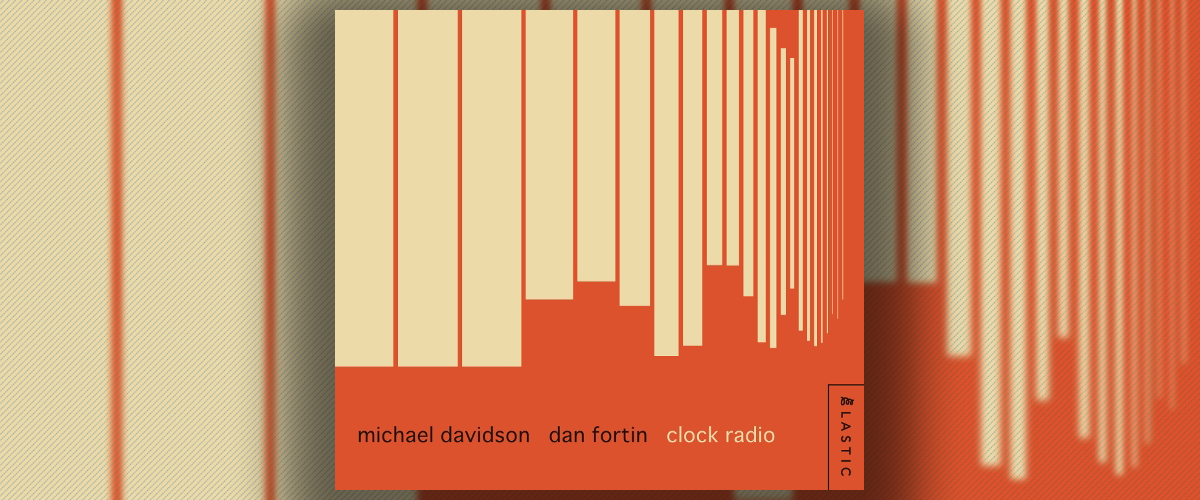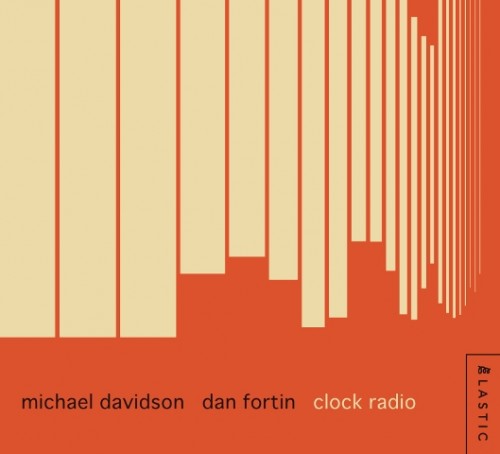 On Saturday, March 23, vibraphonist Michael Davidson and bassist Dan Fortin will perform together at the Canadian Music Centre in celebration of their debut duo album, Clock Radio, which will be released the previous day (Friday, March 22). This event marks a confluence of the new: a new project, with a fresh book of tunes; a new label, Elastic Recordings, helmed by Davidson and Fortin, of which Clock Radio will be the first release; a new direction for the CMC, which, until relatively recently, has primarily hosted performances by classical musicians. But it also marks a point of convergence in an ongoing history of collaboration shared by the two musicians, who experienced an immediate rapport when they first played together as students in the mid-2000s. Since then, they've appeared together with a wide variety of different projects, notably the band Stop Time, whose album Twice was released in 2011, and on the Fortin-led album Brinks, released in 2015.
The material that would form the basis of Clock Radio was primarily composed in the summer of 2017, during which time Michael Davidson spent two months in Berlin, studying with percussionist David Friedman. Following an inspiring first lesson, Davidson went to a coffee shop, wrote about the experience, and then started sketching out a musical idea on score paper. After his second lesson, he repeated the process. "Pretty soon," as Davidson told me, he "had maybe 10 or 12 pieces, and an entire notebook worth of stuff." As his time with Friedman came to a close, Davidson decided that the logical next step would be to actually play his pieces with other people, both to honour the music he'd written and as "a lovely way to document the experience of living in Berlin and studying with this person who was one of the people responsible for getting [him] into the vibraphone."
Knowing that he had a significant collection of new work, Davidson booked a recording session at Canterbury Music Company as soon as he returned to Toronto from Berlin. But the music needed rehearsal time, and Davidson needed an ensemble that would be committed, as Stop Time had been, to a collaborative workshopping process that would give his sketches the necessary time and space to develop naturally into more structured pieces. The idea of playing in a duo format with Fortin occurred to him near the end of his stay in Berlin; when he got back, Davidson called him, saying "I have this idea, and I don't know what's going to happen, but we've got to meet every week" to make it work. Fortin agreed, and they organized a series of intensive rehearsals leading up to the recording session. Davidson returned to Toronto in early September; by the end of October, they'd recorded Clock Radio.
Duo albums have long been part of the recorded jazz tradition, from the 1962 Bill Evans / Jim Hall recording Undercurrent to Keith Jarrett and Charlie Haden's Last Dance, released in 2014. There are, however, few duo recordings of vibraphone and bass. Hotel Hello, the 1975 Gary Burton / Steve Swallow album, is perhaps the best known, but, replete with keyboard overdubs, it is as much a showcase for Burton and Swallow's studio prowess as it is for their improvisational abilities. With Clock Radio, Davidson and Fortin were working with a relatively blank slate, and few pre-conceived notions about what they should sound like. "Certain instrumentation," says Fortin, "can come with certain baggage. With a piano trio, for instance, people come to expect certain things." Without the pressure to contend with the conventions that attend a large body of work in a given instrumental format, the duo felt free to let the natural rehearsal and recording processes guide the album's development.
Of the many qualities that make Clock Radio special, two stand out in particular. The first: the depth of the sounds on the recording. A duo recording, particularly one without any drums, invites a different kind of listening than a larger ensemble does; a larger range of an instrument's timbral qualities suddenly become audible, as do the sounds of a musician's hands moving through the air of the studio. With the freedom to hear more from each other, Davidson and Fortin felt an increased ability to engage in deeper, collective improvisation. "With a larger group, the 'moment before something happens' isn't necessarily there as much, whereas in duo playing the moment before it happens is right there with you," Davidson told me. "It's beyond feeling it coming; you can actually hear the beginning of the sound. I can hear Dan's finger just starting to touch the strings; my mallets are making a sound as they approach the bars. All this stuff is intense, and it gives me goosebumps as it's happening."
The second standout quality that makes Clock Radio special: the places where composition and improvisation overlap, and the blurred boundary between the two. Beyond each player's considerable technical ability and their shared commitment to group improvisation, this particular aspect of their music speaks to Davidson and Fortin's trust in each other's musical sensibilities. Playing together for so long, terminology has emerged to explain certain aspects of their connection. A URO, I learn, is an 'Unidentified Rhythmic Object'; as Fortin tells me, "we kind of feel time the same way. If the time is moving, we can follow each other really easily." IBS, on the other hand, refers to the duo's shared sense of harmony; it's something that "you know is there, although you can't always identify it, but it disrupts things and results in interesting choices." Clock Radio's mixing process was also a point at which the intersection of composition and improvisation was explored. Influenced by Toronto drummer/producer Jean Martin – whose label, Barnyard Records, serves as an influence for Elastic Recordings – and with the help of mix engineer David Hermiston, Davidson and Fortin used a number of post-production effects to highlight and extend their improvised material. This process was not 'production,' in the conventional sense, but rather one in which the duo followed, according to Davidson, "the wake of the potential thoughts and feelings that might have been involved in the improvisation."
Clock Radio, as both Davidson and Fortin tell me, is not meant as a monument, but rather a snapshot – a tribute to a particular moment in time, and to the living history that the two share. Much like their approach to music-making, it is as much about has been as what is to come.
Michael Davidson and Dan Fortin's Clock Radio will be released on Elastic Recordings on March 22, followed by a CD release on March 23 at 8pm, at the Canadian Music Centre, Toronto.
Colin Story is a jazz guitarist, writer and teacher based in Toronto. He can be reached through his website, on Instagram and on Twitter.