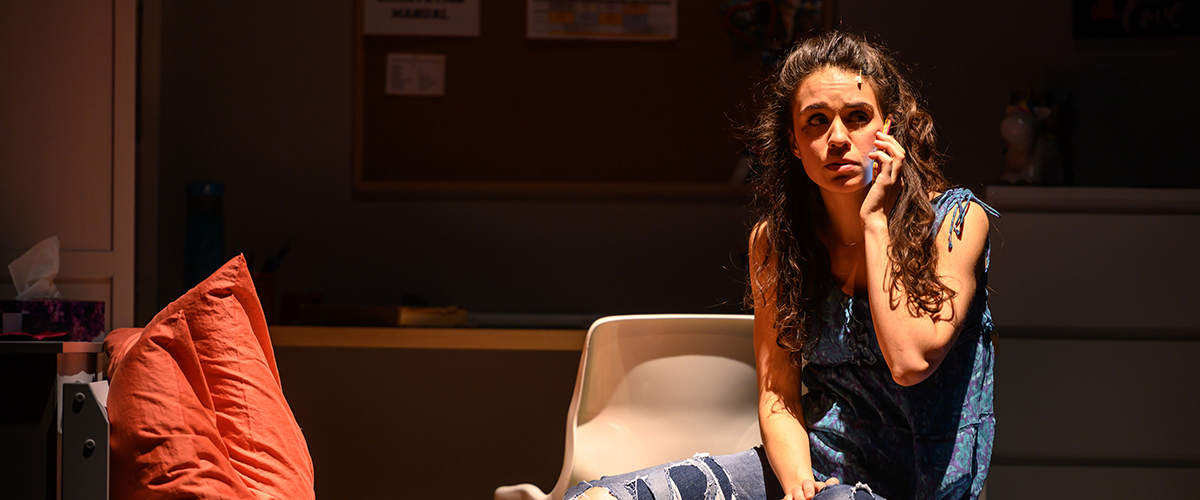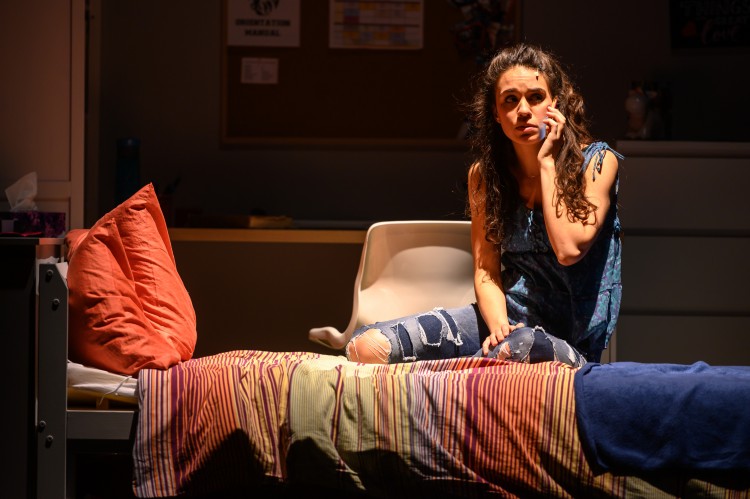 Despite the unbelievably cold weather on January 30 (below -30 degrees with windchill), the audience was packed for the opening night of Tapestry Opera's world premiere of Hook Up at Theatre Passe Muraille.
An irreverent, relentlessly contemporary new hybrid of opera and music theatre, composer Chris Thornborrow and librettist Julie Tepperman's new work had a powerful effect on the audience. The world they created of three students embarking on their first year at university was familiar and funny, then disturbing and uncomfortable to watch, as it got closer to dealing with the issue at the heart of the opera: consent and campus rape. A difficult subject to deal with in any context, what worked so well here was a libretto that immersed us in the first-year-away-from-home-university context, giving us time to get to know, like, and become invested in the three central characters, laughing at their foibles and lyrics like "those Cheetos are nasty" before more serious concerns took over. The language is sexually explicit but the action is not. The aftermath, on the other hand, of Mindy's despair, we do see, and as it should be, this is hard to watch. What takes the show to a category further beyond the ordinary is a plot turn near the end – which I don't want to give away – that brought home not only the lasting evil and impact of rape, but also carried such a strong message of compassion, of understanding, and of the possibility of recovery that it held us all spellbound, in silence, and in tears or close to them.
Thornborrow and Tepperman first met at Tapestry's annual operatic speed-dating event, the Composer Librettist Laboratory, or LibLab, five years ago, and the success of their first creation (a funny and engaging five-minute opera brief about two students texting each other about dating) led to a commission from then-new artistic director Michael Mori, to develop the piece further. There was comment last night about this piece of artistic match-making, but I think what has made the piece truly great has been the addition of a third person to the mix, acclaimed theatre actor and director Richard Greenblatt. Made a part of the collaborative team three years ago as dramaturg and director, Greenblatt has helped fashion a powerful contemporary piece of music theatre that can speak to all – or most – ages. On top of that, he put together and directed an outstanding ensemble of singing actors (or acting singers) who worked together seamlessly: Emily Lukasik, Jeff Lillico, Alexis Gordon, Nathan Carroll, and Alicia Ault – the last making her Tapestry and Toronto professional theatre debut. I will declare my personal interest here by stating that Alicia is a friend and protégé of mine, so I was incredibly proud to see her make such a strong debut.
The entire company gave stunning performances. Lukasik was immediately recognizable as the first-year university student Mindy, thrilled to be away from home and to have privacy for meeting with her boyfriend. Ault was wicked and funny as her rather amoral best friend Cindy. Carroll, whom I hadn't seen before, was funny and real as Mindy's boyfriend Ty, and veteran stars Lillico and Gordon were both excellent in playing a range of different parts, from Mindy's parents, to student orientation leaders, to other students. I have never seen Gordon so strong – funny and versatile in her many different roles, then almost painfully real and touching as 'Heather.' Lillico was equally brilliant, from his role as a slightly awkward loving dad to a brief cameo, dangerous and creepy, as the potential rapist.
Yes, this was billed as an opera and required classically-trained voices for often-challenging music, but it was also sung clearly in a more musical theatre style, with the words having equal importance to the notes. There were no arias, though there were some wonderful full-company songs, such as the opening number about the freedom of getting away to university. It was as if we were simply in a world where people sing instead of speaking, the notes and words coming out as if invented on the spot.
Both for the issues it confronts and as an artistically accomplished piece of music theatre, this is a must-see event.
Hook Up, presented by Tapestry Opera in partnership with Theatre Passe Muraille, opened on January 30 and runs until February 9 at the Theatre Passe Muraille Mainspace, Toronto (Content warning: contains explicit language, sexual content and discussion of sexual violence).
Jennifer Parr is a Toronto-based director, dramaturge, fight director, and acting coach, brought up from a young age on a rich mix of musicals, Shakespeare, and new Canadian plays.