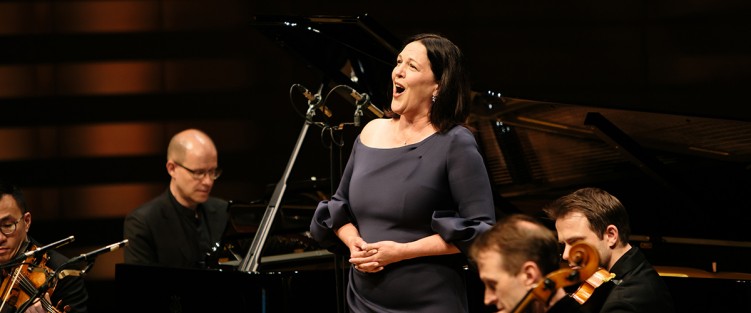 Toronto Summer Music's 2019 season opened on July 11 in a festive mood before a full Koerner Hall audience, with a gala roster of performers emblematic of the talent this year's edition promises.
Artistic director Jonathan Crow astutely chose the CBC's Tom Allen to host the proceedings, introduce the artists and connect whatever dots needed connecting vis-à-vis this year's TSM theme of "Beyond Borders." This Allen did with his inimitable enthusiasm and an engaging and informative patter was – part ringmaster, part colour commentator. His backstory of the Turkish-Viennese linkage, anecdotes of violinist-composers Pablo de Sarasate and Fritz Kreisler, as well as how Ravel came to write Cinq mélodies populaires grecques, brought an extra sense of immediacy to the performances.
The evening began with Jon Kimura Parker's unpretentious playing of Mozart's Piano Sonata in A Major, K331 "Alla turca." Parker's unadorned simplicity suited the first movement's theme, its variations elegantly shaped, the whole an expression of Mozart's melodic heart. After a brisk Menuetto, the finale's famous Turkish march put TSM's celebration of the cross-cultural influences that have pervaded classical music on display, thanks in part to Parker's fancy fingering and rhythmic integrity.
Adrianne Pieczonka, fresh from her celebrated turn in Poulenc's Dialogues des Carmélites at the Met in May and her recent assumption of the post of first vocal chair and head of the vocal department of the Glenn Gould School, soared in Ravel's Five Popular Greek Songs. Reminiscent of Cantaloube's Songs of the Auvergne in their wild abandon and evoking the purity of the outdoors, Pieczonka (with pianist Steven Philcox) gave us an experience rich in joy.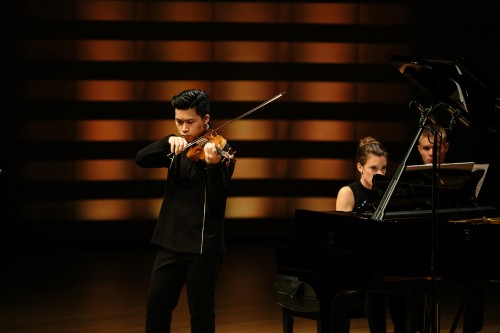 Just before intermission, violinist Kerson Leong (and pianist Rachael Kerr) brought the audience to its feet with a dynamic, kinetic, authoritative performance of Sarasate's Zigeunerweisen. Just 22, Leong, a protégé of Jonathan Crow, dazzled the crowd with his command of his instrument and stage presence. He returned after the break with a Kreisler set that began with a tasteful rendering of La Gitana, moved to Kreisler's arrangements of Cyril Scott's Lotus Land and Brahms' Hungarian Dance No.17, and concluded with the well-judged pyrotechnics of Tambourin chinois.
After Parker came back to perform Chopin's Ballade No.4 – presenting its evocative sonorities in a compact tonal palette – it was left to Pieczonka to conclude the evening with John Greer's arrangement for string quartet and piano of Richard Strauss' ineffable Four Last Songs. Pieczonka, Philcox and the New Orford String Quartet made it memorable. The power of the first song, the joyousness of the second suffused in beauty by its end, and the transformative journey into heavenly bliss by the fourth – this was the outlier to the Crossing Borders theme, unless you consider it the ultimate border crossing. Violinists Jonathan Crow and Andrew Wan's exquisite support of Pieczonka was palpable.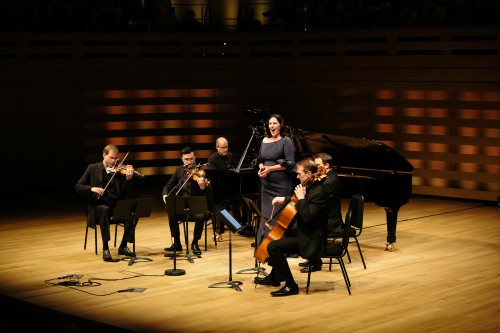 The following evening found the New Orford on the Walter Hall stage celebrating ten years together. Crow recalled before introducing the quartet's encore, François Dompierre's lovely, wistful Pavane solitaire, that their first-ever concert had begun with Haydn's String Quartet Op.20, No.2, followed by a string quartet by Canadian composer Sir Ernest MacMillan and Beethoven's Op.132. Their concert on July 12, ten years later, began with Haydn's Op.20, No.4 followed by the world premiere of Canadian composer Christos Hatzis' String Quartet No.5 "The Transforming" and Beethoven's Op.59, No.3. Such is the cyclic nature of programming.
The New Orford's playing of the Haydn's first movement was buoyant and exacting, attentive and cohesive; the immaculate sense of ensemble that resulted typical of their professionalism. The affecting slow movement, filled with yearning, showed off the quartet's precision and first violinist Andrew Wan's deftness. After a jaunty Menuetto, the concluding Presto, with its scurrying orchestral quality, was sheer brilliance.
Commissioned by TSM for the New Orford String Quartet, Hatzis' String Quartet No.5 "The Transforming" is "a deeper view of crucifixion and resurrection as metaphors for everyone's life and the future of the world," the composer said in a 30-minute lecture an hour before the concert. His initial reaction to the commission when he heard the name New Orford was that it would be a licence to be "difficult" – such was his admiration for the quartet's remarkable music-making skills. Hatzis talked about how chamber music can create interpersonal relationships through putting everyone's ego aside, because a quartet as a whole is a person in its own right; how Beethoven's late quartets owe much of their power to that characteristic; and how this latest quartet is the culmination of a 25-year cycle that began with his first quartet in 1994.
The first movement, Pesach, came across as complex and mesmerizing, with intense silences and dramatic chords reduced to repetitive three-note phrases. The second, La Pieta (Jerusalem), was inspired by Renaissance paintings but is defined by Hatzis' use of Hubert Parry's anthem of the British Empire, Jerusalem, its beauty declaimed by pianissimo descending notes and the inscrutable hymn based on the text by William Blake. "Every time I hear that hymn I get chills," Hatzis said in his lecture. Regeneration, the final movement, with its celestial arpeggios tuned in just intonation in C, begins with a quiet sul ponticello pizzicato that passes through an intensely calibrated build-up to a new order. The use of quarter tones introduces a new vocabulary. Kudos to the New Orford String Quartet and first violinist Jonathan Crow for their definitive performance.
After intermission, the third of Beethoven's Razumovsky quartets brought the concert to more familiar terrain and produced the third spontaneous standing ovation of the opening two concerts. While the first movement was not as surefooted as we have come to expect of the New Orford, the rest of the composer's middle-period masterwork was a model of elegance culminating in a flourish of a finale.
Toronto Summer Music continues at various locations throughout Toronto until August 3.
Paul Ennis is the managing editor of The WholeNote.