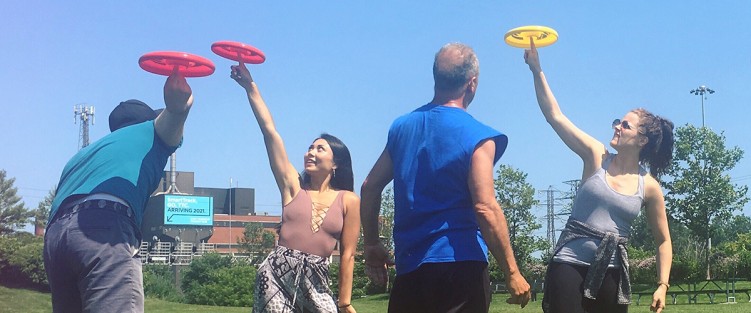 On August 19 to 22 on the 17th floor of the new offices of Canada's newspaper The Globe and Mail, a remarkable new initiative for fostering the creation of new musicals is taking its first public steps.
REPRINT is the first project of a new program called LAUNCH PAD, created by the combined forces of The Musical Stage Company and Yonge Street Theatricals – and it sounds thrilling. Three creative teams have spent the last ten months creating new short (approximately 20-minute) musicals, each inspired by an article and/or photograph from The Globe and Mail's archives.
A photo of screaming fans at the Beatles concert in Toronto in the 1960s inspired the team of Anika Johnson, Barbara Johnston and Nick Green to create Fan Girl, set in a contemporary (2019) YouTube world of fans and idols. The famous widespread blackout of 2003, as captured in the photo of a couple sitting in a Riverdale Park looking out over a Toronto without lights, led to the creation of Cygnus by composer/lyricist Anton Lipovetsky and book writer Steven Gallagher, all intrigued about how major events like this can bring people together unexpectedly. And in perhaps the most unexpected choice of all, it was photos of frisbee players on the Toronto Islands in the 1980s that caught the imaginations of composer Colleen Dauncey, lyricist Akiva Romer-Segal and book writer Ellen Denny (whom readers will remember from playing the leading role in Britta Johnson's musical Life After) and led them to create What Goes Up—an exploration of the little-known world of Freestyle Frisbee competition (which bears the same relation to the sport of Ultimate Frisbee that figure skating bears to hockey).
Each short musical has its own specific director and music director team, but all three shows share the same cast of four actors. Guiding the project as a whole are program co-directors Robert McQueen (acclaimed director of Life After, Fun Home, and many more) and New York City-based orchestrator, musical arranger and music director Lynne Shankel (previously in Toronto for Life After).
Fascinated by this project, its structure and its ambitious goals, I reached out to The Musical Stage Company's artistic director Mitchell Marcus to find out more.
The following interview has been condensed and edited.
WN: The upcoming REPRINT is the first project of LAUNCH PAD, a new initiative from The Musical Stage Company and Yonge Street Theatricals. Can you tell me what inspired this idea and what your goals with the program are?
MM: Because musical theatre is in its infancy in Canada, some of our most innovative and interesting writers likely have not had many (or any) chances to bring a musical to full production. This is problematic, as creating a good song or an interesting story is only the first phase of being a great musical theatre writer – musicals are a highly collaborative form and so much of the work happens not just in a writer's head, but through 'in the room' experience, where pieces are rewritten and honed over and over again in a collaborative setting.
LAUNCH PAD was intended to bridge this gap for a large group of people, in a country with limited capacity to develop tons of full-length musicals each year, and to offer exciting voices the chance to take their work through a full developmental process. Long-term, we hope that it gives us an army of artists (composers, lyricists, book writers, directors and music supervisors) who understand the trajectory and phases of developing new musicals, and who develop a common language around how to do development work.
WN: The performances of REPRINT will take place on the 17th floor of the offices of The Globe and Mail newspaper, and each of the three short musicals is inspired by a photograph and/or headline from the Globe's archives. Can you tell me what inspired this specific location and context?
MM: In 2016 we invited writers to respond to the permanent collection at the Art Gallery of Ontario. The resulting short musicals were exceptional, and the experience for the audience was superb – having a common collection as a prompt, and allowing the audience to experience the final product in the space that houses the collection, really demonstrated the artistic process. It struck us that newspaper articles similarly offer a wonderful prompt. News tells us stories through facts. But it's ripe for inspiring characters, circumstances, worlds and conflicts. In particular, because of their glorious 17th floor space in their new building, we thought that The Globe and Mail would have both the right archive and the right performance space to help audiences see the hidden 'theatre' in our collective history.
WN: There are three teams involved in REPRINT, each responsible for creating and preparing one of three short musicals – teams that include composer, lyricist, book writer, director and musical director (though some team members wear two "hats"). How were these teams chosen?
MM: Because the goal of the program is to build an army of people who have a common expectation around new musical development, we chose a collection of people who are excellent in their craft, who we feel (based on their past work) can make a major contribution to the development of new musicals in Toronto, and who would benefit from fine-tuning their work on a full-length development process. Remarkably, other than two composer/lyricist teams, no one had partnered together previously. This was a huge risk, and the artists took an enormous leap of faith letting us pair them up in combinations that we felt would be fruitful based on what we knew of their work. Thankfully, I think the matches turned out to be fantastic!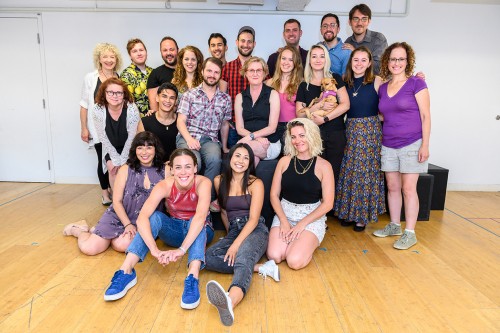 WN: There is one small team of four musical theatre actors who will perform all three shows. How were these people chosen, and how has having this set number of very specific performers affected the creation of the shows?
MM: We went in search of actors who fulfilled two criteria: [first], we needed very versatile performers, as we had to choose a cast before the works were written. Second, we knew that these pieces would be seriously "in development" until the very first audience, so we needed actors who could learn music and lines quickly, and who thrived in an environment that was constantly changing. After we created a shortlist based on those criteria, we tried to find an assortment of ages, genders, looks, types, etc. so that we would be covered no matter what the musicals ended up requiring.
WN: Can you tell me about the process that the teams have gone through to create their new musicals for REPRINT?
MM: In the fall, the writers were given access to the news and photo archive at The Globe and Mail. First step was to select a prompt which spoke to them alongside a rough idea for the musical. The writers created a first draft and had a chance to work with their directors, music supervisors and actors in a two-day workshop in the winter, after which they received notes from their teams, from our organization, and from two international mentors who were attached to the project. They then created a second draft in the spring and again had a two-day workshop and notes. Over the summer, they had the chance to go on a writers' retreat to fine-tune their final draft. And then, during the three-week rehearsal period, they had the chance to continue to hone the work as it was staged. In between, we also had sessions with international experts in musical theatre to talk about effective methods of collaboration, and at the end of the process, international guests come to see the works and then meet 1-on-1 with the writers about their musicals.
WN: This is an exciting experimental process for creating new musicals. Have there been any surprises for you along the way? What can audiences expect?
MM: The biggest surprise has been how well the teams have thrived in this complex structure – and how truly helpful I think this has been to solidify a practice of developing new musicals for them and for us as an organization.
For audiences, I think it will be absolutely thrilling to watch three original pieces that are each so different and yet so compelling. It will be a tour-de-force to see these actors transform from show to show. Plus, REPRINT will demonstrate the breadth of imagination that exists in both the minds of our talented local writers and the black and white pages of the newspaper.
Fan Girl
Anika Johnson and Barbara Johnston (music & lyrics)
Nick Green (book)
Tracey Flye (director)
Adam Sakiyama (music director & supervisor)
Cygnus
Anton Lipovetsky (music & lyrics)
Steven Gallagher (book)
Ann Hodges (director)
Wayne Gwillim (music director & supervisor)
What's Goes Up
Colleen Dauncey (music)
Akiva Romer-Segal (lyrics)
Ellen Denny (book)
Lezlie Wade (director)
Shelley Hanson (music director & supervisor)
All three musicals will star Brandon Antonio, Kaylee Harwood, Michael De Rose and Kelsey Verzotti.
REPRINT is onstage from August 19 to 22 at The Globe and Mail Centre, Toronto. It will be filmed for broadcast via podcast in 2020. The original articles that inspired the works can be viewed online here.
Jennifer Parr is a Toronto-based director, dramaturge, fight director and acting coach, brought up from a young age on a rich mix of musicals, Shakespeare and new Canadian plays.