The 22nd incarnation of the Canadian international documentary festival known as Hot Docs runs from April 23 through May 3 at various locations in Toronto. If you look carefully in Section E: The ETCeteras, beginning elsewhere on this page, you will find an entry for it in the Screenings section. Here are details on many of Hot Docs' 17 music-centric films.
Around the World in 50 Concerts: Definitely one to look forward to. Dutch filmmaker Heddy Honigmann's keen eye followed the Concertgebouw Orchestra from Buenos Aires to Soweto to St. Petersburg as the acclaimed orchestra celebrated its 125th anniversary by playing 50 concerts in six continents. The Hollywood Reporter's Neil Young enthused about the mutually beneficial relationship between the musicians and their audiences that forms the film's core. April 24, 23, May 1, 3
Music Lessons: Hot Docs head honcho Brett Hendrie writes that filmmaker Michael Mabbot uses this 20-minute film to take us behind the scenes at Sistema Toronto "to see firsthand how [José Antonio Abreu's] program is helping to build both community and a new generation of talent." The world premiere screening will be followed by a live performance by the Sistema Toronto Yorkwoods Orchestra and a special in-conversation session at the Isabel Bader Theatre April 28 at 6:30 pm.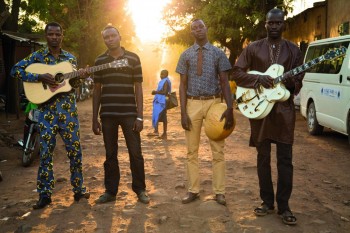 They Will Have to Kill Us First(above): Award-winning American-born, UK-based filmmaker Johanna Schwartz tells the tale of Malian musicians who were forced to flee or go into hiding after Jihadists took control of the North of their country a few years ago and instituted extreme sharia law. They cannot imagine life without music, so they continue to play despite the risk. It's the documentary counterpart to Abderrahmane Sissako's memorable 2015 Oscar-nominated Timbuktu. April 26, 28, 30
What Happened, Miss Simone?: Oscar-nominated director Liz Garbus (Bobby Fischer Against the World) weaves together rare archival footage and interviews with Nina Simone's closest confidantes and collaborators to paint a picture of an extraordinary musical talent who had a lot of personal and political issues. Using previously unreleased audio recordings, Garbus enables Simone to tell her story in her own words. It's a story I can't wait to experience.April 29, May 1, 2, 3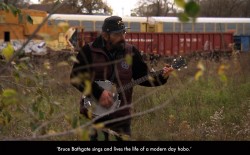 Lowdown Tracks: According to programmer Alex Rogalski, filmmaker Shelley Saywell and singer and activist Lorraine Segato of The Parachute Club, inspired by depression-era recordings of early American folk songs, set out to document a new catalogue of songs and stories from five of Toronto's modern troubadours, unknown buskers whose songs fill subway platforms and street corners and whose personal histories vary as much as their voices. A soundtrack evolves from the island ferry docks and freeway underpasses, rooming houses and rooftops, showing us that music is the common language in this empowering celebration of survival. April 25, 27, May 2
Sweet Micky for President: Justin Lowe wrote in the Hollywood Reporter: "When it comes to getting out the vote, music can make all the difference in an electoral campaign. In the 2010 Haitian presidential election, it was professional musicians who made the difference, however. Former Fugee's rapper Pras Michel endorsed musician and candidate Michel 'Sweet Micky' Martelly, actively backing him throughout his eventful campaign. Filmmaker Ben Patterson captures the candidate and his supporters in close-up for his dynamic debut feature." Winner of both the Audience and Jury Prizes for Best Documentary at the Slamdance Film Festival. April 29, May 3
DocX Virtual Reality Showcase – Four short films employing revolutionary technology: Take a breathtaking voyage through the Northwest Passage in Polar Sea 360°; transport yourself to the stunning landscapes of Mongolia and into the lives of nomadic yak herders in Herders. Measha Brueggergosman takes users with her on a personal voyage through Canada and Cameroon as she performs a selection of spirituals in Songs of Freedom. Strangers With Patrick Watson, an intimate and understated virtual reality project, invites users to go behind the scenes with the Montreal singer-songwriter as he works on his music at home in his studio loft. The 20-minute exhibit is free to view at the Isabel Bader Theatre from April 24 to May 1, 10:00 am to 7:00 pm.
There are many more for the intrepid doc explorer to seek out. As I AM: The Life and Times of DJ AM examines the brief life of million-dollar DJ, Adam Goldstein. Breaking a Monster looks at the price three tween boys from Brooklyn pay to satisfy the demands of the music industry. Adam Lough's Hot Sugar's Cold World follows beats generation superstar Nick Koenig (Hot Sugar) as he creates one-of-a-kind music made entirely out of sounds from the world around him even as his high-profile girlfriend dumps him. Judging by its Sundance critical raves, Kurt Cobain: Montage of Heck is a fascinating portrait of the grunge icon. Finally there is no excuse to miss Mavis! a doc that chronicles the six-decade musical odyssey of the legendary gospel/soul singer Mavis Staples complete with her own memories of a life inextricably linked to civil rights.
Paul Ennis is the managing editor of The WholeNote.