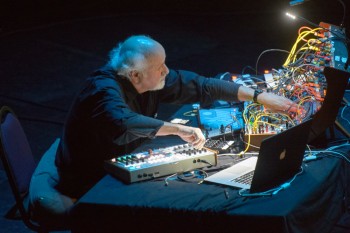 A light and fog pre-Apocalypsis vision of mid-20th-century industrial detritus, the bones of the Hearn Generating Plant – its worn steel girders exposed along with its upper floors towering over pools of muddied water that were like giant stepping stones to be avoided – welcomed 82-year-old electronic music pioneer Morton Subotnick to its environs June 20 at the Luminato Festival for a historic performance of his seminal 1967 work Silver Apples of the Moon.
All of it took place in the footprint of the giant smokestack that has loomed over Toronto's eastern waterfront since 1951. An uprooted tree hanging upside down was the only splash of green amidst the grey and brown. A few makeshift cushioned bench seats 50 metres from the mainstage were placed beside an abandoned electrical closet, its door ripped off, its base draped in dirt, a metallic monument to a bygone era.
The mainstage was a raised smorgasbord of speakers on a platform sitting below the exposed architecture of more than a dozen stories in various states of decay. Cars were scattered on the route like extras in David Cronenberg's Crash, one with its roof bent in half, hood open, a battery spilled onto the ground, red lights flashing.
Subotnick sat with his back to the large crowd of several hundred who stood, rapt, caught up in the quiet, measured beauty that began the still vibrant 45-minute piece that was a major influence on the techno music that evolved out of it almost a generation later. It was the steady rhythmic pulse that Subotnick brought into the second part of his composition that made it so pivotal. In fact he admitted in The Guardian in March 2014 that "Quite unintentionally, I found I had created this pulsating rhythm. I started grooving with it – and it blew my mind."
Early in its history the music played a role in the soundtrack to the psychedelic era of the 1960s (the original Nonesuch LP significantly sold more than 10,000 copies) and its trippy sounding title (lifted from a poem by W.B. Yeats) meant nothing to the composer apart from the fact that he liked the sound of it. Subotnick studied at Mills College in Northern California along with fellow musical pioneers Terry Riley, Steve Reich and Pauline Oliveros. In recent years Subotnick has been performing Silver Apples quite happily. "It's like a jazz composition. I'll start out with some of the familiar riffs, then just improvise. It keeps on changing whenever I perform it." Kudos to Luminato for bringing him here for Silver Apples' Canadian debut. It was a major event.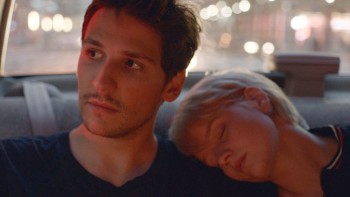 Opening at TIFF Bell Lightbox June 26 is Eden, critically acclaimed French director Mia Hansen-Løve's fourth film, an affectionate memoir of her brother's devotion to the 1990s Paris club scene. Co-written by the director and Sven Hansen-Løve, Eden details Sven's love of garage music, a sub-genre of house music which was one of the two dominant strains that percolated the rave/dance culture. The other, techno, of course, owed much of its specific 4/4 propulsive beat to Silver Apples of the Moon.
Sven (called Paul in the film and sensitively played by Félix de Givry) is a DJ whose passion for the music he loves and its lifestyle carries him through two decades. (Dorian Gray-like, his physical appearance is unchanged.) Meanwhile two of his DJ contemporaries, Guy-Manuel de Homem-Christo and Thomas Bangalter (played by Arnaud Azoulay and Vincent Lacoste), become famous as Daft Punk. The attention to musical detail is acute – Daft Punk, for example, signed off on the film and allowed their music to be used – Joe Smooth, Frankie Knuckles, Terry Hunter and MK are also part of the extensive soundtrack.
Eden is an incisive, observational French film, warmly detailing camaraderie and love affairs with fervent emotion and a realistic, low-key touch.