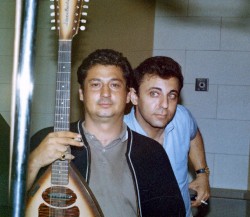 Thirty years after they were the bricks in Phil Spector's wall of sound, guitarist Tommy Tedesco, drummer Hal Blaine, bassist Carol Kaye and saxophonist Plas Johnson sat down to reminisce about their lives as L.A. session musicians for some of the most famous voices in the history of popular music. Those unforgettable guitar licks in Bonanza, Batman and Green Acres? That was Tedesco. The highly sought-after Kaye was the rare female in a man's world. Her totally original bass line in The Beat Goes On is an example of why. "Nobody thought the music we cut in the 60s would last ten years," she said.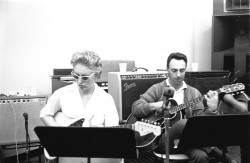 It was Tedesco's son Denny's idea to film their meeting. His father's death soon after was the spark to turn that footage into the basis for The Wrecking Crew a full-fledged documentary about the eponymous group that trumpeter/record mogul Herb Alpert called "an established groove machine."
These working musicians were behind hits of the Beach Boys, Frank and Nancy Sinatra, Elvis, the Mamas and the Papas, Wayne Newton, the Byrds and Sonny and Cher, to name a few.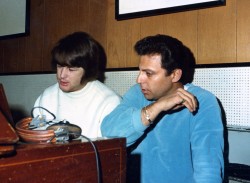 Pet Sounds was arguably their greatest single achievement. The brilliant Brian Wilson brought in all the charts and taught each player his part. The Beach Boys themselves only sang.
The pattern would be repeated for over a decade. As freelance musicians they couldn't turn any work down; some of them came out of the West Coast jazz scene but they realized that rock 'n' roll was making them a living so they played it like it was their favourite thing.
Blaine was probably the busiest (170 gold records) and certainly the biggest earner (he spent ten years on John Denver's TV show pulling in $10,000 a week). By chance he put down what would become the iconic bass drum beat in Alpert's A Taste of Honey because it was the only way to get the other musicians to come in together. Blaine, Tedesco and others once replaced an entire group (The Association) in the recording session but couldn't have their names put on the records.
There are dozens more inside working-musician stories here in this invaluable historical document. Testimony from famous session players like Glen Campbell to less well-known producers like Snuff Garrett elevates what might have been a nostalgic family home movie into an insightful portrait of the music industry at a crucial moment in time.
In the words of the great songwriter Jimmy Webb: "They were the stone cold rock professionals."
The Wrecking Crew is playing at the Bloor Hot Docs Cinema most nights until March 11.